May 21, 2019 What's On
Metro brings you a round up of the best of what Auckland has to offer for the coming week in our city's diverse and exciting food scene.

Wise Boys grand opening The food truck Wise Boys – known for their burgers – has found a permanent spot in Grey Lynn. They're celebrating their new space this Wednesday with an official grand opening, set to include free extras and a new menu, expanded from their offerings from the truck.
22 May | 604 Great North Rd, Grey Lynn
Match Made in Vegan Natural wine matched against plant-based dishes – what could be more wholesome? (Forget for a moment that six wine matches have the potential to do some serious damage.) You'll be walked through the wine, hailed from some of New Zealand's "most prestigious wineries" while KIND head chef James Wheeler plates up the food. $65pp.
23 May | KIND, Morningside
Bacon Brothers x Double Dutch Fries Two food trucks collab are bringing you "one epic menu", with what they're known for at the centre: bacon and hand-cut fries. Wash it all down with a bottle from Behemoth Brewing Company, and be ready to see some new menu items and other collabs. They insist it's a one-time thing, so if you're into it, get along.
24 May | Double Dutch Fries, 40 Hurstmere Rd

Rothko Lamb Day Top 50 Restaurant Rothko is celebrating National Lamb Day with a $99 dining experience for two: their "Lamb Lovers" sharing menu. This includes a lamb shoulder with matching wine, plus your choice of side dish.
24 May | Sculptureum, 40 Omaha Flats Rd, Matakana
NZ Hot Sauce Festival Even if you insist on slathering hot sauce on all your meals, chances are you still haven't tried all 100 sauces on offer at the NZ Hot Sauce Festival. But if you have, there are plenty of other tongue-tinglers to keep you occupied: Johnny Scoville will be in attendance to bust out the world's hottest chillies, and a homemade sauce competition could be your time to snatch a moment of glory.
25 May | Sweat Shop Brew Kitchen
All-you-can-eat dumplings at Xuxu Dumpling Bar Starting from this Saturday and for a limited time, Xuxu's offering all the dumplings you can possibly fit into your stomach from 12pm-5pm every Saturday for the price of $25. Choose from prawn and ginger har gao, roast duck and leek, fish, sambal and coconut and more.

Africola x The Grill Adelaide restaurant Africola pops up for an evening at The Grill – hosted by Sean Connolly – with a four-course menu curated by chef Duncan Welgemoed. All courses will be matched by wine from Ochota Barrels.
25 May | The Grill by Sean Connolly
---
New Opening radar
St Kevin's Aracade café Egg and Spoon has moved to a new spot on Ponsonby, taking over La Trattoria, which just saw Il Buco on its way not too long ago (RIP). 113 Ponsonby Rd
Also in Ponsonby, dessert parlour Dahlia looks pretty as a peach with desserts to match. 95C Ponsonby Rd, Ponsonby.
New Meadowbank eatery, appropriately named m.e. Meadowbank Eatery recently took over Russian cafe Moloko, and currently has two Persian specials on the menu – shakshuka and pomegranate walnut beef mince with saffron rice. 139 Meadowbank Rd
Asian dessert place NOBIBI, previously found only in Newmarket, has now bought its candyfloss-laden, gold-foiled glamour to Mt Eden. God, these places are popping up everywhere. 529 Dominion Rd, Mt Eden
---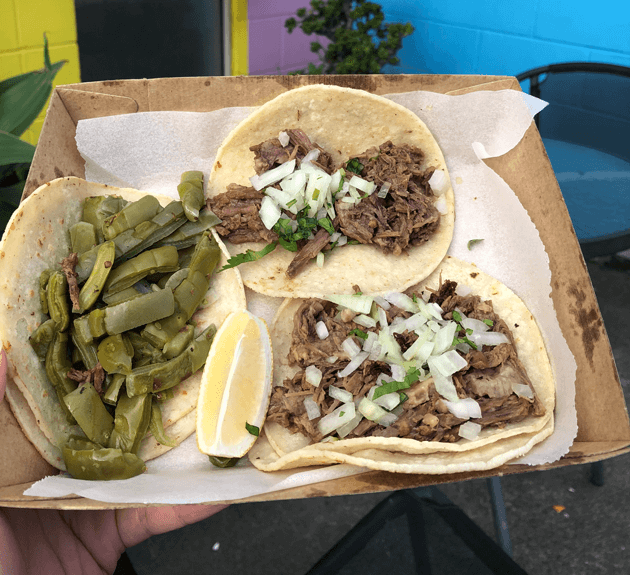 What We Ate This Week
Jean Teng and Alex Blackwood

Dirty butter chicken with fries kati roll at Royal-G It's the first time I've been able to try ex-Inti Javier Carmona's new place (despite doing a first look of it here) and I was predictably impressed. It does just what it says on the tin: a twist on Indian street food that doesn't pretend to be anything other than what it is. And fries in a wrap, covered in butter-chicken sauce? Crazy yum. – JT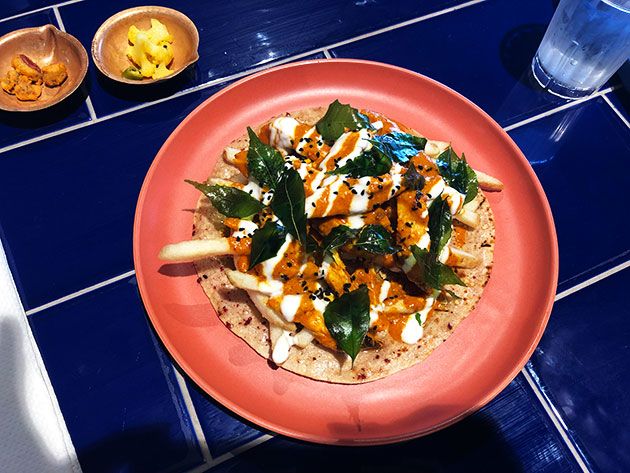 Madame George x Restaurant Chimera pop-up's self-described "thing" was on for just two days over the weekend. The set menu and drink matches followed an earthy, autumnal theme of lots of little bites, some too small to really taste properly, even for fine dining. The socca were little more than what a morsel might think of as a morsel. For me, the standouts were the buttery-soft melt-in-your-mouth pork cheek and the dessert, an unexpected and ingenious combination of artichoke, Oaxaca buffalo cheese and Clevedon honey; smokey, creamy and yummy with very little sweetness (a good thing in my book). And as co-owner Pablo Arrasco Paz promised, the pisco sour's citrusy acidity complemented the very Kiwi flavours of the mussels, feijoa and cured line-caught kahawai. – AB

Roti tissue at Uncle Man You will have seriously messy hands after this, but who cares: tear strips of oily goodness from a cone of sweet roti, the same dough as Uncle Man's famous roti canai but rolled thin and fried crispy. A coaster of condensed milk sits nearby for a quick dip, but you don't really need it; it's sweet as anything without it. – JT
Wonder Wok (Atrium on Elliot) Wonton Soup I first discovered Wonder Wok's wonton soup on a lunchtime wander and stopped there more out of a decision to force myself to choose something rather than go back to work without eating. It's simple, clear chicken consommé with greens and pork wontons that are only quite good. But despite the just above average dumplings (but let's be fair, an above average wonton is still pretty yum), I couldn't stop thinking about the rich, clear chicken soup. I found myself going back again and again, lost in the broth and the appeal of a cheap and cheerful close-to-work lunch. – AB

Cotto can have serious service issues: when it's busy, they really don't give a shit if you get a seat or not, and my neck hurt from craning my head around, desperately trying to catch someone's eye. It's a good thing, then, that their food is quick out of the kitchen and meltingly delicious – and most of their food does, in fact, melt in the mouth, from their pillowy-soft spinach dumplings to smooth sheets of pasta which slip around in their sauce. No photos of this little outing, as it's almost impossible to get a good photo there; maybe that's why their own Instagram page does so much heavy lifting. – JT

White Mischief Peach Sour Beer Light, fragrant, fresh, salty goodness. More like an RTD stolen from the gods than a beer. I will defend this beverage to the death even though it costs $5 a can and is only 2.9% because it is a breath of fresh spring air. – AB
Treasure Kitchen and Cielito Lindo I'm hardly ever out in Henderson, so when I found myself there over the weekend I thought I'd make the most of it. First, popped into Malaysian restaurant Treasure Kitchen for a plate of the definitive Malaysian-restaurant dish, Hainanese chicken. (By definitive, I mean the quality of this dish usually correlates directly to the quality of the whole place.) It was just fine: generous and garlicky, but with a dark, too-sweet sauce that pooled directly under the chicken and clung to every available meaty surface. Two hours later, with a stop at The Tannery in between, I'm at Cielito Lindo, a place that has gotten plenty of love from other writers. I'll say that I probably wouldn't make the trip from the North Shore just to grab a taco, but the ones I did try were good. The cactus was a highlight. – JT
Photography: Anna Kidman, Metro