May 8, 2019 What's On
Metro brings you a round up of the best of what Auckland has to offer for the coming week in our city's diverse and exciting food scene.
GG X Flamingo x Garage Project Crushed Party Sammy from Satya Chai Lounge has recently opened upcycled-chic, tiki bar-esque GG x Flamingo, which this Thursday night plays host to a Garage Project Crushed natural wine party, with bottle pours and morsels from the Chai Lounge. Bury me with Satya Chai Lounge's Chicken 65 and Paneer 555, please.
9 May | GG x Flamingo
Morningside Craft Beerfest 10 of New Zealand's best crafter brewers, 50 specialty brews, finger food, live entertainment and helpful ambassadors on hand to impart the joy of beer: the Morningside Craft Beerfest sounds like a very good time for aficionados and newbies alike. Tickets are still available, so pencil it in. Your first two beers are included in the ticket.

11 May | Glasshouse Morningside
Fumi's Sake Club A funny thing about sake is that although we call it 'rice wine', the process by which it is made is more like the brewing of beer than the fermenting of wine. Now you know one thing about sake. At Fumi's Sake Club, you'll learn a lot more, tasting a variety of Japanese sake and learning from Masu 's internationally certified Sake educator, Fuminobu (Fumi) Nakatani. And it wouldn't be an event hosted by Masu without a sampling of their chef's favourite dishes.
11 May | Masu
Garage Project IPA Talk to the Hand It's New Zealand Sign Language Week this week and Garage Project has rolled out a new beer with the sign language alphabet etched on the can. Attend the Auckland launch on 12 May at Vultures' Lane Craft Bar where Deaf Aotearoa will be attendance giving NZSL lessons.
12 May | Vulture's Lane Craft Bar
Monday Date Night at Coco's Cantina The $100 menu for two changes every Monday night, so check their Instagram for updates. Expect a carafe of red or white, an antipasti, a couple of mains and a sweet treat at the end.
---
Welcome to a new segment, What We Ate This Week:

Mr Zhou's Dumplings, Mt Eden There was a moment in time during the Auckland food scene in which everyone's favourite dumplings were either at Mr Zhou's (New Lynn), Barilla, New Flavour (ex-Mr Zhou) or Eden Noodles . Lately, Mr Zhou's Dumplings in Mt Eden has taken a bit of a battering on 'ole review platform Zomato, so I felt the need to head along and suss shit out. It was weirdly empty for Saturday lunch, and I thought, "oh no". Thankfully, though, the dumplings are still good. Final verdict. The skins on the steamed ones were a little too thick, and the prawn in dumplings with prawn may be non-existent, and they might not be as big as the ones elsewhere, but they are perfectly delightful. That spring onion pancake, though: less salt and more spring onion, please. – JT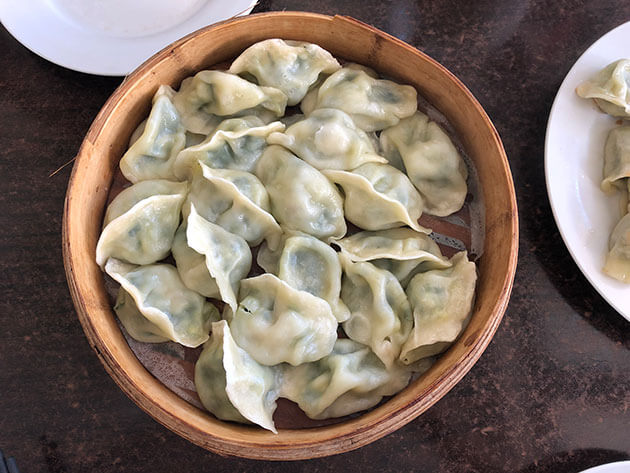 Pasta & Cuore's ?pappardelle is a hug in a bowl. – AB
Akai Doa 2.0 Located in Auckland's oldest strip joint (Las Vegas Club), Akai Doa is very cool, quite light strobe-y, with food which ranged from this-doesn't-make-sense to holy-heck-flavour-town. Chef Yukio Ozeki cooks over us like a DJ, and in this collaboration with Angus Muir, the lighting changes to match each experimental dish. To avoid spoiling, I'll talk vaguely (and I assume spoilers matter to them, as you receive the menu in a sealed-in red envelope when you arrive) I particularly enjoyed the opening broth number strong with shiitake mushrooms, and the bite-sized wonton bombs. The artful pulsing lights did not shed any light on the dishes which did not make sense to me, but they did distract me. In a good way. – JT
Olaf's, Mt Eden has a delicious milk chocolate tart. Also a raspberry tart. Because you can't go to Olaf's and have just one tart. What can I say? I'm a tart for tarts. – AB
LAH! Hottest Ramen from Ramen Takara Very hot, but not impossibly hot. If you're a fan of spice, go into this one with confidence: it's very doable, and tastes good to boot. – JT
Peri-Peri fries from Nandos It's a hard no from me. – JT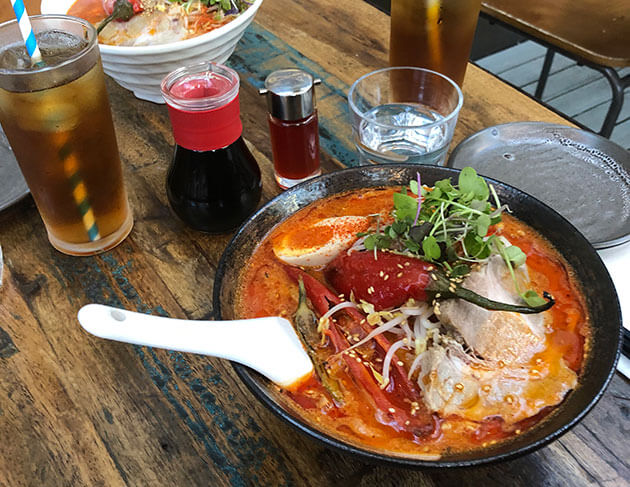 Photography: ?Rebekah Robinson, Metro