May 14, 2019 What's On
Metro brings you a round up of the best of what Auckland has to offer for the coming week in our city's diverse and exciting food scene.
So French Grand Opening in the Old Post Office, Devonport. There are already several So French patisseries – including just down the way in Takapuna – which serve pastries and crepes. Grab a sandwich, crepe or patisserie at their new digs on the day and get a coffee on the house, with live music from 10am-12pm.
16 May | The Old Post Office, 10 Victoria Rd
Food Truck Fridays @ Britomart Happening most Friday lunchtimes down at Takutai Square, food trucks park up to sling their goods at tired 8-5ers ready to slide into the weekend. This week, look forward to Vege Bang Bang, Eat Adlib, The Hungry Swine, Double Parked and Little French Pastry. Plus, if you're on the lookout for Filipino favourite Hapunan, they're serving their adobo and ube pandesal at The Beer Spot in Northcote (one of Metro's Top 10 Bars 2019) all week, a short pop over the bridge.
17 May | Takutai Square, Britomart
Madame George x Restaurant Chimera Ex- Orphans Kitchen Conor Mertens and Carly Black's pop-up dinner series Restaurant Chimera (ky-meer-ra) doesn't really need an introduction anymore, and, consequently, doesn't really need an announced menu in order to put bums in seats. Madame George and Restaurant Chimera are doing a collab (or "thing" as they put it) on Friday 17th and Saturday 18th, with food and wine, at $75pp. What food and wine? Don't ask me. But do know it will sell out. Email hello@madamegeorge.co.nz to book for 6.30 or 7.30 seatings.
17 & 18 May | Madame George
Auckland Fried Chicken Festival Fried chicken exists on some level in pretty much every cuisine imaginable – don't quote me on this, though – because of its universal appeal in crunchy greasy goodness. A simple spicy chicken wing is what I crave the day after an overwrought degustation meal. Maybe two. Anyway. The Auckland Fried Chicken Festival is back after its inaugural showing last year, this time hosted over two days and across four sessions in order to quell those mammoth lines, with a range of familiar-named food trucks and restaurants: Peach's Hot Chicken (pictured in the main image), Temaki Truck, Judge Bao, Mexico, Lowbrow, The Coop and more.
18-19 May | Shed 10
READ MORE: 12 places in Auckland to find great fried chicken
Balmoral Dumplings & More Chinese Food Tour China is massive. And, unsurprisingly, has a lot more to offer than dumplings. What "Chinese" food is an even more intimidating discussion; with so many regions and styles of food, it's easy to get caught up in what's mainly accessible to us. This tour stops at 7-9 food and drink outlets, with helpful guides to provide context to some of China's most famous dishes. $60pp.
19 May | 636 Dominion Rd, Mt Eden
Collab Winner Dinner | Ampersand Eatery & Palate Two chefs come together to celebrate the best food producers in New Zealand over four courses. $125pp.
19 May | Ampersand Eatery
The Ponsonby Wine Club Travel to Australia (without wasting jet fuel!) through their shiraz's and merlots, including something called the Mollydooker – how Australian. $30 includes wine tastings and aperitivo. RSVP to hello@annabelswinebar.com.
20 May | ?Annabel's Wine Bar
$23 pasta & wine @ Williams Eatery Wynyard Quarter eatery Williams is open for dinner on Thursday, Friday and Saturday, making it an ideal choice for a quick pre-show meal, especially with this $23 steal. Choose between a range of organic New Zealand wines and winter buttercup squash agnolotti or oxtail tagliatelle; a plate of silky comfort ideal for the impending icier nights.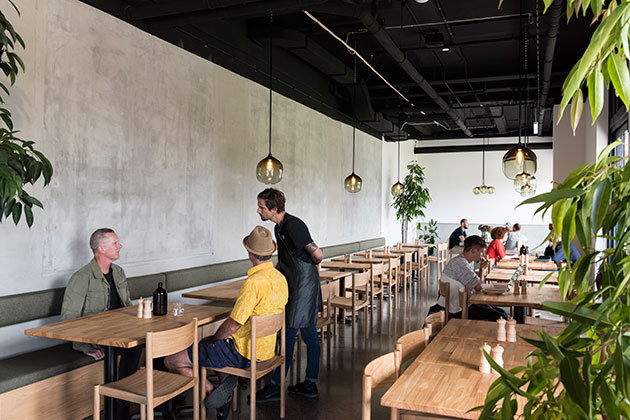 New Zealand rejoiced this Monday after Nestlé announced that Milo is being restored to its former glory The iconic drink has been restored to its former glory after the 2015 removal of vitamin A, B1 and magnesium and replaced with vitamin D, B3, B6, and B12 to "help active kids, and adults, perform at their best". However the changes altered the flavour and since the product has been effectively marketed as a cornerstone of our national identity, New Zealanders took offence and complained. One thing they didn't complain much about was Nestlé's massive use of palm oil, even after cutting back to just 77% "deforestation free" meaning that 23% of their supply chain is still not deforestation free. But yeah, go them for fixing little Jimmy's milky drink, we're sure he'll appreciate that when there are no trees left.
---
What We Ate This Week
Jean Teng + Alex Blackwood
Braised pork belly with shrimp + spicy cold noodle salad at Yoon's Kitchen I've never experienced a purer hospitality moment than at Yoon's Kitchen, when an older Korean woman rested her hand on my shoulder blade, and, smiling widely, asked me, "How did you know about my shop?" From then on, I was rooting for her, and this little cafe/restaurant in industrial Albany, which, on the day, had only two other tables, pretty hard. Luckily, it delivered: the braised pork belly still had all its fat on it (yes!), and went incredibly well wrapped in a lettuce parcel with accompanying sauces and a crunch of non-spicy green chilli. The cold noodles were refreshing, a little spicy, an appropriate carb-heavy accompaniment to the generous platter of meat. I've also heard they do a great cheese pork katsu, which is what I'll be heading along to try next. – JT
35 Apollo Drive, Rosedale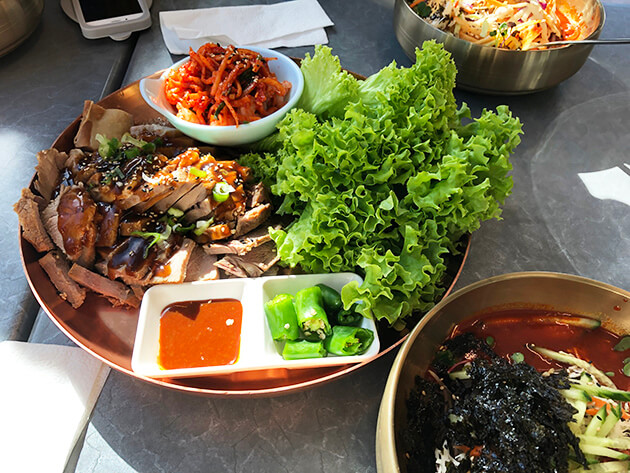 Arancini and polenta chips at Coco's Cantina The arancini are crunchy, blue cheese filled and well worth burning your mouth on because they small too good to let them cool. I am still on the fence about polenta chips as a thing but the aoli gets me over that fence and firmly in favour of polenta chips as a receptacle for aoli. – AB
376 Karangahape Rd
Set dinner at Ebisu I almost think that the fun of this upscale izakaya is to order a whole lot of small plates for the table and watch as they flounce in, having a bite of this and a bite of that in between sips of sake. Having a structure almost takes that away, and I felt that during my muted set dinner: it felt lacking. I've already forgotten about that teriyaki tofu, and the pan-seared salmon, which lacked any characterising flavour. There was some stand-out dishes, though, in particular that supremely indulgent miso-glazed eggplant, almost too sweet, but with a moreish quality which will procure an almost-audible moan, and the crunchy broccolini with that citrusy yuzu hollandaise. And the sushi and sashimi are always so, so pretty. – JT
116-118 Quay St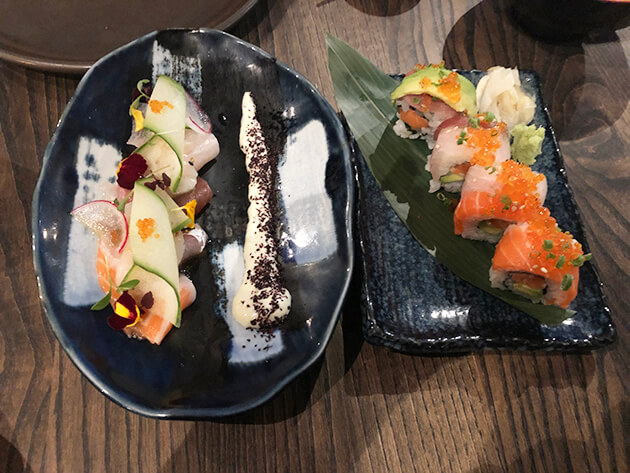 Soy sauce chicken on rice at BBQ Duck Cafe One of the most satisfying, quick lunches in the Aotea Square area. – JT
350 Queen Street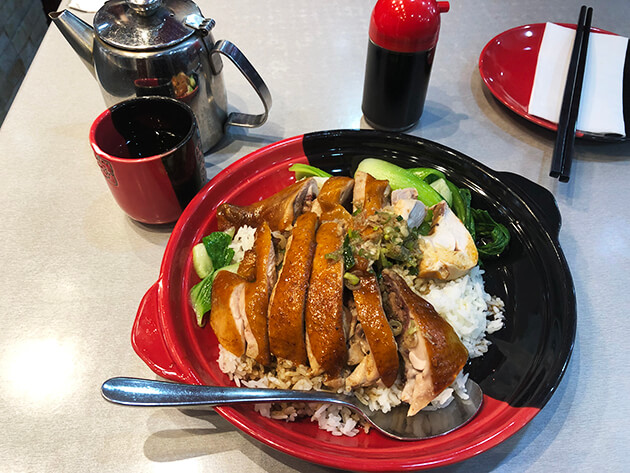 Fried and beef onion buns at Beijing Cuisine are a little dry but that, I suppose is just a hint toward the fact that they are for covering in soy sauce, vinegar and chilli oil. Everything I ate this week was just really a receptacle for sauce. Sorry not sorry, sauce is great. – AB
Cinnamon and walnut brioche at Little & Friday's Heated up in the oven – no microwaves allowed in the holy place – and served with the tiniest pat of butter, this is still one tasty afternoon treat, despite no longer being bandied about in food media as the go-to place for pastries. I still like you, Little & Friday. – JT
43 Eversleigh Rd, Belmont

Photography: Rebekah Robinson, Metro
Follow Metro on Twitter, Facebook, Instagram and sign up to our weekly email