Feb 1, 2019 What's On
Celebrate whether you're an omnivore or a herbivore at these Auckland foodie events, plus a few more things to mark in your calendar.
Vegan Food Festival
Believe it or not, Auckland has quite a few vegan food trucks and at this month's Vegan Food Festival, they're all getting together to celebrate all things plant-based. Among others, Rolling Pin, Wise Boys Burgers, Double Dutch Fries, Vege Bang Bang, Otherside, and Lalele Organic Gelato will be making an appearance. Wash down your vegan treats with kombucha, enjoy the live music and browse the stalls while you're there. Vegan Food Festival, $10, 10am–4pm, Sun 10 Feb, Eventfinda Stadium, Silverfield & Argus Place Entrances, Wairau Valley
Meatstock Auckland
Ironically held in the same month as the Vegan Food Festival, Meatstock is "back, bigger and meatier." Not only does the festival have food trucks and bands, the event is focused around 'Barbecue and Butcher Wars' – a competition in which teams compete to win the title of NZ's best barbecuer and NZ's best butcher. Novice carnivores fear not, demonstrations and workshops are also on offer. Meatstock, $35, 16-17 Feb, ASB Showgrounds, Epsom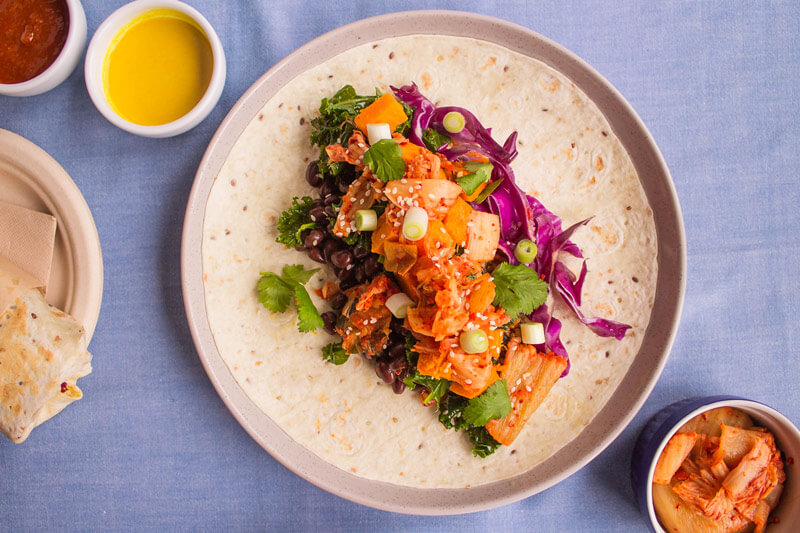 Farm Dinners
If you haven't heard of Kelmarna Community Gardens, you probably haven't been to a Ponsonby dinner party recently, because everyone seems to have gotten their salad ingredients there and had a fabulous time doing so. If you haven't had a chance to pop by yet, the Farm Dinners outdoor pop-up is the perfect introduction. The two-night event features six plant-based, forest-inspired courses by former Kokako head chef Plabita Florence. The event aims to bring locals into touch with where their food comes from and "turn food miles into food metres." Farm Dinners, $85, 14-15 Feb, Kelmarna Community Gardens, 12 Hukanui Crescent, Ponsonby
La Cave launch party: La Peche x Annabel's

Does La Peche ever rest? Their newest venture lies beyond a curtain in intimate neighbourhood bar Annabel's, in a courtyard that will be fluidly transformed into "different community-minded spaces" according to the event. As always, French-style food will hit the table to be washed down with natural wines and craft beer while sweet summer sounds play to set the mood. They plan to have a range of different stalls and installations: fashion, records, patisseries, organic produce and who knows what else (it's a mystère). La Cave's launch party serves as an introduction to more events, which are set to begin on 23 March. @lapechepopup, 16 Feb, Annabel's, 277 Ponsonby Rd
Auckland Lantern Festival
Celebrate Chinese New Year and welcome in the Year of the Pig at the Auckland Domain. Though the lanterns are the titular attraction, we all know the real reason to go is for the myriad of food stalls. Free entry, Lantern Festival, 14-17 Feb (14 Feb is a lanterns only night), Auckland Domain, Parnell
Plus:
Belles Hot Chicken x Longroom x Estrella Damm
Australian fried chicken savants Belles Hot Chicken returns to Auckland with their sliding scale of 'Southern' to 'Really Fucking Hot' wings, chicken sandwiches and all-American sides. A full lunch and dinner menu will be available from 12pm as well as a special late-night menu. If spice is your thing, try your luck at the 'Really Fucking Hot Wings Challenge', where brave souls will try to devour six wings in the fastest time. 6-10 Feb, Longroom, 114 Ponsonby Rd
Buko Valentine's Degustation
True love really does exist. This four-course dessert degustation – a culinary collaboration between William Mordido's pop-up restaurant Buko and Whittaker's – starts the night off with some oysters and champagne, followed by a whole lot of dessert. The creations come paired with a tea match, and 10 percent of the profits go to Women's Refuge. Buko Valentine's Degustation, $80pp, 16 Feb, hosted by Kitchen Things Luxury Collection, 26 Morrow St, Newmarket
Other bites:
Follow Metro on Twitter, Facebook, Instagram and sign up to the weekly email for more food news.