Aug 6, 2019 What's On
The inaugural Elemental AKL wrapped up last week, a month-long region-wide festival illuminating Tamaki Makaurau during winter.
When everything about winter makes you want to stay inside with a hot water bottle, it's nice to have an incentive to brave the cold outside.
The month-long winter festival Elemental AKL wrapped up toward the end of last week, bringing to a close more than 65 events around the city. So, was it any good? Yeah, it really was.
The Metro team was out and about at events around the city over the last four weeks and by and large, we liked what we saw. The ice skating rink and night markets in Aotea Square, as well as the pop-up bar and cosy "snugs" (plastic igloos you could book out to enjoy drinks and nibbles inside) injected life into the central city. Even on frosty nights the square was packed with people, eating, drinking and enjoying a mid-week night out in a shared public space – a communal vibe Auckland can seem like it's missing at times.
The mix of free and ticketed events felt like a smart move – families and those on a budget had plenty of options for participation (nearly half the events were free), includingTe Hono – the Gathering, a free storytelling event at Auckland's Town Hall, or one of the many light shows held throughout the city.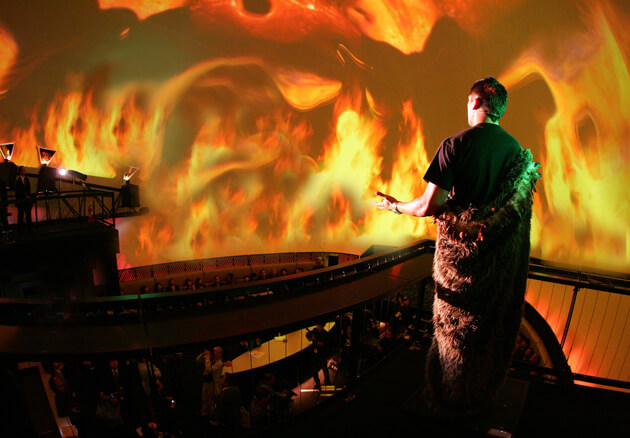 In fact, the Turama light festival closing out the final weekend of Elemental AKL in Albert Park was a highlight, featuring light displays by local artists set up around Albert Park in the CBD. There's something so enjoyable about taking part in a free event in a public space; participating with your fellow city dwellers in delighting in art. Auckland Tourism, Events and Economic Development (ATEED) has done a great job with this – each of Turama's three nights featured not just the main installations, but a rotating cast of live performers, from fire performers to contemporary dancers. The interactive light installations were captivating and strange and captivating and, yes, Insta-worthy. Our favourite was an installation called "Bloom", where light 'flowers' projected onto a pohutukawa tree opened and closed depending on how many people were standing on a pressure-sensitive patch of ground.
Art After Hours saw the city gallery open late, packed with live music, dancing and still life drawing. There's something oddly exciting about being in an institution like a gallery past its closing hours, like you might discover some secret hidden in the rooms inside during daylight hours, and the mood was joyful, with people eating, drinking and dancing with abandon.
If you were willing to splash a little cash, pricier events like a four-hour dinner at Ponsonby Rd Bistro, with a menu designed and cooked by star chef Anna Hansen (back in her home country after more than a decade in London) of the Modern Pantry made for a special night out. Each delicious course was paired with an Ata Rangi wine, the merits of which were discussed by a vineyard rep for the mostly very well-heeled guests packing out the Ponsonby Rd institution. The tickets weren't cheap ($175 – $195 per person) and this was reflected in the crowd, though Metro was seated next to a very charming ex-chef in a plaid shirt who now sells smoked salmon from a caravan in his back garden, and we had a great old chat. It was a reminder of what fun it can be to dine out with people you don't know. Hansen's inventive multi-course menu was a delight, particularly a brilliantly-cooked fillet of snapper and the rich, chocolate dessert the meal finished with.
We also headed along for a boozy night out with Sother Teague, one of New York's top bartenders – read Alex Blackwood's full review here.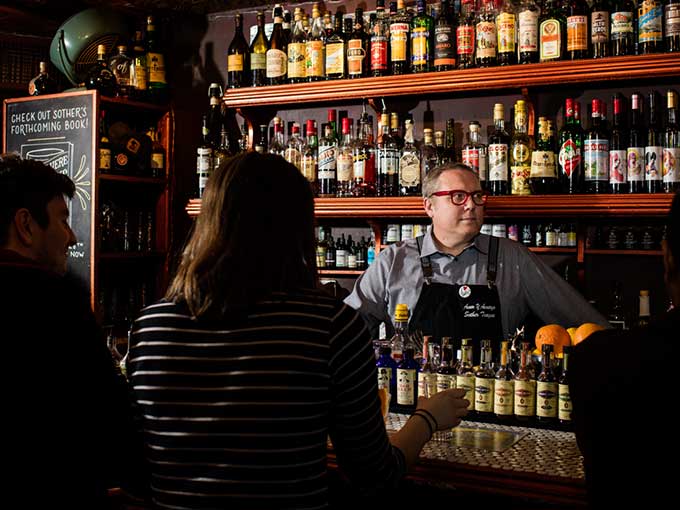 Our editor Henry Oliver was reminded on a volcanic wine tasting that Auckland, if it ever let you forget, is basically a bunch of volcanoes tied together with dirt and water. 53 of them in fact. And on or around those 53 volcanoes, people have, for the last 120 years or so, grown grapes and made wine. But not many of us think of these two things at the same time.
But John Szabo, Master Sommelier and author of Volcanic Wines: Salt, Grit and Power has. He took Metro and about thirty other wine drinkers, pourers, makers and sellers on a world tour of wines made from grapes grown on the remnants of volcanic activity.
Over a couple of hours in the Viaduct, Szabo took the group through eight wines from around the world and, to compare, four from around Auckland. "Tasting all these volcanic wines in a row, they all began to tie together, whether through actual perception or through John Szarbo's charismatic enthusiasm for wines he affectionately described as "not pleasant". All had a tensity and freshness concentrated through being grown in rocks and stones and ash and hardened lava with little to no water retention," Oliver says. By all accounts, it was a great day out.
ATEED are pleased with how things went as well. Steve Armitage, ATEED General Manager Destination says the popularity of the events throughout the month reflected an outstanding inaugural programme put together by ATEED and numerous partners.
"Aucklanders and visitors alike embraced the opportunity to celebrate our region's unique winter appeal through the festival. Elemental AKL is on its way to being an unmissable annual highlight for our region, supporting the Destination AKL 2025 strategy's priorities for sustainable growth of our visitor economy."
All this is to say, Auckland can be a bit bleak over winter, and Elemental AKL injected a healthy dose of life into our greyest month, which is what you want from the council in the end isn't it – for them to make your city a nicer place to be, all year round.
The festival will be back next winter, and we're looking forward to seeing what's on offer.