Jul 23, 2019 What's On
Metro brings you a round-up of the best of what Auckland has to offer for the coming week in our city's diverse and exciting food scene.
Clicquot Rooftop Chalet by SEVEN
To celebrate Queenstown's annual Clicquot in the Snow winter festival, Veuve Clicquot is bringing a little South Island ski style to Auckland with a rooftop alpine chalet. The curated, Veuve-matched menu features popcorn shrimp and marshmallow chocolate fondue (yeah, they had us at fondue too). So rug up and head to the Seafarers Club – because we don't often get to visit a rooftop chalet in Auckland.
19 July – 19 August | Seafarers, Level 7
The Auckland Food Show
There's an overwhelming amount of chefs, food producers, distributors and products which have claimed a stall at this year's food show – over 300, in fact – which is very positively indicative of how many free samples you may be able to score. Along with that, famous chefs will be taking over the Cooking Theatre; sample some fromage at the Huntley & Palmers Cheese Alley; and sip on some wine at Villa Maria's The Wine Experience.
25-28 July | ASB Showgrounds
Elemental AKL
Besides the Auckland Food Show, there are plenty of other foodie events part of Elemental AKL to gorge yourself on this week. Some of our picks include Our Urban Forage Mahinga Kai with Riki Bennett, a guided nature walk followed by a gourmet luncheon; Dinner with Warhol at Brothers Brewery & Juke Joint, complete with an interactive actor's performance of Warhol; and a night of food and wine under a Shakespearean pop-up globe at A Festival Feast.
26-28 July
Pop-Ups at Urbanaut Brewing Co.
A couple of faves are popping up at Urbanaut this coming weekend: Miso-Ra will be serving piping hot ramen and cool beers from 5pm on Friday night, and Hapunan offers up Filipino cuisine on the Saturday afternoon, fresh off their adventures from South East Asia.
26/27 July | Urbanaut Brewing Co.

Grey Lynn Neighbourhood Party
A new Glengarry's is opening on the corner of Scanlan and Williamson. To celebrate, there's festivities across Friday and Saturday with wine, beer and spirits tastings along with a Jack Daniel's BBQ food truck onsite. Some recognisable names will be making an appearance, including Garage Project, Scapegrace, Moet, Kumeu River and Behemoth Brewing Company.
26-27 July | 23 Williamson Ave, Grey Lynn

High Cheese Tasting
A high tea, but with cheeses which is really just high teas the way they should be. Taste about 10 cow, goat, buffalo and deer cheeses as well as wine, beer and non-alcoholic beverage matches, in the Sapphire room at Ponsonby central.
2 August | Sapphire Room

READ MORE: The best of Auckland this week: Two Hearts, Art After Hours, Sephora's grand opening, and more
READ MORE: Sunny Town restaurant review: Few places to go wrong at this newish central city spot
---
What We Ate This Week
Jean Teng and Alex Blackwood

Seedlip spice
This was a yummy treat of a drink. The spice adds a kick of warmth that you want from a beverage on a dull day. But I can't wrap my head around why you can't just add some cinnamon and nutmeg or chai syrup instead of a $60 bottle of not-booze? As an alcohol enthusiast, I get that I am not the target market, but I just. Don't. Get. It. – AB
Pork katsu at Osaka
Just a word of warning: I have been sick this entire week and I fear my tastebuds have been somewhat compromised, but, you know, still functioning. I went to the film festival on Friday night and needed a quick pre-theatre dinner and had been walking past this little place for ages. The food here is Japanese but with a significant Korean bent, and their pork katsu was just OK. Not nearly juicy enough, with a bland sameness which neither the accompanying sesame seeds (in the grinding bowl) or the sauce did anything to remedy. – JT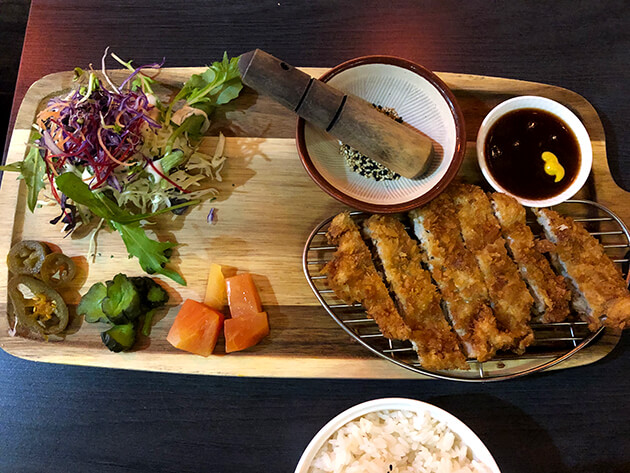 Macadamia tart at Olaf's
Sweet and delicious. There are four forks in this photograph because I was with three other people and Olaf's decided we needed four forks, which was just a comical amount of forks to have for this teeny, tiny tart. We ended up eating our quarter directly with our hands. – JT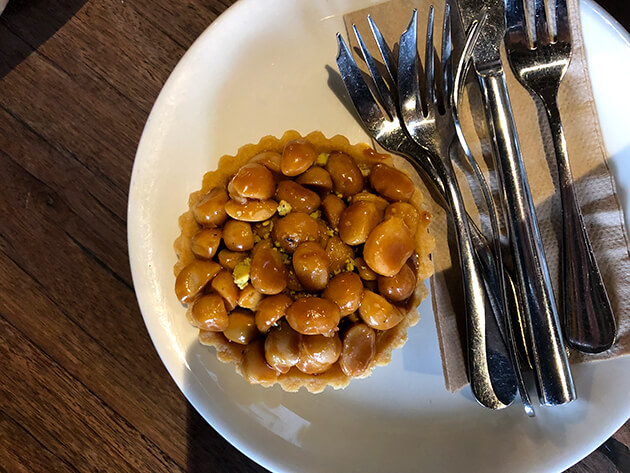 Well-Done Bakery panna cotta
If you like whipped cream then you will LOVE this. It is essentially thick whipped cream flavoured jelly with some extra thick (or thiccccc, if you will) cream on top. A strange, mouth coating, much-too-creamy delight. – AB
Free Bird burger and battered cauliflower from Free Bird
If you're hungry, get chips battered cauliflower too because this isn't massive, but this burger has excellent sour-spicy sauce and you can't argue with good battered chicken. But in all seriousness, the battered cauliflower was my highlight. Crispy, juicy and nicely spiced with chipotle sauce. Vegetarians rejoice. – AB
Nin Jiom Pei Pa Koa
This herbal cough syrup is hands down the best tasting one I've ever had. I can still remember the yucky, grainy Fanta-orange pamol that used to be shoved down my throat as a kid, it was hell. This one I happily lick off the spoon, syrupy-sweet and honeyed. Also, it helps! Get it at ya local Asian supermarket next time you're down with the sniffles this winter. – JT
Guess who ate another chicken salad sandwich from The Fed?