Mar 18, 2020 Travel
As advice around Covid-19 starts to tend toward social distancing, we bring you the fourth instalment of our mini-series, Pretend Cities, Andalucía in Auckland, by Sue Lees.
Last week: London.
Your Nana was a teenager during The Depression. The closest she got to Andalucía was armchair travel. She devoured Washington Irving's Tales of the Alhambra in wonder and dreamed of a magical Spanish/Moorish kingdom she would never see.
You were born into a world where easy air travel made almost anywhere (your student loan would stretch) a potential playground. With the internet came highly addictive travel porn and capow, the almost-too-immediate capacity to look, book and go.
Right now, the whole world is in a flight holding pattern. It is temporary and with it comes the time to really prepare and gain knowledge for that postponed adventure. It may result in an even more satisfying outcome. Sorry Nana, but let's call it 'travel foreplay'!
READ MORE: Closing the borders is a tough decision, but the right call?
With a sob, you cancel the dreamy Carmen (an Arabic/Spanish walled-garden villa). The photos so long and lovingly lingered over that you can see each room with your eyes shut. You'd planned a reunion in Granada with a bunch of Spanish mates. Turns out that was as well-timed as the recent purchase of your first annual airline lounge pass. Hey you, ¡hola! Compared to those dear friends in Spain right now, what the hell are you moping for? And for once you have time to actually learn more than just 'por favor' and 'gracias'. You subscribe to an online Spanish language course. Before you know it, you can understand the lyrics of the Macarena, wow, it's not just a really annoying song but it's also tragically sad.
The Spanish are so wonderfully passionate, even the Italians are in awe. Think about how many operas are set in Andalucía? Who had time to discover all that before? You watch Carmen on the free streaming service the Metropolitan Opera is offering. Then next up The Barber of Seville, in readiness for the (eventual) arrival of the upcoming sequel, The Marriage of Figaro presented by the New Zealand Opera Company. It is truly beautiful and you have a new addiction.
The food aficionados at Sabato, Mt Eden load you up with beautiful Tapas and Mezze cookbooks and also genuine Spanish ingredients to create them. You delegate recipes to a group of close mates and it culminates in a very atmospheric, candlelit, 'Pot Luck Tapas Night' under the stars in one of the last nights of Auckland's amazing summer.
Less successful is your enquiry about Spanish dance lessons. A voice, scarily reminiscent of your childhood ballet teacher answers: "So, let's just be clear, are you talking about the large pink bird or one of the most passionate expressions of dance ever performed?" Ah, um, trick question? Immediate anxiety onset as the chubby, pink tutu clad five-year-old inside you decides it's probably best to just go watch the professionals.
READ MORE: How to know which hand sanitiser works best
You consult the Scheherazade of Tasca, Nuffield Street (also Dominion Rd), owner Clare Hindmarsh. Clare puts another fruity, mint leaf-filled Sangria down in front of you. She shows you a video of one of their fabled Flamenco Nights; the inflamed six-stringed guitars, the guttural wail of the singers combining with the fervour of the dancers' emotions to create a drama that has you very pleased you did not attempt that in public.
Granada means pomegranate in Spanish and in Tasca this symbol of Granada is everywhere. Clare's unique skills set; cooking, graphic design and one hell of a magpie eye have created a host of venues that have conveyed Aucklanders to a variety of Pretend Cities around the world. Her first, Caravanserai opened in 1992 in Upper Queens Street. At the time, it was right next door to sister Sally Hindmarsh's still beloved Mezze Bar (now in Durham Lane – and a Metro Top 50 Bar for 2020! – Ed). This sister act, like the Arabic Mezze and Spanish Tapas they respectively serve, symbolises the harmonious fusion of North African Arabic and Spanish cultures that is at the heart of what makes the Andalusian region of Spain so special.
You clean your local independent bookstore out of guide books. The most beautiful images and intelligent insights are in the Eyewitness Guides. You read about Andalusian Architecture and suddenly it is everywhere you look. And you don't mean in that lost in translation way that excited Kiwi travellers returning from Spain attempted to replicate in new suburbs like Pakuranga in the 1970s. The ingredients were mostly there, the dramatic curved arches but the roof tiles were a little more orange decramastic than faded terracotta. And of the no maintenance brown aluminium joinery which had seemed so sensible at the time, well, may been the icing on the over-enthusiastically rendered creamy, plaster cake.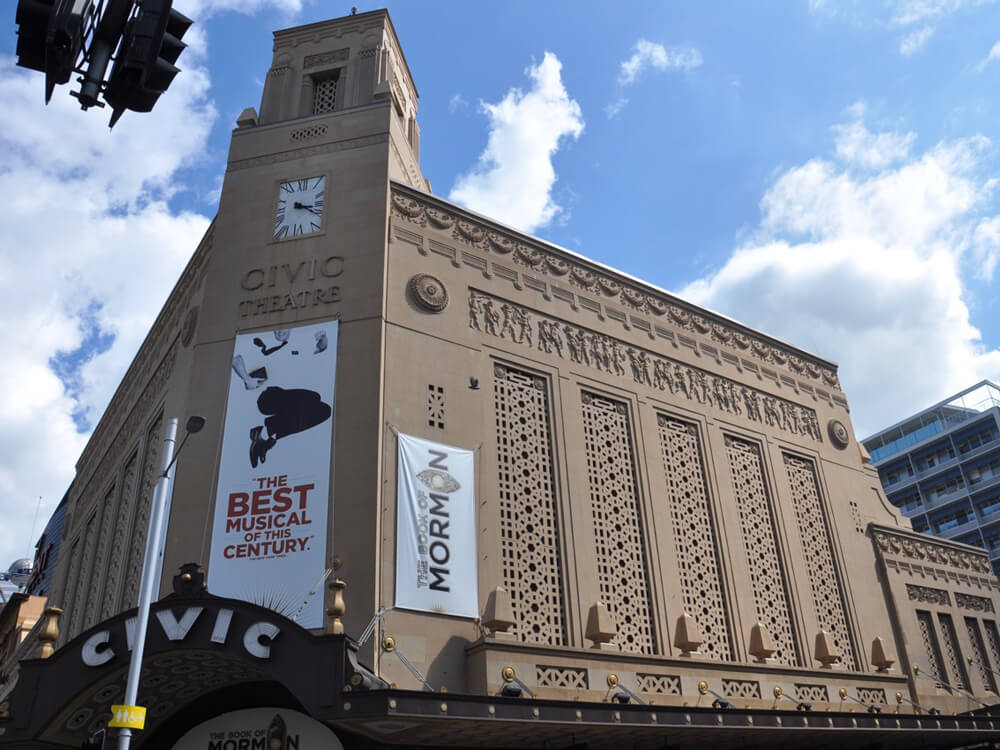 Some architects and visionaries visiting Andalusian Granada did get it right and were able to sprinkle some of that magic around Auckland. The Moorish dome on the otherwise Spanish Mission Style Auckland Boys Grammar, like a patinated beacon of new hope above the inmates of the very sooty, British castle prison below. And when you stand at one end of the pool at the Wintergarden in the Domain, the colourful mosaic tiles of the fountain refracting through the tinkling play of water, you could be in the Generalife or Summer Palace Gardens at the Alhambra.
But it is inside the Civic Theatre, its stark utilitarian name camouflaging a passionate Moorish heart, that you are completely transported. The alchemy of gold, stars, cerulean blue ceiling and minarets has carried on captivating subsequent generations of Kiwis since its 1929 opening. The master of cinematic transportation himself, Peter Jackson used the Civic as the fictional New York theatre 'The Alhambra' in King Kong.
The architects Charles Bohringer and William T. Leighton and interior designer Arnold Zimmerman (who was also responsible for Luna Park, Sydney) interpreted and brilliantly delivered this magic carpet to transport a generation desperate for beauty, peace and escapism after the pain of Spanish Flu and World War 1.
You come home from your solo exploration of Andalusian Auckland and slump down, happily exhausted. Tales of the Alhambra, which like your Nana you loved, is now finished, so you pick up your new book, Granada – A Pomegranate in the Hand of God by Steven Nightingale. Amazing, the opening page features a quote from your favourite poet, Chilean Pablo Neruda and more amazingly you can now read it in its original Spanish.
Por que Cristobel Colon, No pudo descubrir a Espana?
Why wasn't Christopher Columbus able to discover Spain?
In your Nana's armchair with your book and a glass of Rioja, Paco de Lucia strumming away, you think it's not so bad after all, this armchair travel.
Next week: India.
Sue Lees is the founder of Time Out Bookstore, and a reviewer, travel addict and screenwriter.