Nov 13, 2018 Travel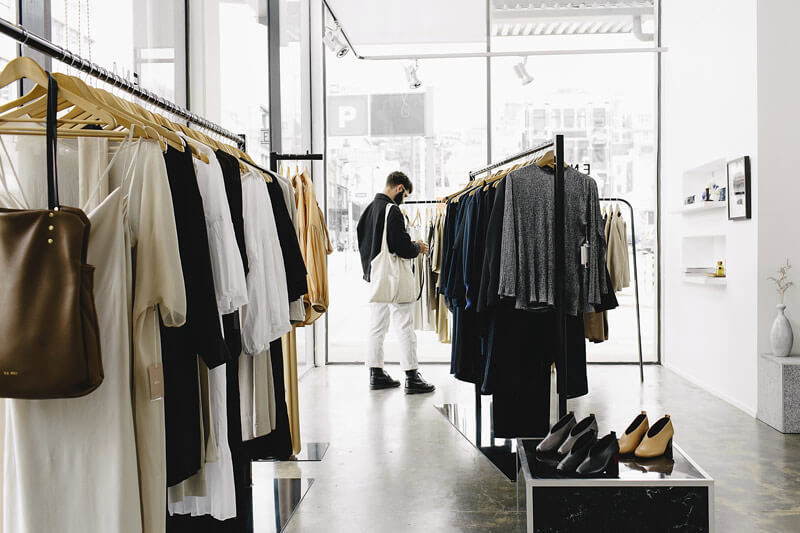 With hot new restaurants, bars and shops, plus outdoor festivals and the famous terracotta warriors at Te Papa, you'd be mad not to visit the capital this summer. Here's your essential guide on where to shop in Wellington, from Metro's special Best of Wellington feature.
Fashion
David Jones
We miss Kirks, we do, but if anyone had to move into their old building, we're glad it was upmarket Aussie department store David Jones. Wellington is currently home to the only DJs in New Zealand (an Auckland one is due to open at the revamped Westfield Newmarket in 2019), and if you're a fan of their Sydney and Melbourne CBD stores, this smaller but equally smart version doesn't disappoint. We struggle to get past the international luxury brands on the ground floor — among them Chloé, Alexander McQueen, Balenciaga and Saint Laurent.
davidjones.com
165 Lambton Quay
Ena
Beautiful, contemporary, ethically sourced local fashion is mostly what Ena is about, and the clothes are reasonably priced, too. Eschewing trends in favour of clean lines and flattering shapes, pieces by labels such as Shjark and Paris Georgia, and leather goods by Wellington's Yu Mei, are both classic and modern. But what we really go ga-ga for is the vintage range, hand-picked and regularly replenished by the owners on visits to the US. (Give me that job — Ed.) Pre-loved designer items by the likes of Dior, Lagerfeld and Isabel Marant fly off the racks, a homage to craftsmanship and longevity.
iamena.co.nz
30 Ghuznee St
Good As Gold
T-shirts, jackets, caps, sneakers, backpacks — it's streetwear heaven at this long-standing family business. Look out for Royal Republiq bags, Rolla's jeans and jumpsuits and a long roll call of labels including Norse Projects, Perks and Mini, Veja, Brain Dead and Lazy Oaf. The staff are genuinely helpful and attitude-free.
goodasgoldshop.com
111 Victoria St
Kowtow
This Wellington label's minimalist aesthetic and focus on sustainable materials are echoed in its distinctive flagship store, the strikingly simple lines and ethically sourced fittings themselves a salute to lasting style. While knitwear and blouses are the standouts, you really can't go wrong here, with exquisite womenswear made to stand the test of time. We've got our eye on the wave and dandelion prints in the new summer collection.
nz.kowtowclothing.com
29 College St
No16
It may be tucked away around the side of a nondescript building, but don't underestimate No16, whose roster of heavyweight international designers includes Issey Miyake, Junya Watanabe, Ann Demeulemeester, Commes des Garçons, Dries Van Noten and Acne Studios. If for some mystifying reason you can't justify buying a piece by a leading Japanese, Italian, French or Belgian designer, there's always No16's range of second-hand designer items.
no16.co.nz
2/16 Jessie St 
The Service Depot
It's all very, well, Wellington here, and we mean that in a good way. On haphazardly placed racks you'll find lots of black dresses, and loads of edgy and unstructured silhouettes, from Wellington's limited-run label Herriot (as worn by the PM in Vogue), Dunedin favourites NOM*d and Company of Strangers, and international designers such as Masami and Baggu. Plus outstanding selections of jewellery, eyewear and trainers.
theservicedepot.co.nz
11 Ghuznee St
Locals recommend Mandatory for tailored, casual and custom-made menswear including edgy jackets and distinctive shirts, twenty-seven names' flagship store for freshly dropped designs, and Wilson Trollope for flattering dresses and separates by Wellington designer Annabelle Wilson.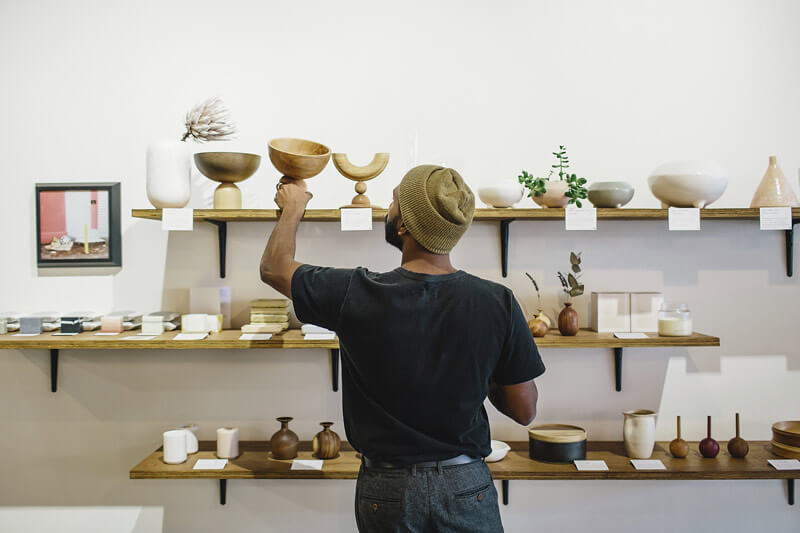 Homewares
Orient: Modern Asian Home Store
The exquisite handmade tableware here has proved a hit since Orient set up shop on the same site as esteemed steamed-bun merchant Bao Boy a few months back. Tania Siladi, co-owner of Dragonfly on Courtenay Place, opened Orient after diners kept asking where they could buy the plates, bowls and sake cups used at the Asian-fusion restaurant. Orient imports homewares and ceramics from Asia: many are rarely seen outside Japan. The range features fine lines as well as chunkier pieces, uneven shapes and jewel-like glazes — blues and greens reminiscent of oceans and lakes — which render each piece unique.
orient-nz.com
29b College St
Precinct 35
Prak Sritharan's eclectic and elegant collection of homewares, leather goods, art and jewellery aims to be the antithesis of mass-produced and disposable. He's nailed it, stocking handmade Salad Days Ceramics from Australia and elegant items by Japan's Saito Wood, among many others. The store, which shares an address with hipster coffee hangout Milk Crate, also supports emerging and established New Zealand artists and hosts exhibitions.
precinct35.co.nz
35 Ghuznee St
Small Acorns
More about finding your own style than following trends, this stalwart Wellington "contemporary living" store is a haven for nesters and magpies, a trove of shiny, pretty, colourful things — trinkets from India, Afghan spice boxes, soft furnishings, ceramics, textiles and all that. Best of all, in our view, is the covetable selection of hardback home and garden books, plus overseas interiors magazines.
smallacorns.co.nz
Cnr Blair & Wakefield Sts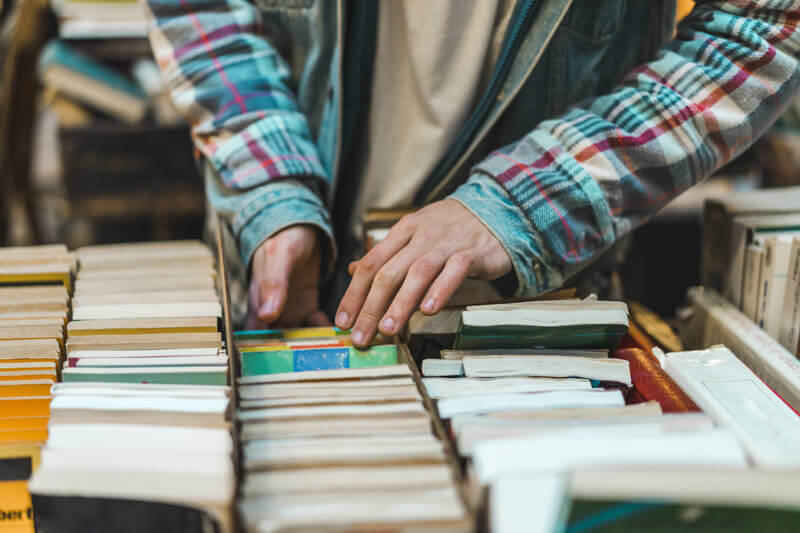 Browsing
Ekor Bookshop & Cafe
Ekor isn't a cafe with a few books for sale, or a bookshop that sells sandwiches. It's equal parts independent bookstore and cafe, and it's somewhere you can stop for a while. There are chairs, comfy couches and board games, an area to keep kids amused, and a quirky selection of homewares, art supplies and children's toys as well. Settle in with a locally roasted Supreme coffee and a book at this homely community hub where visitors are also welcomed.
ekor.co.nz
17b College St
The Ferret Bookshop
Been searching for a hardcover copy of Cannabis: New Zealand Police Drug Enforcement? Look no further — this bookshop, a constant in Wellington since 1979, stocks hard-to-find and quality second-hand books.
ferretbookshop.co.nz
175 Cuba St
Moore Wilson's
There is no Auckland equivalent of Moore Wilson's, the magnificent century-old gourmet-food emporium, and frankly, we're jealous. It's easy to spend hours here, working up an appetite in the kitchenware wonderland upstairs (and the best selection of cookbooks in the capital), then hitting the enormous bakery and deli section downstairs. Supplied by some of the city's finest artisan bakers, it has a barista, and seating so you can eat in. Drag yourself away from the eye-popping range of cheeses and cakes (hello, Doris plum and chocolate) to pick up New Zealand and imported speciality ingredients and restaurant-quality fresh produce.
moorewilsons.co.nz
Cnr Tory & College Sts
Pegasus Books
Is there such a thing as an organised jumble? Clearly the work of an obsessive bibliophile, Pegasus is all that, with several labyrinthine rooms of floor-to-ceiling books spanning design, music, art, philosophy, architecture, history and more. The shop has been around for 15 years — it's possible they've been playing Nico for that long, too. The staff are knowledgeable without being painful about it.
pegasusbooksnz.com
Left Bank Lane (off Cuba Mall)
Slowboat Records
It's more than three decades old, but Slowboat was full of young scenesters the last time we visited, a testament to its cross-generational appeal — and the vinyl resurgence. Run "by music fans for music fans", this defiantly independent vinyl superstore ranges the wildly successful and utterly obscure from the 50s onwards, and also has huge selections of new and used CDs and DVDs. Flick through the posters and band T-shirts, then claim one of the turntables and step back into your youth.
slowboatrecords.co.nz
183 Cuba St
Locals recommend specialty international food store On Trays in Petone for free espressos and the best pastrami on rye in town.
For more information, visit wellingtonnz.com
This article was first published in the November-December 2018 issue of Metro. Follow Metro on Twitter, Facebook, Instagram and sign up to the weekly email.