Dec 15, 2015 Property
The year was 1915, and Auckland had happened upon a stylish model of inner-city living that it has pretty much failed to replicate ever since.
Construction of a handsome European-style apartment block was completed on Parliament St, across the road from the majestic arches of the Supreme Court and the stately gardens of Government House. The building, known as Courtville, contained 12 small "luxury" apartments furnished and serviced by their owners, property developers William Stanton and Ernest Potter.
The downtown area was bustling with workers in smart new office jobs; the Courtville flats were rented mostly by single women living exciting new city lives. For them, apartment living offered an exotic allure, an independence that a boarding house or a spare room in a family home could never match.
Auckland was shedding its small-town skin and becoming a fully-fledged city; developments like Courtville, the first block of self-contained apartments in New Zealand, were a potent symbol of that change. The building — the first of four designed by architect A. Sinclair O'Connor that still line leafy Parliament St — marks its centenary this year, and was my home for a decade until earlier this year. It remains a bittersweet reminder of Auckland's all-too-brief embrace of elegant apartment living.
It was an exciting period before the car became king and our once-petite city began gorging itself on decades of suburban sprawl. "There were achievements in the city that were amazing and the groundwork was done to continue in that vein, but then we dropped the ball," says architect Graeme Burgess, who lived in Corner Courtville (built in 1919) in the 1980s and has acted as a heritage adviser for the buildings ever since. "I think everyone got wildly excited about the notion of living in a garden suburb — there was plenty of land and a huge sense of optimism. Courtville represented something very different."
Different indeed. The buildings were so out of step with Auckland's suburban wish fulfilment for such a long time that it's amazing they're still standing today.
Many people say the two Courtville buildings are as close to Parisian-style living as you can get in New Zealand, but their occupants have usually been regarded as more eccentric than sophisticated. Despite the buildings' outward appearance of propriety and, in the early decades, the presence of a live-in manageress who strictly forbade unexpected overnight guests (as well as hanging laundry on washing lines on Sundays), stories of single ladies hosting impromptu cocktail parties meant the development acquired an enduring whiff of bohemia.
An old joke was apparently to ask, "Are you married or do you live in Courtville?", but this notion doesn't quite square with the fact that, until the early 1970s, the apartments were mostly occupied not by dipsomaniac swingers, but by long-term tenants.
Perhaps the bohemian reputation came from the insouciance with which Courtville's female residents created their autonomous city lives. Writer Katherine Findlay remembers coming from Palmerston North as a teenager to visit her aunt Elvie McGregor, who lived in her Courtville flat from 1944 until her death five decades later. McGregor did secretarial work and lived alone in her apartment before meeting her husband, zoology professor Roy McGregor, when they worked together on the campaign to save Northland's Waipoua Forest in the mid-1940s. Many of the campaign meetings were held in Elvie's apartment. "She was my glamorous aunt in the city," Findlay remembers.
As Auckland's girth expanded with motorways and suburbs in all directions, the central city's residential population hollowed out and Courtville became an anachronism. Then, in 1974, a bombshell: the Justice Department acquired Corner Courtville, Middle Courtville (as the original 1915 building became known), and neighbouring Braemar — a private home built in the late 1800s that is now a bed and breakfast, but back then had been divided into flats and was known as Little Courtville — and announced plans to demolish the buildings to clear space for a new Supreme Court.
All of the occupants — who once included Fred Batten, the father of pioneering aviator Jean Batten — were renters; their new leases meant they could be thrown out of their apartments with only two weeks' notice. The demolition threats prompted many long-term tenants to leave. In their wake came a wave of younger people who shrugged off the spectre of uncertainty and the fact the buildings were mostly being left to decay. This new generation of residents loved city living so much that they not only managed to save the buildings but also ushered in a new golden age.
One of those youngsters was musician Grant Chilcott, who moved into Corner Courtville aged 18 and now, five marriages later and 61 years old, occupies a little ground-floor flat in Middle Courtville with his teenage daughter Charlotte. "With each marriage the apartments have grown smaller," he says.
There weren't many places to live downtown when Chilcott first moved to Courtville. (The central city boasted just 1600 residents in 1987; there are now more than 40,000). As a result, "everyone wanted to live here", he says. "There were musicians and artists, that whole bohemian thing."
Courtville's unconventional mien holds sway to this day with 17-year-old Charlotte and her high school mates. "She digs it," Chilcott says. "This is the drop-off spot before she and her friends hit town. They like coming here — they live in the eastern suburbs, and as someone said to me, they might have all these places, but you can't buy bohemia."
Chilcott has lived in Courtville so long he's part of the identity of the place. When I lived there with my husband, Cameron, the dapper and chatty Chilcott often invited us and other neighbours to share a drink in the communal garden his flat opens onto. A professional crooner, he'd sometimes sing his favourite tunes from the back steps, which charmed some residents and enraged others, depending on how late the music went on.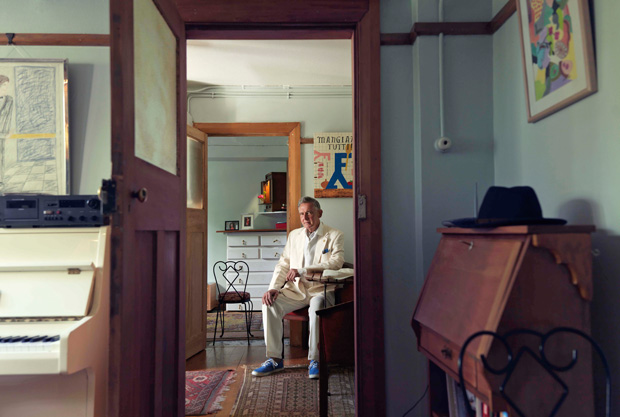 Socialite and writer Judith Baragwanath lived in Middle Courtville from 2003 to 2006 but knew Chilcott from partying there many times before. "I went to Grant's place a lot with [his brother] the artist Gavin Chilcott and had some riotous times," Baragwanath wrote to me in an email. "It was another world, like some giant hand had scooped up an ancient corner of Paris and plonked it down in Parliament St. As Grant knew everyone, we went apartment hopping with drained glasses outstretched, which were enthusiastically filled wherever we went. It just seemed like the right place at the right time."
Chilcott also introduced musician and nightlife impresario Peter Urlich to the buildings; Urlich was so impressed he nabbed himself an apartment and lived there in great style for most of the 1990s. "There was many a happy time," he says. "There were hippies and Hamish Keith and a couple of punks, but they all shared a common love of Courtville and classic things. I would knock on Grantie's door to borrow some sugar and he would say, 'Come and have a martini', and there would be a German dancer and a Brazilian artist there and you'd be there for a couple of hours."
Chilcott and his Courtville compatriots enthusiastically combined their carousing with the burgeoning campaign to save the buildings. Everyone I spoke to seems to agree that the most pleasurable occasion during this drawn-out fight was the time Chilcott's band played at a fundraising event held in a marquee across the road in the Government House gardens. Everyone wore tuxedos and got smashed. Graeme Burgess remembers it as "the booziest night I have ever been along to — we nearly lost money but it was an amazing amount of fun". Inebriated guests were seen staggering out of the bushes the next morning.
Fortunately, there was more time to raise money, as by 1978 the Justice Department was still dithering over its demolition plans. But the battle to save the buildings was full of emotional turbulence. Courtville's residents received a depressing wake-up call when the neighbouring Radnor apartments on Waterloo Quadrant were torn down that year. That event was followed by elation in 1980 when Justice Minister Jim McLay decided against Courtville's demolition.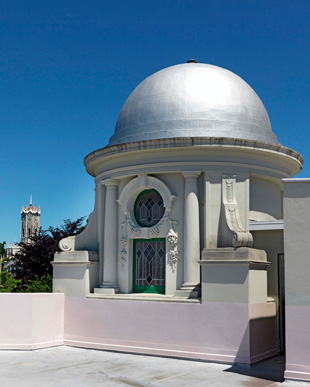 Then came another downer: the government said it would sell the Courtville buildings, introducing the distinct possibility a commercial developer would demolish them and erect some ghastly mirror-glass office tower in their place. Too many historic buildings in the city had already been wrecked. An outcome like this would have been like driving a stake through Auckland's historic heart.
A couple of crucial decisions and a political guardian angel who would go on to greater things helped save the buildings just as they were about to go up for auction in late 1987. First, Auckland City Council rezoned the site so only residential buildings could be erected in Courtville's place, eliminating the possibility of commercial development on the site.
Soon after, Conservation Minister Helen Clark signed a Historic Places Trust protection notice for the buildings. Architect Julie Stout lived in Corner Courtville at the time and vividly remembers the future prime minister "sitting in someone's living room in her broderie anglaise collar and paisley dress and the rest of us complete punks and hippies — I remember marvelling at the contrast. She completely understood our case and it was one of the first things she did as a minister."
Still the battle raged on. The Courtville residents obtained a High Court injunction delaying the auction of the buildings and eventually secured first rights to purchase them. The initial triumph gave way to the nitty-gritty of a frantic, then fractious purchasing process.
"The group that bought the buildings had different aims and different situations, which led to a lot of disagreement," says voiceover artist John Sweetman, who owns Braemar but back then was living in Corner Courtville, where he purchased two apartments with his then-wife, Susan. Some people wanted to maintain cheap rents for the buildings' tenants, while others preferred the group that owned the buildings to make enough money to fix them up.
Eventually the apartments were all placed on individual titles, offering their new owners the opportunity to fully engage with the buildings' charms and limitations. Unlike suburban homes, where walls can be easily moved and pushed out into backyards, Courtville's spatial constraints are set firmly in brick and concrete.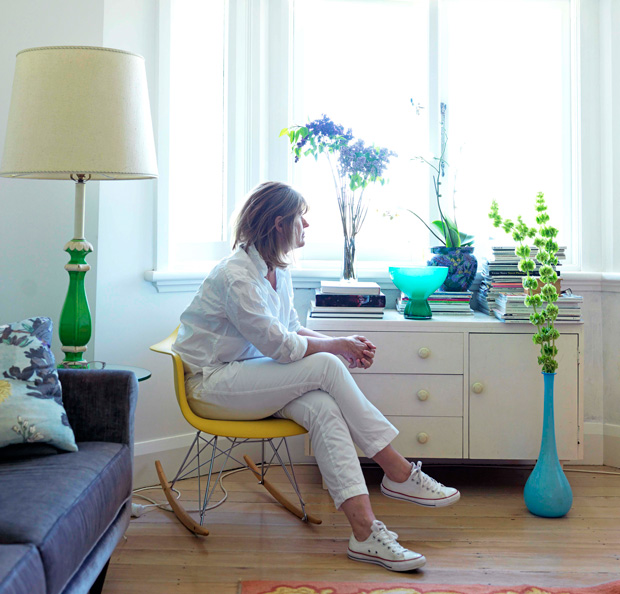 Make-up artist and photographer Carolyn Haslett first moved into Middle Courtville in 1994 after returning from eight years in Paris and "was used to living in apartment buildings — I didn't get why you would live in an isolated suburb on a property with dry grass and a couple of trees". She eventually purchased her own place in Corner Courtville, which she still loves but refuses to fuss over.
"There are things that aren't perfect," she says as we sit in her white-painted sunporch that offers a glimpse of the harbour. She points to the tangle of pipes overhead, and to the neighbours' bathroom window that opens onto this very space. "Most people want everything to be perfect. I don't think perfection is the best life goal, but many of my friends think I live in a dump."
By the time Haslett bought her place in 2000, the lengthy process of purchasing the apartments and putting them on individual titles had left some of the longer-term residents exhausted. "The body corporate meetings were fairly hostile — they all hated each other," she remembers. Nowadays "it's a much calmer environment", even with body corporate fees rising to $13,000 a year to cover a long-overdue refurbishment of Corner Courtville's exterior. Haslett has no plans to leave, and the building's future, after so many challenges, finally seems secure.
My tenure in Courtville came to an end earlier this year, when Cameron and I decided to get sensible, stop renting, and buy a flat in a cluster of small star-shaped apartment blocks built in Freemans Bay by Auckland City Council as part of an enlightened social housing development.
I missed Courtville terribly when we moved. The lower ceilings of our new place felt like some sort of beheading, and the severe rationality of a 1960s council flat seemed a hard-edged affront after Courtville's rumpled grace. Summers in Courtville were glorious, with long afternoons reading on our balconies looking over Parliament St's plane trees and past the white spire of St Andrew's Church towards the Domain. We had a vegetable garden on the roof and friends all through the building.
Winters were tougher, as our place faced south, attracting not a ray of sunshine from April to September. But I came to appreciate the skill with which our 65sqm apartment had been divided into separate rooms, this greater variety of spatial experiences making it feel larger than if it were an open-plan affair. I loved the sense of hovering above the activity of the street and being able to observe the camera crews and criminals coming and going from the court across the road.
I enjoyed the way our bay windows brought in so much light, even in winter, and were projected just enough from the building's edge to allow lateral views down the length of the street. I never tired of the stateliness of the neighbourhood or the walk through Albert Park to work.
Nothing in Courtville came up for sale during the short period in which we looked for a place to buy, but I count myself lucky to have lived there. As debate rages over the city's future and living closer together seems the only sensible option, these loveable century-old buildings feel more relevant than ever.
Courtville proves there are better ways to pack people into our neighbourhoods than the grim towers of Hobson St and Nelson St. Whenever paranoid nimbys freak out about the damage they think higher-density dwellings will do to Auckland life, we need to turn their gaze away from the disasters of the past 20 years and back to 1915, when a romantic building on Parliament St did its best to show everyone how it could be done.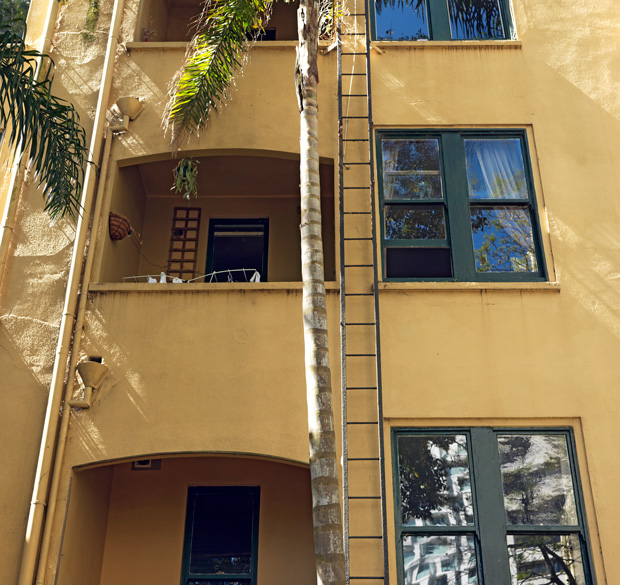 Golden years
Courtville residents on horror, density and destiny.
"There are too many stories to tell because I lived there for 10 or 11 years in the 90s and they were my bachelor days. I would come out of Club Roma at 4am with a couple of new friends and walk through Albert Park to my place and party on a bit. It was a really great time for me. One time, I was seated on my Chesterfield couch, which I had covered in blue velvet, watching my little TV with a friend. I was watching Sunday Night Horrors and the camera went through the front door of our building and up to my door. They had used Courtville without asking as the opening sequence. We screamed!"
Peter Urlich, musician and resident in the 1990s
"I was 'in residence' at Middle Courtville from 2003 to 2006. The apartment was at street level facing the High Court. I had a number of what can only be described as impromptu, pop-up parties. As if by magic there would suddenly be 10 people standing shoulder to shoulder and just thrilled to be crushed into a confined space in a historic building. They jumped and slithered in and out of the window. It must have been a sight. It still shocks me that the buildings were almost torn down in the 80s. But that's Auckland for you and why I detest the place. We do not love our heritage."
Judith Baragwanath, socialite
"Apartment buildings in general can be quite big and anonymous but Courtville has a very different feel to it; everyone does kind of know each other, or at least each other's business. For our time in the building we had a great crew living there, and I think it was the same for many residents in the past."
Michael Lett, gallery owner and resident 2011-2014
"I love the grace and elegance of the front [of Corner Courtville]. What a lovely way to turn a corner, with that dome at the top! It felt very urbane and civilised. The open stairwell meant you would always talk to someone and find out what was going on. The rent in 1980 was about $25 a week for an entire two-bedroom flat. There was a strong community of quite colourful people. It was just magic, to be living in the centre of the city, with the university just down the road and Government House gardens across the way, where we would go to have picnics and pick the tea roses."
Julie Stout, architect and resident in the 1980s
"There's always been a group of people who are deeply fascinated by and attracted to Courtville. I'd had my eye on it since I was about 11. It was beautifully designed and it was kind of romantic. I loved the generosity of the arrival and the glory of the lobby spaces and going up the stairs. It seemed to represent this idea of what urban living was about."
Graeme Burgess, architect and resident in the 1980s
This article was first published in the December 2015 issue of Metro. Photos: Jane Ussher.