Jul 29, 2015 Books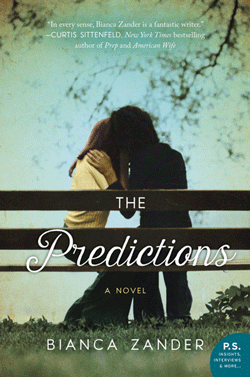 THE PREDICTIONSBianca Zander(William Morrow, $35)
This article first appeared in the July/August 2015 issue of Metro. Review by John Sinclair.
The Predictions, Bianca Zander's second book, is a coming-of-age novel set between 1978 and 1989. It echoes some of the elements of her first novel, The Girl Below: a young woman travels from New Zealand to London in the same era, and must decipher the wrongs of childhood before she can mature.
Poppy, the narrator of The Predictions, has been raised in a kibbutz-inspired commune on the Coromandel, Gaialands, where the members struggle to till the soil and manage without cash, TV, meat or capitalist constructs such as marriage and parenthood. The children of the commune don't know which of the adults are their parents, and it's only the onset of hormone-charged adolescence that forces the truth from stolid idealist Hunter, the commune's founder and Poppy's father.
When New Age sex bomb Shakti descends, with her gypsy caravan, naked yoga and Our Bodies, Ourselves sessions, the innocence of Gaialands ends. The predictions she makes for the teenagers, at a farcical cleansing ritual, seem to have real-life consequences. When Poppy follows true-love Lukas to London, where his punk ambitions turn into metal-band success and self-loathing, she remains a hanger-on, waiting for her own prediction to come true.
The early commune scenes are the most compelling, perhaps because they promise so much and appear before the novel's bad guys, painted in the broadest strokes, render the plot less complex — from always nude Shakti, who gets a slapstick comeuppance, to grey Gavin, Poppy's implausible London fiancé, who is too cartoonishly wrong even for a romcom.
Some of the writing is glib to a fault (Poppy and Lukas are "caught up in the rock'n'roll lifestyle"), and the London sections read like a breathless outline, too anecdotal and unshaped. There's a sloppiness to the editing, and confusions of idiom (concessions to American readers with "flashlight" for torch, "pants" for trousers and Maori words in italics, but there are also gumboots, bums and even "strewth").
When Poppy returns home, there's a rush towards resolution: the lost are found, assumed infidelities are explained and most of the flawed are forgiven. This will please readers who like their endings tidy and happy, but it also means many characters who seemed important earlier simply drift away.
There's little of the magic and mystery of Zander's debut. In its place, ultimately, is a conventional romance and superficial meditation on motherhood, the promise of its story unfulfilled.