Feb 12, 2015 Books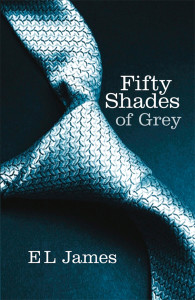 Fifty Shades of Grey
Fifty Shades Darker
Fifty Shades Freed
E.L.James (Random House, $19.99ea)
This review was first published in the June 2012 issue of Metro.
Recently, I set up a Twitter column with two words in the search: "fifty shades". If my Twitter feed had been linked to a vibrator, I'd have been coming every 10 seconds. What the hell is going on? Well, are you reading this review on the 267 bus up Dominion Rd? Look around: the woman over there with the Kindle. The lady with the iPad. And the broad next to you leafing lasciviously through a paperback illustrated with an innocuous grey tie on the cover? That's your Mum? Oh, don't interrupt her.
They're all tied up in the fantastic BDSM rags-to-riches world of Fifty Shades of Grey, an erotic romance between Anastasia Steele, a virginal, Wuthering Heights-obsessed humanities graduate, and the messed-up, bondage-obsessed millionaire Christian Grey, that's whipped the publishing — and reading — world into a frenzy.
Top three spots on the New York Times bestseller list. Intense grappling for the film rights. The usual onanistic analytical frenzy re What Women Want, not to mention a spurting forth of many brilliant parodies. It's zeitgeisty, all right. But are the books themselves as jizzy as the hype they're shackled with?
What's more challenging to the sensitive reader — the hokey Cinderella subject matter (older, powerful, moneyed and broken man seeks submissive virginal loan-burdened literature grad to dominate with whips and butt plugs and fancy shopping trips) or the writing?
One of the author's many annoying habits is describing her characters' annoying habits: Anastasia bites her lip on every second page, which turns Christian on every time. (She also comes with two annoying internal characters — a prim subconscious and a wanton inner goddess. I desperately hope the film will feature them both in cartoon version.)
Against the backdrop of that highly pornographic location  the Pacific Northwest, Anastasia and Christian speak like Victorians. "I shudder to think what could have happened to you," he murmurs, and, "I feel like the sun has set and not risen for five days."
She says even more stupid stuff, like: "Normally I hate energy-saving bulbs — they are so dim — but being naked here, with Christian, I'm grateful for the muted light." Has Al Gore signed on for the audio version? And while the story appears to take place in the 21st century, Ana seems never to have owned a cellphone in her life, let alone touched herself, you know, down there (don't expect pussies, pricks and cocks in this story, although Ana does have her very own "Christian Grey-flavoured popsicle"). Magically, Christian earns "roughly one hundred thousand dollars an hour" (which helps pay for the housekeeper who cleans his bondage gear), despite spending most of his working hours strapping women to spreader-bars in his Red Room of Pain.
In other words, the books are an inflated, badly written version of Harlequin romances (the sexier imprint of Mills & Boon). The thing about those books — I have read a few — is they're funny. The heroines have interesting lives and senses of humour; the men are genuine bad boys. Whereas this guy has Britney and Coldplay on his iPod.
Of course, the joke may be on us. I reckon E.L. James (the pen name of former TV executive, now millionaire first-time author, Erika Leonard) is completely aware of her shortcomings as a writer, and lets us know it via her characters.
The over-describing? Ana: "Oh! I really must stop expressing every emotion I feel the instant I feel it." The lack of (intentional) humour: "I can't tell jokes," Christian confesses, and Ana giggles back: "I'm a hopeless joke teller, too." The research sources: Christian encourages Ana to look up BDSM on the internet; she consults Google.
My guess is millions of readers are sticking around for the sex. But is it any good? Well, there's plenty of it. Lips are always hungry. Mouths groan in defeat. Christian "pours himself into" Ana, an anatomical miracle. There are no fanny farts, yeast infections or dry spells, and only one period in three books. Anastasia is comically able to reach screaming orgasm Every Single Time, although in disturbing ways: "I detonate around him," she reports, "like an incendiary advice"; elsewhere she feels herself "splinter into a million pieces." (Messy stuff; thank goodness for that housekeeper.)
As BDSM goes, it's not a shade on Pauline Réage's The Story of O, or Ann Rice's Sleeping Beauty trilogy, or any number of non-hetero spunkfests. Are you on Auckland City Library's lengthy Fifty Shades waiting list? Check them out while you're waiting for the film.