Nov 18, 2014 Books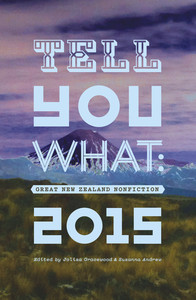 On Monday night, the new anthology of New Zealand nonfiction, Tell You What, was launched at the Civic by a panel of writers including Metro satirist David Slack. His speech is reprinted below.
I've been lying awake at nights asking myself why I don't have a chapter of my own in this book. I think the reason is that everything I know about writing I learned from listening to the Eagles.
Steve Braunias, who has a nasty reputation as a crew-ell dude, said to me on Twitter last week: "I almost NEVER listen to lyrics of anything. Words are for books. I just like the way people sing and that."
He doesn't say much to me on Twitter these days, because he unfollowed me on Twitter.
But if I ever again become one of the 40 people he follows on Twitter, he will probably say to me: "David, your work has a peaceful easy feeling, and no-one wants to read that shit."
Also, he will probably say: "you can't hide your lying eyes".
This is a book full of honesty. And I am hoping that the next one will not be.
I am hoping that the next one will be open to people like the passive-aggressive-hold-the-passive Matthew Hooton and perhaps the Canon Media awards blogger of the year, Carrick Graham.
I might not look up to scratch amongst this volume of Metro columnists and Public Address bloggers and people who have stood up and bared their souls at True Stories Told Live, but I tell you what, I reckon I could take Shelley Bridgeman.
I even have a title for volume 2016. It's every bit as quintessentially New Zealand as the expression Tell You What.
I propose: Pretty Fucking Average, 2016. I really do.
Also, I can't stand the expression "quintessentially New Zealand".
People who use that expression like to describe us using buzzy bees and hokey pokey. They want to turn the wonderful Dave Dobbyn into the Howard Morrison of our generation.
They want to sing "Why Does Love Do This To Me" every day until they die, and at All Black matches.
I wish they would just stop it, and I wish they would stop trying to put their beloved All Black fern on our goddam flag.
They have already done it to our Air New Zealand – a great big fern with a white shirt at the front of the fuselage, and black trousers at the back, so that their plane looks like a flying waiter.
This is not what we are. This book is a bit of what we are.
This shows that we're all kinds of things:
We're a brown Cortina and an oversized coffin
We're a three year old hiding under floorboards to avoid kindergarten
We're a ridiculous pink helmet and a bicycle blog
We are Jose Barbosa's underpants, lost somewhere in the Dotcom mansion
We are Naomi Arnold's mother's good kitchen knives
We are Hone Tuwhare rolling another smoke while we make sense of things.
We're not a label, we're not a brand. We are all these stories and we are volumes 2 through 44.
This thing could be bigger than 20 Solid Gold Hits, because it's just that good.
When Steve Braunias writes a whodunnit that is really a she-did-it-and-I-love-her, he is not only saying "city girls just seem to find out early how to open doors with just a smile", he is also saying "take it to the limit one more time".
When Greg Bruce writes about imminently drinking champagne at the breakfast bar of the house he's bidding for, it's as wistful and poignant as any line in "Desperado".
And when Keith Ng rends your heart telling you about his grandfather, he still manages to convey the same intelligent cold fury he puts into almost everything he does, where the subtext is: dude you could not get a clue if you were smeared in clue musk and tossed into a roomful of clues in clue rutting season.
And a single word in Simon Wilson's beautiful tribute to his family transports me.
That word is mutton.
I grew up on a sheep farm. We got roast mutton every Sunday, roast shoulder on Mondays, roast chops on Tuesday, roast flap on Wednesday and by Saturday lunchtime we were down to the sheep brains in white sauce on toast.
I never, ever eat mutton, and this will be the subject of my dazzling story in Pretty Fucking Average 2016.
But 2015, what a year this is.
Jolisa Gracewood and Susanna Andrew, who are two of New Zealand's most splendid people, say they were looking for stories that have stuck with readers.
They were looking for writing that catches the reader by surprise, writing that caught the writer by surprise.
They found public tragedies and private disasters, they found abundant talent, they found empathy and generosity.
I have watched our Prime Minister give a speech. What he invariably does, and you can count down the seconds, is pick someone who is not in the room, and bag and taunt them, knowing the audience will join in.
A bit like I'm doing now.
Prime Minister, why don't you come to your senses?
Come down from your fences, Prime Minister, open the gate. Why don't you let somebody love you, before it's too late?
Why don't you start with this book? It's a joy. It is open, it is warm, it is generous, it is sad, it is beautiful.
Tell You What: Great New Zealand Nonfiction 2015, AUP Press, $29.99.