Apr 17, 2015 Books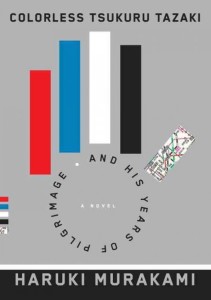 Readers who survived Murakami's last outing, the 900-page
IQ84
, with its extra moon, little people and paedophile cults, can be excused for stepping tentatively into his latest novel. But Colorless Tsukuru, the story of a man trying to find love and overcome a deep psychological wound, is a low-key, almost naturalistic tale. Although it aspires to be otherwise.
Tsukuru Tazaki has always been surrounded by people named after colours. Take his four best friends at school: Black, White, Red and Blue. Then one day they announce, for reasons they won't reveal, that they want nothing more to do with him — ever. He slopes off to university where he meets a man named Grey, whose chief role in the novel is to relate a rather dark anecdote about a man named… Green. Tsukuru himself remains "colorless", not simply because he is an unmarried, thirty-something engineer (that would surely suffice), but because his name means merely "one who makes things".
Some kind of allegory or fable seems brewing. Murakami even provides a theme-tune in the form of Franz Lizst's "Years of Pilgrimage", an introspective piece which is perfect mood-music for the journey Tsukuru undergoes after his ostracism. It's a pilgrimage through depression and suicidal self-neglect, years of drinking in lonely bars, and working long hours designing railway stations (which, as places where people pass through but never stay, provide the perfect analogy for Tsukuru's stalled love life).
Then he meets Sara, a woman he could truly love, but one who won't take the relationship further until he faces up to his "issues" by finding out exactly what lay behind his sudden rejection by his four colourful friends.
So the pilgrimage continues as Tsukuru tracks down each of his buddies, creating in the process a composite portrait of Japanese thiry-somethings: healthy, well-educated people, excelling in their various vocations, but somehow baffled by life, and curiously lacking in passion. It's territory Murakami has visited in previous novels: the angst of comfortable people who, on the threshold of middle-age, feel they have mislaid the key to adulthood.
Murakami's feelings towards his characters are hard to discern. Something between mild amusement, sympathy and mockery. "Tsukuru had never lacked for anything in his life", he tells us, "or wanted something and suffered because he had been unable to obtain it. Because of this, he'd never experienced the joy of really wanting something and struggling to get it." Poor chap. It's hard not to feel that these people need just to grow up a little, to become a bit more robust.
For the record, Tsukuru will find out why he was ostracised and relationships will be re-established, though there is damage that cannot be undone.
That brings us back to the colours theme, which curiously fades away without contributing much to the resolution of Tsukuru's journey. I was reminded of a passage in 1Q84, when, halfway through a killing spree, the delicious Aomame, a sex-crazed assassin, and her gay Korean bodyguard discuss Chekhov's advice to authors not introduce a pistol on stage unless they intend it at some point to go off. Sadly Murakami has ignored this advice with Tsukuru and left its colour symbolism dangling. It's embroidery that adds little to an otherwise entirely readable, if rather down-beat, novel which ends, not with a bang, but with a whimper.