May 15, 2015 Books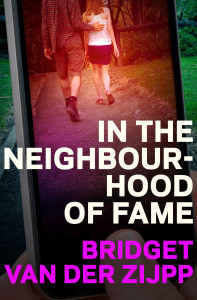 IN THE NEIGHBOURHOOD OF FAME
Bridget van der Zijpp(VUP $30)
Depending on your pop-culture reflexes, the word "fame" might send a ringtone to your brain of David Bowie's "Fame" or the leg-warmers and head-band hit of the same name ("I'm gonna live forever)". In Auckland-based writer Bridget van der Zijpp's new novel, the word conjures something different: she's interested less in the road to fame than in its exit. Her fame is more in the nature of Shakespeare's "false fleeting perjured".
Rock musician Jed Jordan has had the kind of success that puts a protective force field around him, but when something happens on the internet that starts to change. I don't want to risk spoilers, so I'll just say the story is steered through a neat set of narratives from the point of view of three women whose lives are closely caught up in Jed's.
The writing is marked with empathy and perception. Van der Zijpp is good at fathoming the odd ways in which people think and love and miscommunicate, and she puts me in mind of Zadie Smith's writerly commandment that "the time to make your mind up about someone is never".
Two characters who come into short focus in the book are portrayed particularly well — a "teenage boy with a knot of grief where a father's regard should be" and the obsessive, craven and hygienically challenged music blogger called Martin, whose arcane knowledge has been short-shrifted by Bandcamp, iTunes and Spotify.
Like Christian Tsolkas' The Slap, the novel makes good use of recent issues that have scandalised us: notions of privacy, Twitter firestorms and public shaming. This is van der Zijpp's follow-up to her debut Misconduct, which was shortlisted for the 2009 Commonwealth Writers Prize, and it shows a writer with a good sense of her readership. It's the kind of book you can confidently recommend to a book group: story tightly focused, guaranteed to spark debate.