Oct 7, 2014 Books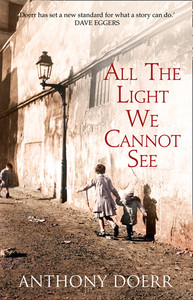 Certain set-ups are more hackneyed than others. I have not, in fact, read a lot of novels where the main character is a blind kid, but I feel like I have, somehow. Perhaps you've had a similar feeling? In which case, may I urge you to move past it and give Anthony Doerr's
All the Light We Cannot See
a fair reading.
A World War II story with not one, but two, vulnerable teenagers as protagonists, the set-up didn't fill me with enthusiasm. I try my best with kids-in-war stories, but invariably they slay me. I had to go to bed for half a day after The Book Thief. Much as I loved it, I had no wish to have my heart torn out again by something similar.
But Doerr's work is persuasive, despite my resistance. Blind girl and orphan boy they may be, but his two main characters possess sufficient gumption to keep a reader interested. His talent, too, is undeniable.
Literary blindness may be a creaky trope but it provides some of the best writing in the novel. There's another thread in this book also that makes it unusual: the legend of a cursed diamond braided through it. The diamond grants its owner immortality, while killing everyone close to him or her. Weaving this myth through historical events adds a new frisson; what if it's an ancient curse that's responsible for war-time losses?