Nov 27, 2019 Society
Last Friday, hundreds of Aucklanders gathered at Raynham Park on Karangahape Road to attend Bodyhaus, a strip club night for queers, by queers. An evening of erotic art and live performances, it was a safe and inclusive space for trans and gender diverse dancers who often don't feel safe performing elsewhere, and for queer patrons who may not feel comfortable in traditional strip clubs.
The event was also intended to raise awareness of the fact that strip clubs do not pay their dancers an hourly wage, and to right this by paying all performers a base fee on top of whatever tips they earned.
Amanda Jane Robinson was there to experience a celebration of beauty and sexuality.
I arrive early and there's already a line. On the window outside, a 'Safer Space Agreement' is printed on hot pink paper, noting that filming and photography is not allowed, instructing patrons not to touch the dancers, and making clear the club's no tolerance policy regarding transphobia, homophobia, racism, sexism, slut-shaming, fatphobia, sizeism, ableism, xenophobia and ageism.
After a quick induction, staff hand out branded stickers to cover our phone cameras and we're allowed upstairs, where organiser Sarita Das rushes around making sure volunteers in hi-vis vests have everything they need. They wear a black leotard and stick-on rhinestones, their blue ponytail skimming their waist. A small crisis (the QR codes on the tickets aren't scanning) is quickly resolved.
I exchange my cash for tips, printed on recycled paper, and talk with dancer and hula hoop artist Freddy Matariki Carr, one of tonight's stage kittens, the people who pick up the tips and costumes from the stage after each performance. "How good does this place look?" she says, and it's true, the room is gorgeous. Pink and purple lights spin around the room, the kind of light that makes everyone's skin look perfect. An endless loop of shifting purple smoke is projected onto the wall behind the silver pole glistening on the centre stage, a giant disco ball spinning above.
A blindfolded body covered in plastic wrap lies on a table topped with purple grapes, halved nectarines, and smashed pomegranates; a red apple in each hand. At their feet is a chair and a pair of headphones. I sit and listen to an ascending tone of breathy moans that never quite reach climax. An experimental post-porn film featuring messy, muddy bodies plays on a set of screens beside the bar. In a sheltered nook, a performer dances erotically between red fabrics.
It's not even an hour before the venue is packed out. I ask friends and strangers how they heard about the event. Someone saw it on Instagram. Someone's friend is performing. Someone read about it in their lesbian Facebook group. "It's like there's someone here from every different group I've ever been in," artist Vanessa Crofskey remarks, and she's right. I've already spotted friends, old flatmates, my boyfriend's oldest childhood friend, ex-coworkers, a friend's girlfriend's ex, a classmate, and like, six ghosts of crushes past. "I wish I was wearing less clothes, I just came from work," Vanessa says. I feel the same way. I clock leather harnesses and g-strings, fishnets and nipple pasties. Everyone's brought their hottest look.
Alongside Sarita the other Bodyhaus organisers (DJ and queer event facilitator Nikolai aka Brown Boy Magik, and performance artist and stripper Kyah Dove) take to the front of the room. "Thank you for coming to Bodyhaus. This is amazing and it's all of our dreams come true, thank you. Look at all you beautiful queers!"
Sarita welcomes the first dancer to the stage, performance artist and original member of FAFSWAG artist collective Mistress Supreme. A cheer rises through the audience as she emerges from behind the curtain in a black harness. Patrons start throwing tips to the stage as she spins on the pole, and soon the stage kittens can't keep up. They haul handful after handful of tips to a nearby table to count them up. By the time the next dancer finishes their set, Freddy and the other kittens are improvising, shoving tips off stage into rubbish bags to be carried off and bundled up in another room.
Coven artist Honey dances in hot pink thigh highs, followed by Hades, Siren, Viela, and Cxntess. A dancer named Katya closes the first set, beginning her performance in a highlighter yellow starkini I recognise from Instagram designer @astroprincess_ and ending up fully nude. Despite breaking the strap on her pleasers mid-spin, Katya gives an incredible show, and when a fifteen-minute break is announced, the audience clambers to restock their tips.
Between sets, one of the performers sits cross-legged and doe-eyed in the centre of the stage, eating a Magnum ice cream and feeding segments of the chocolate shell to women in the front row. Someone moves through the floor with seven whirring desk fans strapped to their body, cooling the crowd. Another person trails behind them carrying a multi-plug outlet and an extension cord. Even in this intermission, hardly anyone is on their phone. Everyone dances and laughs and lounges on the couches at the front of the room. At one point I count four couples making out.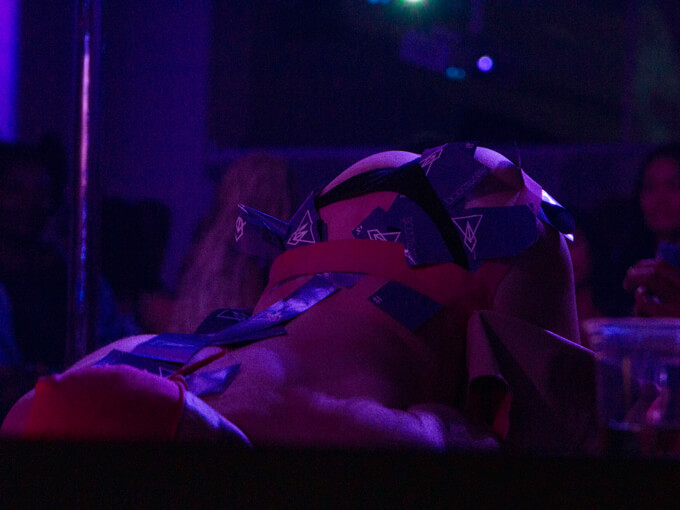 It's close to one in the morning by the time the second set gets started, and over the speaker, Auckland DJ Halfqueen best known for hosting queer club night Filth, reminds patrons in the front row to make sure they're tipping constantly. "If you don't know strip club etiquette, that's where the ballers sit." Throughout the night Halfqueen keeps the mood right and the energy up, playing everything from Sevdaliza and Kelela to Nine Inch Nails, Rosalia, Cardi B, The Pussycat Dolls, Jeremih, and Britney Spears' seminal 'I'm A Slave 4 U'.
The second set never dips in its spark, with each dancer from the first set taking to the stage in the same order, but wearing a new costume. More of the dancers climb the pole in the second set. More of them get naked, too. Audience members hand the dancers tips via their mouth, and some of the best tippers are thanked with a kiss. At the end of the night, the audience has witnessed an incredible range of bodies, many of which are not readily embraced at traditional strip clubs. I spend the entire night captivated at the side of the stage.
"This is the audience strippers deserve," DJ Halfqueen says at the end of the night. "But we'll never get it because the whole sex industry revolves around men and the cis straight male gaze. This is the perfect audience but we don't yet have the resources or the money for the industry to be as good as this was. That being said, I can see this event becoming a big thing, and I'm so proud."
Actor and theatremaker Saraid Cameron says she can't believe how good the event was. "It's so freeing and beautiful and fucking fun and exciting." Other patrons echo her sentiments. "It totally reinforced how gay I am," a woman in a leotard and fur coat says.
Organiser Sarita Das says the event went better than they ever could have hoped. "I'm so happy. We ran out of tips!" Performer Katya says it was a totally different experience from her work at a traditional strip club. "For me, the night was an amazingly personal exchange of energies. I've been a sex worker for a little over a year now and have never experienced that level of engagement from a crowd, they really met us on our level. I also made more money from tips at Bodyhaus than I ever have from tips at my regular club and I usually go onstage over 5 times a night whereas at Bodyhaus I only went on twice!"
I leave as the party winds down, feeling heartened and revitalised that a space like this exists in Auckland, desperately hoping it continues and grows. As I leave I overhear a woman talking to her friend. "It's a queer revolution," she says.