Sep 13, 2018 Schools
Interest in te reo Maori is on the rise but schools are struggling to find teachers and the Government has no plans to make it a core subject in high schools.
It's the beginning of a Year 10 te reo Maori class at Manurewa High School and the students are filing in. "No wai enei hu?" asks teacher Ariana Stone. She wants to know who has left their black school shoes in the doorway of the whare. A boy sheepishly owns up and moves them to the side. Inside the whare, beside the field of Auckland's largest decile 1 school, is not dissimilar to a regular classroom, but the front of the small building is covered with scaffolding when Metro visits, as carvings are being installed.
One boy is late — "Did you get lost again, Quinn?" Whaea Ariana slips between English and Maori throughout the hour-long class. "Kia tau, ne," she says when they get fidgety. "Settle down, eh." About 10 students sit at bench seats behind tables around the edge of the whare, a set-up that gives it a cosy, casual feel. It's a smaller-than-usual lesson today, but numbers are never particularly large in te reo classes at the school, says Stone. The subject is an option from Year 9 to 13, with NCEA beginning in Year 11.
"I think in this area there's still that stigma around te reo Maori — that it's not valuable, it's not going to get them to where they need to be," she says. "This is my fifth year here and I still have to chase people down for numbers." By contrast, all around the country, Maori language classes for adults are reporting unprecedented levels of interest, and the issue of whether a more concerted effort is needed to ensure all our kids are learning te reo Maori — whether it should be made compulsory in schools — is back in the spotlight.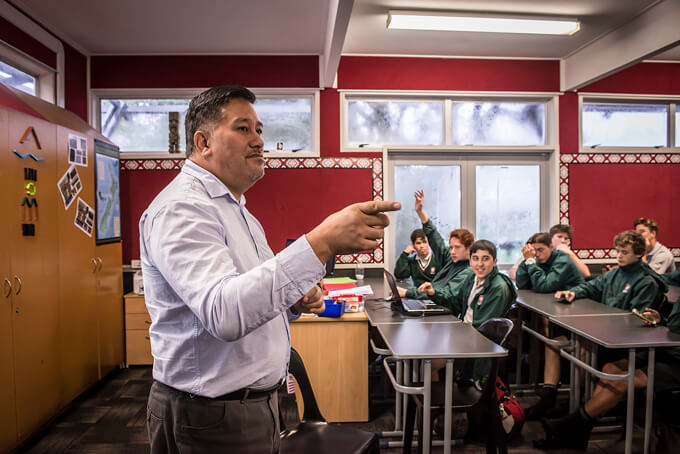 <!– –>
The New Zealand curriculum states that it "acknowledges the principles of the Treaty of Waitangi and the bicultural foundations of Aotearoa New Zealand" and that all students should have the opportunity to acquire knowledge of te reo Maori me ona tikanga (the Maori language and its customs). The reality, though, is that it's up to individual schools how they interpret and implement this core principle, and it can vary widely, with some schools showing much more commitment than others.
At Westlake Boys' High School on the North Shore, they may not have many Maori students, but fostering the language and culture is taken seriously. When Metro visits, Johnny Waititi's Year 10 te reo Maori class is in action. It's a big class — one of two at Year 10 level — and the 30-plus students are deeply invested in hearing the results of a hotly contested quiz, with whispered exclamations of "yessss" rising occasionally from desks around the room.
Waititi, who has been teaching for more than 20 years, mainly in Maori-medium education, moved to Westlake Boys' in 2016 from a school in Kaikohe, where he was deputy principal. "I just wanted something different, and you can't get any more different than coming from Kaikohe to the North Shore," he laughs. "But I love it."
The decile 9 school has a roll of around 2300, of which Maori students make up about eight per cent, alongside a Pakeha majority and large numbers of Chinese and Korean boys. Since his arrival, the school has embedded a commitment to biculturalism in its charter and there's been "a big surge in kaupapa Maori", says Waititi (Ngapuhi and Te-Whanau-a-Apanui). He credits headmaster David Ferguson, who happens to be English, for his commitment and support.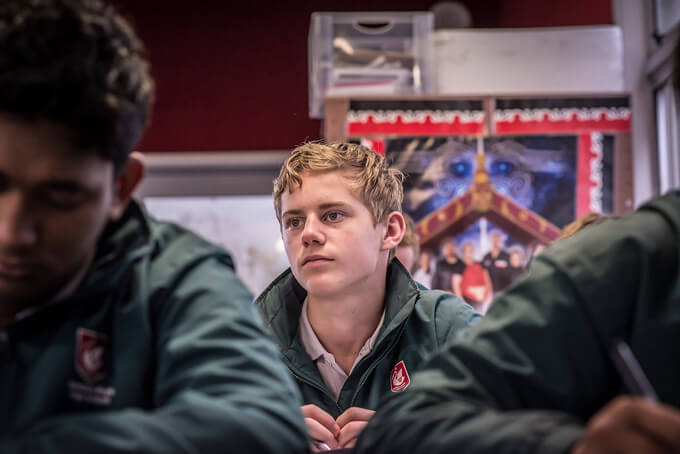 In Year 9, all students must choose a language from a list of five — te reo Maori, Chinese, Japanese, French and German. The spread is pretty even, says Waititi, and this year, there are four Year 9 te reo classes. Before he started, eight or nine boys would usually do NCEA level 1 te reo Maori in Year 11. This year, it's 27. Waititi, who is dean of Maori students and head of matauranga Maori at the school, has also led the revitalisation of the kapa haka group — which has combined with Westlake Girls' group and this year performed in the top division at Polyfest — and introduced Maori performing arts as a subject. This has led to increased interest in te reo, he says, and the majority of his students are non-Maori. In turn, more school staff are taking an interest, too, and Waititi's fellow te reo teacher, Arahia Pomare, runs lessons for them.
Waititi points out that "every single teacher in New Zealand has to give evidence to their principal saying, 'I can teach culturally responsive pedagogy that will help Maori to achieve'." The degree of commitment, however, varies widely. "What does a school in, say, Devonport do in terms of the Treaty compared to a school in Mangere or Papakura, where the cohort of those types of students is bigger than on the Shore?" he asks. "Because we have only got a few Maori students, does it mean we just make a little bit of effort or a lot of effort? Westlake has a very progressive attitude, which was surprising to me, but good. And this initiative is led by non-Maori, which is even better."
<!– –>
Back at Manurewa High, Ariana Stone (Ngati Kahungunu ki Te Wairoa) is doing all she can to encourage greater engagement, too. The school is one of the country's most multicultural, with 50 nationalities represented. Around 26 per cent of its 2000 students are Maori, 53 per cent Pasifika, 15 per cent Asian and five per cent Pakeha.
When she started at the school in 2014, Stone realised that Discovery Learning Centre, an inquiry-based programme all Year 9 students took part in, provided a good opportunity to integrate te reo Maori me ona tikanga. The programme is now called Te Pae Tawhiti and students go on marae visits, learn haka and waiata, play games and practise basic te reo Maori. "It was a chance to connect with all of the Year 9 Maori students so they knew who I was, so that they could feel that connection, and hopefully build my numbers for te reo Maori."
Stone says her Year 9 students arrive with varying te reo abilities, which she believes comes down to how much they were taught in primary school. As of 2017, according to Ministry of Education figures, 77 per cent of the total school population were either learning only simple words, greetings or songs in te reo, or receiving no te reo Maori teaching at all.
A 2016 survey of primary and intermediate schools found that students who start with a high proficiency in te reo Maori are unlikely to be supported to further develop their skills in mainstream education. The New Zealand Council for Educational Research (NZCER) survey also found that although most teachers said they were incorporating te reo and tikanga in their teaching, only a very basic level of te reo was being used.
While Prime Minister Jacinda Ardern told TVNZ's Marae she hoped her child would grow up being able to korero Maori, it's become clear that not all members of the coalition Government are on the same page in regards to the place of te reo in schools. Maori Development Minister Nanaia Mahuta and her associate minister, Willie Jackson, have both supported making te reo compulsory, but official government policy shies away from the word, preferring "universally available". The aim is to integrate te reo into the learning of every early childhood, primary and intermediate student by 2025, and for it to be an option for every secondary student.
Coalition partner New Zealand First is against compulsory te reo in schools, while confidence-and-supply partner the Green Party wants to make it a core subject, along the lines of English and maths, from Years 1 to 10. In light of Mahuta's May comment that compulsory te reo was "just a matter of time", National called on the Government to clarify its position.
The Associate Minister for Education (Maori Education), Kelvin Davis, told Metro that integrating te reo Maori means giving students "opportunities to speak, read, hear, see, sing te reo Maori throughout the course of the day and just making it a natural part of the day, in a non-threatening way".
"I think it's really important not just for Maori students and their identity but for our national identity." Davis says there are no plans to adopt the Greens' policy of making te reo a core subject. "We want it to be integrated, rather than 'here's the subject and you put it in a box and you walk out of the classroom and leave it behind you'." He congratulates schools that have introduced compulsory te reo for Year 9 students, however. "It's wonderful, it really is. I think those schools will find that the world didn't cave in when they did it compulsorily in Year 9, and it will probably add something to their schools, so we really encourage those schools and others to continue."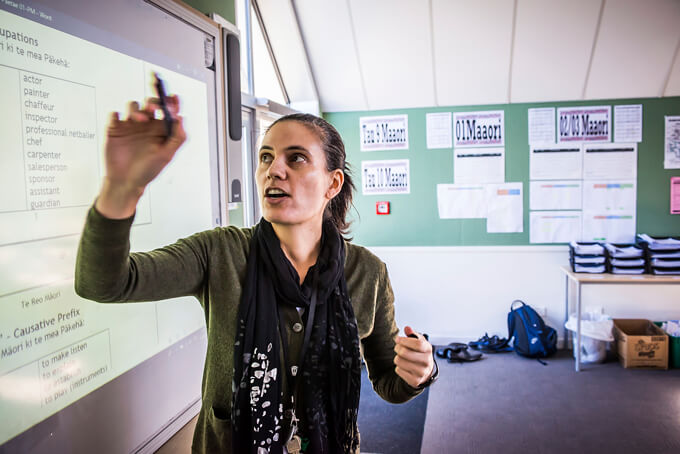 Te Taura Whiri i te Reo Maori (the Maori Language Commission) has advocated moving away from the word "compulsory" when discussing te reo Maori in schools, and Davis agrees it has negative connotations. Others, including Maori broadcaster and te reo advocate Stacey Morrison, have said the compulsory argument is irrelevant because the current lack of resources means it would be impossible.
Both the Post Primary Teachers' Association and the New Zealand Educational Institute Te Riu Roa unions support the idea of making te reo a core subject, but emphasise that a serious amount of investment — in both time and resources — would be needed. "As a stepping stone to making it possible, the PPTA has written proposals to the Ministry of Education — both to the prior Government and the new Government — saying, look, we've surveyed our members and 70 per cent want access to professional learning of te reo Maori," says PPTA president Jack Boyle. "But basically we have been given a 'taihoa, we've got other priorities at the moment'."
In May's Budget, $12.5 million was assigned to te reo Maori in education through a package of initiatives called Te Ahu o te Reo Maori, designed to support teachers' delivery of te reo in the classroom. "It targets teachers who are already teaching te reo Maori and also those who have the potential to do this but may not have the confidence," says Davis.
Currently, many teachers who wish to improve their te reo Maori skills attend night classes in their own time, on top of already heavy workloads. Teachers Metro spoke to expressed their desire for more professional development opportunities centred on te reo Maori learning, and either funded release time to take classes or paid incentives. "If they valued our development, they'd pay us to do it or let us do it in work hours," said one teacher.
"I think there's a high level of commitment from the teaching profession around utilising te reo Maori," says NZEI president Lynda Stuart. "It should be more a part of professional development that schools and teachers do in their training, and moving forward."
Davis says the Government hasn't factored in release time at this stage, but is focused on developing the skills of teachers in the workforce in a "non-threatening" way.
"We want people to be able to ease in at their level and progress as they go," he says. "Teachers probably feel that there's a limit to what they can do, so we want to help them to extend those limits. Every little new word or new sentence or phrase or whatever, every contribution in te reo Maori is really important."
Several teachers Metro spoke to expressed concern over the lack of te reo Maori in initial teacher-training programmes, with one calling the current approach "incredibly tokenistic".
"It does need to be more of a focus in initial teacher education," says Stuart. "It absolutely starts there." Davis says immediate pressures like teacher supply are the current focus, adding that "in the long run, teacher education and training will play a critical role in producing a teacher workforce that is confident and competent in te reo Maori".
Decile 9 Macleans College, in Bucklands Beach, is another secondary school making a commitment to kaupapa Maori. Sixty nationalities are represented on the 2500-plus roll — tangata whenua make up just four per cent — yet Maori studies has this year been made compulsory for all Year 9 students, staff receive te reo lessons, a whare is being built and the kapa haka group is 170-strong.
"We're committed to seeing Maoritanga and tikanga Maori woven into the day-to-day life of our school," says Macleans principal Steven Hargreaves. "We are aware we have a long way to go but know what we're doing is good for all staff and students." Macleans has recently hired a second Maori teacher, but it took almost a year to find a suitable candidate.
Back at Westlake Boys', Waititi knows the school is lucky to have two teachers of te reo Maori, both of whom are competent in speaking Maori and teaching Maori. "That's not the case in quite a few schools," he says. "You have people filling in, and it becomes quite hard. A number of schools have to go to other options, like correspondence school and multidisciplinary options. That's not ideal, but it's better than nothing."
In the past six years, the number of people training to be teachers in New Zealand has dropped by 40 per cent, and the shortage is particularly critical among te reo Maori teachers.
"It's the number-one problem," says Tim O'Connor, headmaster of the high-profile decile 9 Auckland Grammar School, which introduced te reo Maori as a subject in 2016, making it compulsory for all Year 9 students. He admits to "stealing" te reo teacher Neitana Lobb, who was previously at Wellington High School. Lobb had been a student at Palmerston North Boys' High School when O'Connor was rector there. "I knew his talent and ability and I knew that he would have an understanding of an environment like this, given that he had been through a boys' school environment himself.
"But how many Neitanas are there out there? They are a scarcity," O'Connor says. "We do need to be training more teachers like him who have an academic focus at understanding the worth of the language and the ability to share it."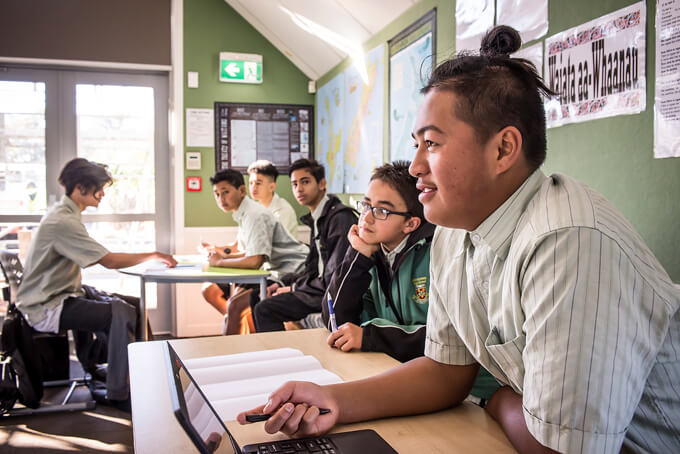 Justine Mahon, principal of Epsom private girls' school St Cuthbert's, agrees. "It's hugely difficult to find teachers of te reo, which really is something that needs to be looked at by the Government — it needs to be resourced." St Cuthbert's has offered te reo Maori as an optional subject since 2002, introducing it at the same time it launched four fully funded Year 7-13 scholarships for Maori and Pasifika girls per year.
Maori students make up four per cent of the roll of just over 800, and te reo class numbers are small, but Mahon says the college works hard to integrate te reo Maori me ona tikanga into the day-to-day life of students. She says at this stage, the teacher shortage prevents St Cuthbert's considering following the likes of fellow private school King's College in Otahuhu and Auckland Grammar in introducing compulsory te reo for Year 9 students. "If you're going to make a language compulsory, you have to know that there is a strong pool of teachers."
Mahon supports a greater focus on Maori, however, particularly at the earlier stages of education.
"The secondary curriculum is really crowded but if you started in primary and intermediate, the understanding and the love of the language would grow and it would feed through into the secondary schools, and you could combine that with greater resourcing of teachers of te reo."
Fourteen-year-olds Rebecca Fala and Mysty Cooke are part of the small, close-knit Year 10 te reo Maori class at St Cuthbert's. Rebecca says she decided to take Maori because it's part of her culture — and so she can understand her aunt when she speaks to her in te reo. Mysty, who is Pakeha, loved learning te reo at primary school and was keen to continue with it.
"I think lots of people are missing out, because Maori is so fun!" says Mysty, who adds that in Year 9, a few other kids couldn't understand why she would want to take Maori over a language such as Spanish. Rebecca adds that the fact not many students at St Cuth's take te reo makes it seem "cooler".
"It's really important that we learn it," says Mysty. "It's indigenous to our country. The only way we can spread the language is to learn it and then we can pass it on and keep it alive."