Jul 10, 2019 Schools
METRO X KRISTIN: With a wealth of experience behind him, Kristin's newly-appointed Executive Principal Mark Wilson picks up the mantle and reflects on his new role in a quick Q and A. Plus, Kristin's senior and middle school principals weigh in on how they're prepping their students for life after school.
When term three begins there'll be a friendly new face around Kristin School in Albany – that of Executive Principal Mark Wilson.
While the Junior, Middle and Senior School Principals will continue overseeing the day-to-day running of their schools, Mark will take responsibility for guiding the top performing school into the future. It's a position Mark is well prepared for, having held leading roles within education for over 20 years, as well as successfully facilitating the turn-around of Cashmere High School during his ten years there as Principal.
Despite negotiating a number of extraordinary events in this time, Mark spearheaded a change in the school's culture of engagement and behaviour which brought about significant improvements to both academic and co-curricular results.
What attracted you to Kristin school?
Kristin is 46 years young, with a tradition based upon progressive and innovative delivery. Returning to an independent school appealed – being unfettered by government constraints and being able to focus on delivering the best-possible education for young people. I was encouraged by Kristin's foundation story of being established by visionary families who aspired to have a family-focused community school. I was also attracted to Kristin's commitment to its respect for individuals, diversity and traditional Christian values such as honesty, trust, kindness and hope which provides a genuine holistic education that develops both intellect and character.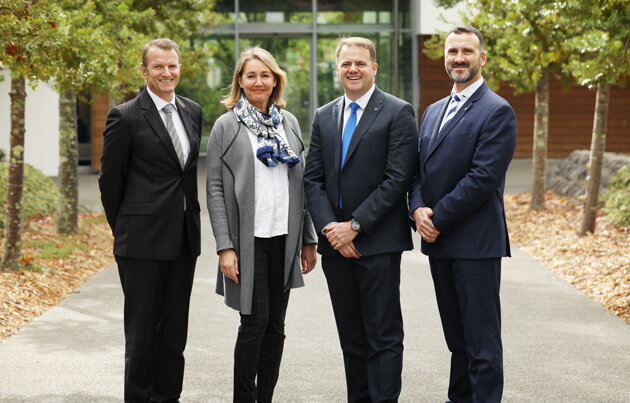 You have a strong track record of innovative leadership. How have you done this?
We firstly need to understand exactly what the opportunity is to ensure the changes will be effective.
Innovation involves transformation, so you need to ensure your community is on board with what needs to be changed, and how the new practices will improve learning and outcomes. With a common focus on 'big data' and trends, we need to be aware that some of the most effective innovation is done in small, on-the-ground ways, like setting up mentoring systems, changing the use of spaces, and using 'student voice' to review programmes.
How will you keep Kristin at the leading edge?
Kristin School is already leading education in terms of providing a challenging and internationally-recognised qualification – the International Baccalaureate (IB) Diploma – that opens up pathways across the world. Building on this, we need to continue to provide a future-focused education not limited to academic outcomes, but also providing the holistic components of service, character building, and well-being support for students. Students are at the heart of Kristin. Interacting with our students will always be a vital part of my job – and the most enjoyable part too.
Positive, strong relationships are the most important factor in effective education.
Kristin's Senior School Principal David Boardman explains how the school future-proofs its students.
The Senior School at Kristin is focused on offering students a wide range of opportunities to grow and flourish in these crucial final years of education. Our focus is not purely on the academic, but also on developing the whole person, their leadership skills, emotional intelligence and social skills which will enable them to tackle any future challenges head on.
Kristin School was the first school in New Zealand to offer the International Baccalaureate Diploma Programmes introducing it in 1986. This programme, combined with NCEA, provides our students with options to tailor their secondary education based on which pathway is the best fit for them, enabling them to achieve their potential. Students from both pathways at Kristin have gone on to study at the most prestigious universities around the world.
Strong student wellbeing and Academic Pathways programmes ensure students' needs are individually addressed. We provide information to help them make informed decisions regarding their subject choices and the opportunities that are available to them, both while at Kristin and in further education.
Building on the leadership development that takes place in Kristin's Middle School, students in the Senior School have the opportunity to be involved in a wide range of groups and activities that assist them in developing the soft skills that are so important in later life. They also have the opportunity to get involved in local and international projects that will have a lasting and profound effect on both the students and the communities that we have built relationships with.
Kristin's Middle School Principal Dave Scott unpacks how Kristin supports and develops its Year 7 to 10 students
Adolescence is one of the most fascinating and complex transitions in the schooling of students. It's a time of accelerated growth and change second only to infancy. Young people need to feel that they belong. They need to learn the skills to effectively traverse adolescence and become a person they feel comfortable with as they mature. Kristin Middle School provides such a place.
As an IB World School, we offer the Middle Years Programme (MYP) curriculum which empowers students to inquire into a range of issues and ideas of local, national and global significance. The result is young people who are creative, critical and reflective thinkers. Alongside their academic pursuits we encourage our students to be involved in a physical and a cultural activity, of which we have a huge range of options.
Kristin has a strong focus on altruism and seeing leadership as service to others. This culminates at the Year 10 level when students join one of 20 different leadership teams. All Year 10 students also complete a year-long self-directed community project. Other opportunities include a dedicated Camp Week, an Odyssey 21-day canoeing expedition down the Whanganui River and our 21-day Pasifika service learning trip. International student exchanges as well as the mandatory learning of a second language also help develop our students as global citizens, and further cements Kristin's place as a leader in middle schooling.
BUILDING A SOLID FOUNDATION AT KRISTIN
Kristin caters for children from six months old right through to Year 13 on 50 acres of park-like grounds with state-of-the-art and award winning facilities. Find out more at: discoverkristin.school.nz.