Nov 19, 2013 Politics
First published in Metro, October 2013. Photo by Jane Ussher.

It's been a long time since Auckland had a mayor as popular, and as powerful, as Len Brown. How the hell did that even happen?
He's a funny little man, isn't he? Still sings "Pokarekare Ana" in public whenever he gets the chance, and he makes people join in. Fist-pumping, back-slapping, always grinning. Loves his job so much it shines out of him like bliss on a stick. A man with the ability to find in his work not just stimulation, but relaxation. It nourishes him.
Does that bliss come from ignorance? Why is Len Brown still so bouncy?
It's not ignorance. Spend any time with him and you discover he has an insightful and coherent view of the world he works in. He's a much more highly skilled political operator than you might expect, he's extremely determined, and when it comes to marrying pragmatic gains and a long-term vision, he may be without peer in the country. Yes, he can seem a bit gormless. But you know what? He doesn't care.
In the past three years, he has comprehensively outsmarted council enemies to the left and right and won a once-hostile government to his key policy platform, the transport plan. Now, he's about to be re-elected mayor with no viable opposition. In Auckland City, you have to go back six elections to find the last time that happened.
Why Len Brown is like John Key
Len Brown is the John Key of the left. I put that to him, and he laughed it off. "I'm not at all like him," he said.
Len Brown is like John Key because they're both popular beyond reason, and the things their political opponents don't like are the very things their loyal supporters love. They don't bother much with intellectual rigour. The Prime Minister's gaucheness, his mincing down the catwalk in an Air New Zealand costume, equates directly with the mayor's down-with-the-brown South Auckland schtick.
Both know the people who complain about these things are not going to vote for them anyway and, besides, they like doing them. And they don't care: liberal complaints are the drug Key snorts for sustenance; the moans of Jafas and sophisticates are music to Brown's ears. He doesn't care much for sophistication and he's glad he's not a Jafa.
The Brown and Key similarities don't stop there. Both are likeable at the personal level, and in politics the role they both naturally fit is chairman of the board. The father figure.
Both are political centrists, to the dismay of many core party supporters. The right is just as appalled at Key's failure to pursue a free-market ideology as the left is upset at Brown's silence on the Maritime Union at the ports and the Housing New Zealand tenants in Glen Innes.
And yet both are politically shrewd: Key's deals with Act and the Maori Party match Brown's ability to garner support from lefty activist Cr Cathy Casey and National Party councillors.
Beyond all that, though, the deepest trait they share is the ability to be satisfied with what's possible and move on. In both, the combination of low ideological drive and a positive temperament makes them happy in their work, and the sum of all this makes them extremely effective.
Brown likes Key, too. And he likes Steven Joyce and Bill English, or so he says. Nick Smith, not so much. Smith, like councillors Christine Fletcher, Mike Lee and Sandra Coney, is one of those people he won't talk about.
But even with Smith, the Housing Minister, Brown had the skills to get an accord out of him that will speed the building of affordable housing in Auckland. And then Brown had the skills to get it adopted unanimously by his council.
Deputy mayor Penny Hulse says he's "extremely bright". But, she adds with an obvious note of disappointment, "he doesn't read widely and passionately". Hulse used to be Bob Harvey's devoted deputy mayor at Waitakere, and Harvey has read half the books in the world. Or claims to have.
Hulse tells a story of asking Brown if he'd heard a certain interview on Morning Report. No, he hadn't, he told her, he'd been listening to Hauraki. That's Len Brown for you: on the long drive to Queen St from his home in the hills behind Manukau, he isn't listening to Geoff Robinson and Simon Mercep, or Mike Hosking on Newstalk ZB, or even a talkback station. He's doing crazy shit with Martin Devlin and old rock music.
Who knows, maybe John Key is doing the same.
What they did to the Unitary Plan
If politics was sex, Brown would be on top. Not just because he likes to be the man in charge, but because the old familiar way of doing things makes him comfortable. Comfort is important.
It's just after 9am on Wednesday, August 28. Day one of a three-day council meeting that will end up taking five days. Cr Noelene Raffills is forking fruit salad into her mouth and Len Brown is staring at the ceiling. When he speaks, he's folksy. He calls them "Councillor Penny" and "Councillor Mike", which Penny Hulse probably likes but Mike Lee, who's a stickler for propriety, must find infuriating.
They're working through final amendments to the Unitary Plan (UP), the city's controversial new rulebook for land use and building. Technically, this is a meeting of the Auckland Plan committee, not the council itself. But all councillors are members, so it's almost the same thing, except Hulse, not Brown, is in the chair, and they've invited the local board chairs to attend, with speaking rights. That's a Hulse initiative.
Council officials, including Penny Pirrit, the planner who has guided the whole process, are at the table too.
It's the end of their first term as the super-city Auckland Council, and Brown's got a speech. He reminds them what they've done: created a 30-year Auckland Plan, amalgamated eight different rates systems, established a 10-year plan and a budget to go with it. The UP will round out the effort.
He's very proud. "Each of these would have taken eight to 10 years in the good old days," he says, and allows a little pause for a metaphorical pat on the back.
They've sweated long and hard over this thing. Cr Calum Penrose talks of sitting in council rooms on Friday evenings over summer, nutting out how to make a better city while the sun streamed through the windows. You can see him picturing the family at the beach, the barbecues he missed.
They had 250 public meetings and got shouted at a lot. Received 22,700 "pieces of feedback", put themselves through 22 workshops, sat around with officials and local boards and interest groups, arguing forever.
The draft got moderated; by the end of this five-day meeting it will be moderated even more. Auckland is still to become a more compact city, but not as compact as they thought. A bit less up and a bit more out is what we're getting now.
There's a loss of flexibility. The first version of the plan proposed a less rule-bound approach to density and various design factors than in the old district plans, to help developers keep costs down and encourage innovative design. Instead of prescribing exactly what they could do, and thus encouraging them to do nothing better, the idea was that the council would work with developers to create good innovative outcomes.
Supporters of this approach regarded it as a lodestone for quality: "We'll have a fabulous urban design manual to guide us," said Penny Hulse. Detractors saw it as the devil's work: "It's deregulating the building industry," said Mike Lee. The flexible approach has been largely lost in the suburbs.
The UP used to allow for 280,000 new homes over 30 years. The council's head planner, Roger Blakeley, says it can now accommodate 100,000 fewer.
Weirdly, listening to councillors debating over those final days, you wouldn't think much of that was true. On both sides, the debates continued as if almost nothing had changed in the whole long process. Too many of them just love a good bicker.
Almost everyone wants a more compact city. But Brown's opponents say he's going too fast and asking too much. Lee says he's "wrecking the garden suburbs across Auckland".
The irony is that the revised UP is now closer to what most of those opponents say they want than to what they claim it is. Despite the bell-ringing doom of the leftist Lee and rightists like Cr Cameron Brewer, it's clear that in St Heliers, in Milford and in the other garden suburbs — the places where opposition to the UP has been loudest — they have little to fear.
How does Len Brown feel about all the bickering and the watering down? Very comfortable.
Len Brown's Friends
Officially, there are no caucuses in the Auckland Council. Councillors are free to vote as they see fit on every issue.
In reality, the only reason the centre-right doesn't caucus — it used to on the old city council — is that it's too splintered.
As for the centre-left, which Brown leads, he's being a touch disingenuous. He has a very tight inner circle which meets every week. It comprises Brown and the chairs of the four COWs (committees of the whole, on which all councillors sit): Penny Hulse (Auckland Plan), Penny Webster (strategy and finance), Richard Northey (accountability and performance) and Ann Hartley (regional development).
Northey and Hartley are former Labour MPs, and Hulse is also Labour; Webster is a former Act MP.
Northey is the éminence grise. Hulse says he's "the complex policy guy": he reads all the reports and has a "huge, huge knowledge". He's probably one of only two councillors with the commitment and the brain for that kind of work (the other is Sandra Coney). Hulse calls him the "keeper of the left".
Christine Fletcher calls Brown's tight five "the executive". She says she watches Webster in meetings, and if Webster nods along while Brown is speaking, Fletcher knows "there's been a rehearsal". It happens a lot, she reckons.
Transport, the biggest single issue facing the council, is not represented in the five. That's because Brown gave the chair of the transport committee to Mike Lee, as a goodwill gesture after Lee had failed to get Labour support for his own mayoral candidacy in 2010. On both sides, the goodwill has gone now. Lee and Brown do not meet regularly. They barely talk.
Lee will probably keep his seat on the new council, but it will be a surprise if he keeps his committee. Centre-right councillor George Wood wanted it last time and if Chris Darby is elected, he will want the job too. Darby, an impressive transport wonk and chair of the Takapuna Local Board, is challenging Wood and Hartley for one of the two North Shore ward spots.
There are five more councillors in a broader centrist group, who vote with Brown much of the time. Alf Filipaina and John Walker are Labour, while Arthur Anae, Noelene Raffills and Des Morrison are current or former National Party members. Raffills and Morrison were even elected to council on the National-aligned Citizens & Ratepayers ticket, but have since repudiated that shambles.
That's also true for Wood, who has been one of Brown's more vocal critics. But in recent months, as Penny Hulse's deputy chair on the Auckland Plan committee, he has moved to the middle. Hulse clearly likes him: "There's Good George and Bad George," she says with a laugh.
Over those final days of voting on the UP, "Good George" sided so decisively with Brown that Cr Dick Quax tweeted he had signed his own death warrant in the election. Wood does not seem worried.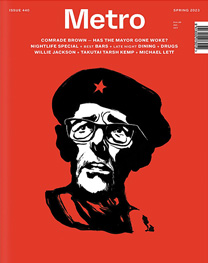 Metro N°440 is out now!
With progressive councillors starting to score some wins under what was anticipated to be a reactionary major, Hayden Donnell asks: Has Wayne Brown gone woke?
Plus: we go out and investigate Auckland's nightlife (or in some cases, the lack thereof), with best bars (with thanks to Campari); going-out diaries from Chlöe Swarbrick, BBYFACEKILLA.mp3, Poppa.Jax & more; a look into Auckland's drugs by Don Roew (who's holding and how much they paid for it); we go on the campaign trail with Willie Jackson, talk to gallerist Michael Lett, drink martinis and alternative wines, start seeing a therapist, visit Imogen Taylor's studio, look into Takutai Tarsh Kemp's wardrobe. And more!
Buy the latest issue