Dec 2, 2019 People
Youtuber Shaaanxo talks to Harriet Pudney about a decade of vlogging, Youtube drama, and being a very famous introvert.
As 2019 draws to a close, everyone's reflecting on what they've achieved and how they've changed this decade. Sometimes it's impressive, sometimes it's a bit pointless (if you were in high school 10 years ago, it's not surprising your life is different now), and sometimes it's an excuse to show off the fact you haven't got wrinkles yet (again, if you're 26, this is not much of an achievement).
Still, it's entertaining, and for Shannon Harris, a lot really has changed. The 27-year-old, arguably New Zealand's biggest social media star, need only scroll back on her Shaaanxo YouTube channel to see how far she's come in the last 10 years. "I can go back and watch my old videos and it's like a time capsule… an embarrassing one," Harris says. "You can see how insecure I am just by watching the first few videos I uploaded. I almost whisper the whole time. I'm passionate about what I am doing but I'm so awkward.
"I guess I was only like 16 or so. [But] it's good to see the positive change because I know for a fact I have gained a lot of confidence in myself and my skills have improved a bunch."
Back then, Harris was nervous about girls she went to school with finding out she was making videos in her bedroom. Now, her fiance's nieces want to be YouTubers when they grow up and she's got more than 3.2 million followers. She's got a business selling makeup brushes and a brand new eyeshadow palette, and in 2017 Forbes named her one of the top beauty influencers in the world.
When I refer to Harris as a celebrity, though, she's not sure.
"For me a celebrity is like, Britney Spears," she says. "I guess I'm just a girl who sits in her room alone every day. I barely leave the house unless it's to go to the gym or grocery store."
The personality you see in Harris's videos – funny, enthusiastic, unpretentious – is genuine, but it's also her in the comfort zone that is her house. She's a reasonably introverted person. It's a quality she shares with a lot of her Youtube peers – and she doesn't think that's a coincidence.
"I'm personally more introverted which is what I think traditionally a lot of the OG YouTubers were – who else would sit in front of a camera by themselves? Introverts can do so well focusing on themselves and their own growth," Harris says. "I do most of the admin, editing and of course filming myself. I just roll out my jobs and roll out my videos and do my thing. You forget how many people are watching."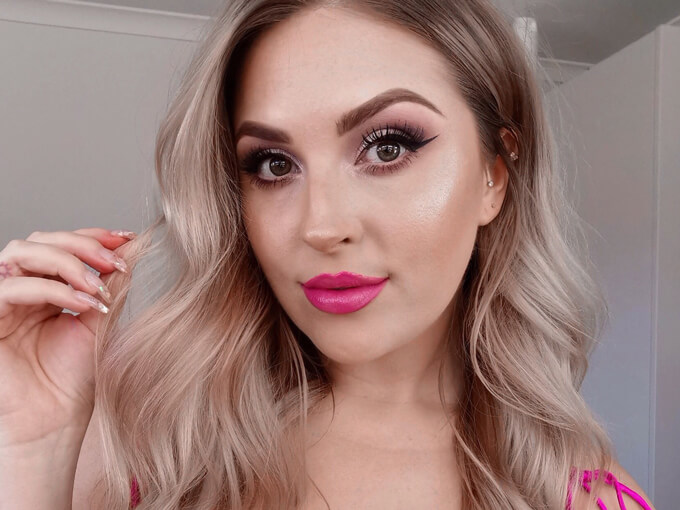 When you compare that to say, Logan Paul in the Japanese suicide forest, or Charles James and Tati Westbrook's almost certainly manufactured falling out, it seems almost old fashioned. Harris stays away from manic interpersonal drama or videos about nearly getting TRAFFICKED in NEW YORK. "[I can] 100% confirm some of [the drama] is completely fake," Harris says. "But a lot of it is real too. I think especially in LA where real life celebrities cross over into the YouTube world it gets super catty."
People are cooking up conflict for views and to stay relevant, Harris says, but many of their viewers are likely in on the joke. Think of it like professional wrestling – no one thinks that's how the Undertaker acts when he's hanging out with his kids. It's pure entertainment.
"YouTube is just like any industry, there are different personalities and different viewers who are attracted to YouTubers who are entertaining, or dramatic, or calm, or informative," she says. "Some people are genuine and exactly like 'what you see is what you get'. Some people are polar opposites." Harris's followers come to her to feel like they're hanging out with a friend – albeit one who could apply a set of false eyelashes with one hand tied behind her back.
In fact, when reflecting on the personal side of her time on social media, it's those differing approaches which Harris points to as being the biggest challenge. If she could go back to 2009 and tell herself one thing, it would be 'You cannot be friends with everyone'. "Not everyone will like you and that's okay. I know that now, and it's an important thing to understand. Focus on being your best version of yourself – some people will love your personality, your videos, your work, and some people won't. Like Dita Von Teese says, 'You can be the ripest, juiciest peach in the world, and there's still going to be somebody who hates peaches.'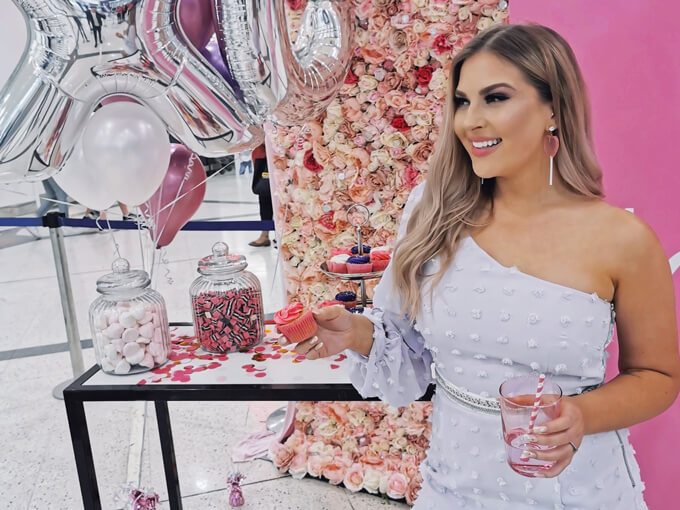 Previously, Harris would find negative comments hard to deal with, but now, "I don't care at all. [You have to] listen to the constructive critique to grow and learn, but ignore the haters. There are clearly people who love what I do, so I would tell myself to give those people all of the attention. And don't force friendships – sometimes it's just business disguised as a friendship."
Harris says she has been burned at times by social climbers and people who want to use her name to grow their own internet presence, and that she's had to learn to be more reserved with new people. "Don't get me wrong, some of my best friends I have met through YouTube, so it goes both ways, [but] some people are in it for themselves, to grow, to climb up. I wish I wasn't so naive to that."
These lessons will be familiar to anyone at the tail end of their 20s. Letting go of the need to be universally adored, and learning what feedback to take on board and what to disregard, are ongoing projects for many of us. The difference is that Harris has done it with millions of people watching her every move.
"I think it's easiest to just be yourself," she says. "Or maybe I'm just lazy. I've definitely changed [over the years] but for the better. I guess my viewers who have stuck around have been there the whole time to see my personal growth."
It's not all that serious, though. You can't interview Harris without getting a couple of pieces of beauty advice. "By investing in good skincare, [you] can buy the cheapest makeup at Farmers and it'll likely look great still," she says. "If you do not take care of your skin, remove your makeup properly and take time to moisturise it, you could buy the most expensive makeup and it'll still look average. Also, match your foundation to your chest and shoulders, not your natural face skin tone or neck. Your neck and wrist is almost always paler than your chest so it never works."
When I ask if there's anything she'd like to add, Harris sends a dinosaur meme, and I'm left thinking that really, if you grew up on the internet, you might have more common ground with a full time YouTuber than you'd expect.