Mar 5, 2014 People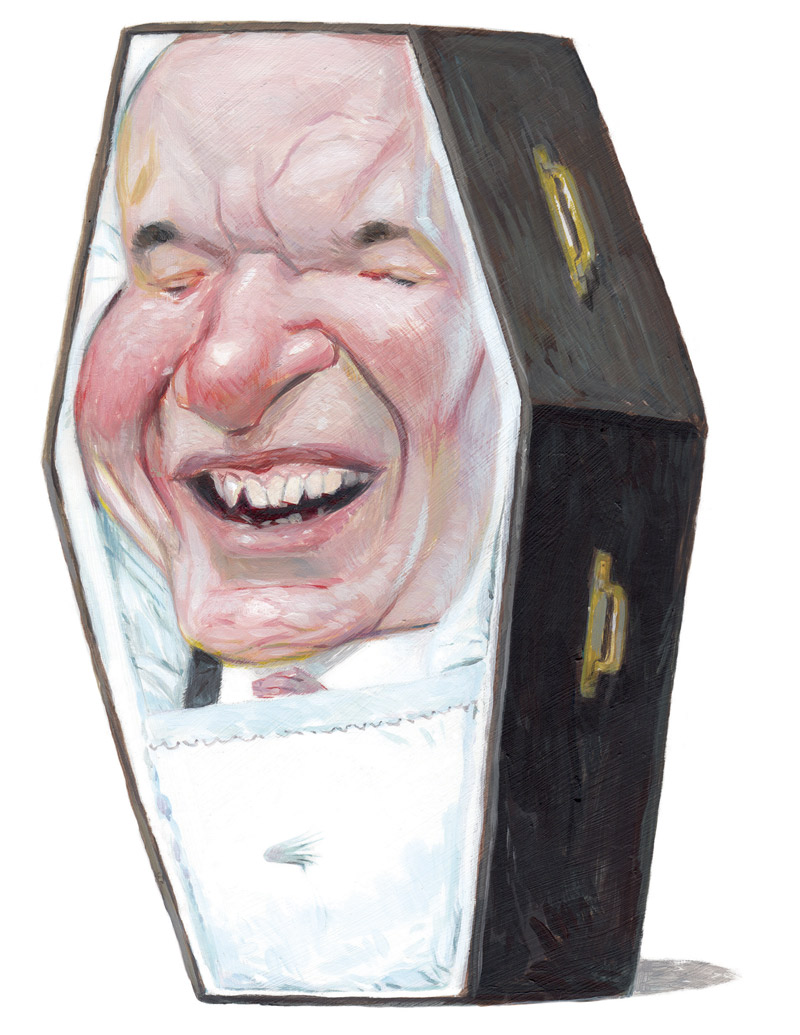 Len Brown — the mayor who Auckland just couldn't quit — is dead at 94. He expired in a neighbour's bed at the rest-home popularly known as Viagra Towers. "If I told him once, I told him a dozen times," a nurse said: "You can't keep mixing the heart pills with the blue ones like that, Len. But he would just give me a cheeky grin and gobble half a dozen of them."
Although he made much of his Aucklander-next-door nature, Len Brown was not a man who put his trousers on one leg at a time. He tended to leap into them in a single energetic jump. But for an equally strong impulse to shed them, he might have lived a life of unqualified glory.
He was the small town boy who made it big but never lost touch with his roots. His family moved from Taumarunui to Otara when he was seven. He attended the local schools, he became a lawyer. Corporate law was not for him, though. He helped to found a free legal service, he joined the Labour Party, he fought the good community fight.
Inevitably he became mayor of Manukau City, and then, to the horror of Parnell and Remuera, won the first supercity election and found the means to cajole, hector and charm councillors of all political stripes into something approximating unity.
People liked his inclusive style, they liked his dad-joke sensibility, they liked the way he would sing a waiata as readily as other mayors cleared their throats. He won re-election in a canter and then, at his very moment of triumph, the style of controversy that would become his trademark blew up all over his face, trousers and mayoral desk.
As sex scandals go, it was conventional enough — a younger, exotic woman, unseemly trysts. But the exhaustive and lurid retelling of it made for excruciating reading. Friends and supporters fell away. Brown battled on gamely for months in the face of editorials, blogs and lone trumpeters all calling for his head, and had he not made the mistake of asking TV3 news­hound Rebecca Wright for her phone number while the camera was running, things might have been different. As the clip passed two million YouTube views, he finally announced his resignation.
But Brown was not done. Gleeful right-wingers were dismayed to find that running a superglued Auckland was more difficult than they had expected. Infighting, petty jealousies, bickering and stalemate soon had the city at a standstill. Trains did not run, motorways clogged up, ferry services remained woeful.
The same newspapers and magazines that had bayed for his blood now picked up a new refrain: won't you come back Len, please?
So began a cycle that would continue for the next three decades: triumphal return, exciting progress, fresh scandal, contrition, ignominious departure.
He was so very very sorry, so very very often.
He regretted his guided tour of the honeymoon suite of the Queen Mary 2. His appearance on the Letterman show with Rob Ford might have gone better if it hadn't coincided with an appearance by a Playboy playmate. If he could do it again, he probably wouldn't cut the ribbon for the Chow Brothers Tower. The all-expenses-paid trip to the Tokyo Olympics with Imperial tobacco was "not a great look".
In all Brown would resign and return nine times, and his tempestuous relation­ship with the city's daily newspaper would become its most enduring love affair. The only story its editor enjoyed more than a Brown scandal was a shark sighting.
Indeed, when the mayor early in his fifth term narrowly survived a shark attack while skinnydipping with a supermodel at Piha, the editor's heart literally exploded. Brown would joke for many years afterwards that they had to wait two days to get the lid onto the coffin.
Illustration by Daron Parton.