Oct 19, 2016 People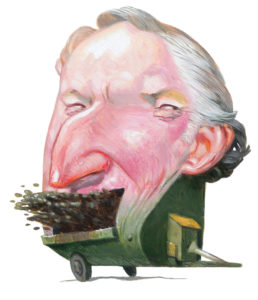 David Slack, man who solved Auckland's problems by accident. Died April 1, 2040.
David Slack was drawn to two things in life: booze and mouthing off.
He was a barman, a breweries executive, a speech writer, a columnist, a talkback host, a mouth for hire.
Wherever people sat down to talk bullshit, he felt at home.
But by middle age, he was jaded. You could bang out 600 or 800 sarcastic words but what ever changed? Nothing. What was the point?
Might as well move to Nelson and get a lawn-mowing round. Or Thailand. Everyone says it's nice in Thailand. And the beer's icy cold.
But then there was a victory party for Phil Goff. Slack knew how it would go: just like all the others. You shake the guy's hand, you say, "Congratulations, Mr Mayor," you tell him, "Listen, I've got this great idea," and the eyes glaze over.
Goff had been calling him "mate" for 30 years because he could never remember his name. But that night, as Slack described his vision, Goff came alive. It wasn't much of an idea, but it was the one thing he truly believed in: a tunnel between Devonport and the city.
Not just any tunnel, an underwater one. With a travelator, just like in the airport. With a Perspex wall, like at Kelly Tarlton's.
You could even wrap it in another layer of Perspex and fill that up with warm water and beautiful tropical fish. Any time of the day or night, you could cross the harbour and not have to wait for a bloody ferry.
"Mate," said Goff, "I love it." Within a year, it was built. Faster than anyone might have dared hope, the most white-bread corner of Auckland was changed forever.
You got to the bottom of Queen St, you just kept on rolling, to Devonport. Yes, really, Devonport. The clubs and bars pumped night and day. Forget Britomart, this was where the party was.
And that was just the start. Auckland's next mayor, Chris Darby, was on the phone to Jacinda Ardern the morning after she became PM.
The hippest city in the world thrived. E-bikes glided around a city full of pink cycleways and air bridges.
He painted his vision for her: beautiful four-level apartment buildings running the length of Lake Rd, landscaped and looking out to the harbour, and affordable, because the whole thing would be done Singapore style: the council and the government would buy the whole stretch, own the land, develop the properties and sell or rent them on terms that kept them forever affordable for young Aucklanders.
"Mate," said the Prime Minister, "I love it."
And so did young Auckland. With so many tens of thousands moving in, suddenly it was the easiest thing in the world to have true 21st-century public transport running constantly along the once-benighted car alley.
Free, solar-powered driverless e-cars would pull in under your apartment building, glide you away in comfort and whisk you down to the travelator.
Suddenly, everything made sense: when the market is completely dysfunctional, you step outside it. The idea spread across the entire city: wonderful, affordable apartments, all publicly built and owned.
The hippest city in the world thrived. E-bikes glided around a city full of pink cycleways and air bridges as the IT and science sector boomed, and every year, it seemed, someone from Auckland won the Man Booker.
Prime Minister Chloe Swarbrick expressed her sadness at Slack's passing, aged 94. (Stay tuned, he's first in line for reincarnation — Ed.) "We offered him a knighthood for fixing the city by accident, but he said he was just glad he could step onto a Devonport pedestrian crossing without being monstered by an Audi.
We'll miss him and his strange obituaries, though. And I can't help thinking that if we hadn't legalised weed, he might still be with us today."