Mar 30, 2017 People
Market gardeners, cooks, accountants, doctors. When people think of Chinese contributions to New Zealand, they often think of the obvious things, says Helene Wong. And while these examples are all true, she says, they're not the whole story.
When Wong and graphic artist Ant Sang were approached to create a comic book-style series of works for Auckland Museum's Being Chinese in Aotearoa exhibition, they were determined to bust some stereotypes. Both born in New Zealand and of Chinese descent, the pair have experienced some of the common misconceptions about their culture first-hand. "We wanted to look for angles that people coming to the exhibition may not have thought of, so they'll be surprised about some of the things we've found out about what Chinese do in Auckland," says Wong.
Curated by social historian Phoebe Li and comprised largely of historic photographs, the exhibition traces the contributions Chinese have made to New Zealand's economy and cultural landscape since the 1800s, when the first wave of Chinese miners arrived. The colourful comic series written by Wong (author of Being Chinese: A New Zealander's Story) and illustrated by Sang (bro'Town, The Dharma Punks) adds a contemporary flavour, with stories about more-recent experiences.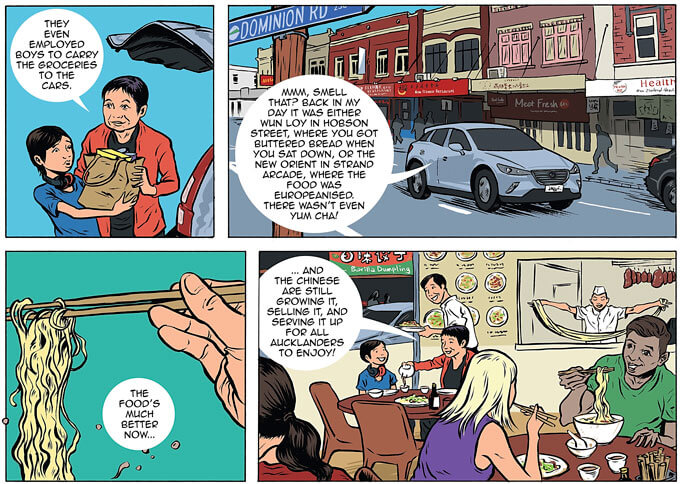 The interconnected mini-stories follow a young boy, uninterested in his Chinese ancestry, and his grandmother, deeply connected to the Chinese Auckland community. The fictional pair set out on an urban adventure, discovering the Chinese contribution to World War I, success with kumara growing, and a knack for making the best noodle dishes in town, among others. 
The illustrations present familiar landmarks, too, based on photos Wong took that Sang could replicate in his art. "The historical stuff was quite difficult," he says. "For drawing the first supermarket, Foodtown in Otahuhu in 1958, I had to reference what kind of cars were around then. It was quite fun, though, piecing a puzzle together."
Sang and Wong undertook two months of research to create a series that showed both familiar and lesser-known faces from the Chinese community. Tyla Nathan-Wong, a Chinese-Maori rugby player, portrays the sporting side of the community, musician Bic Runga's story helps to paint the picture of the arts in Auckland, and Barry Wah Lee, the third-generation owner of Chinese emporium Wah Lee, represents small-business ownership. The intention, says Wong, was to show more than what you would expect from just looking at a Chinese person. "We wanted to do our bit to say, 'Hang on a minute. Don't just look at us in one way, but in many different ways.'"
This article is published in the March- April 2017 issue of Metro.
---

---