Jun 12, 2014 etc
Sarah Mitchell had a foot massage at a luxury spa on a Friday afternoon. By Monday, her foot was so infected doctors said they might have to cut it off.
Fashion editor Sarah Mitchell, 24, was looking for chicken schnitzel at the Quay St Countdown when the pain started.
Less than two hours before, she'd been relaxing in an armchair in the dim light of a luxury Auckland spa, having her feet soaked in a fragrant bath of Chinese herbs before they were massaged for 45 minutes with an oil and organic shea butter cream. It was a welcome mid-summer treat from a PR firm promoting a new line of shoes.
Now, in the supermarket, her left foot, if not quite killing her, was suddenly immensely painful. "It just kept getting sorer and sorer, bigger and bigger and stiffer and stiffer."
When ice packs didn't reduce the pain and swelling after she hobbled home, Mitchell (pictured above) went to Auckland City Hospital's emergency department where doctors diagnosed cellulitis — from either a streptococcus or staphylococcus infection — admitted her, and put her on heavy pain relief and an intravenous antibiotic drip.
A line of ballpoint pen traced the outline of the infection as it marched relentlessly from her big toe, swelling her foot to almost twice its normal size. "The lines kept progressing. My foot was burning hot. It felt as if it was going to explode. The worse it got, the less my body was trying to fight it. I was exhausted."
By Monday, it was up to her ankle and she says doctors told her she might face amputation if the infection couldn't be controlled. Mitchell, who was training to compete in modern pentathlon competitions in Europe and hoped to qualify for the Olympics, says she was "hysterical" at the news. "My first thought — my only silver lining — was that I could be part of the Paralympics. The second thought was that nobody is going to love me with one foot. Then I thought, 'No, Paul McCartney did' [when he married amputee Heather Mills]."
She says she was given a few more days on antibiotics before an MRI scan to determine if she'd need surgery.
"They kept me nil by mouth — and that means there's a high chance you're going to have surgery. That's when I was scared."
Fortunately, the MRI showed the infection had not invaded her joint or bones, but it took another week of intravenous antibiotics before she was well enough to go home, and another fortnight before she could walk without crutches. Three months after the end-of-January injury, she still cannot run and a dull pain persists in her foot.
Mitchell, who edits Apparel magazine, one of a stable of titles in a family-owned business, laughingly describes herself as a highly risk-averse "precious princess". She says she's well aware of the risks of infection in some mall-based nail bars — as described in a Metro story in November — but thought a massage would be entirely safe.
"If you go skydiving, you think there's a risk your parachute might not open. I didn't walk into that massage thinking there were any risks — this wasn't a back-alley place. I just thought it was a good, relaxing way to spend your Friday afternoon and suddenly you find yourself in hospital. It's lucky I don't live in a Third World country, or I mightn't have a foot by now."
She complained to Auckland Council about the spa, which immediately sent an inspector to investigate its disinfecting procedures and reinforce the importance of cleaning footbaths and ensuring all staff regularly wash their hands.
The council says it recommended a hospital-grade disinfectant, rather than regular, be used. However, the salon owner told us that before the complaint, the baths were not disinfected between customers because two disposable plastic linings were used inside them. Now the bath itself is disinfected before the linings go in.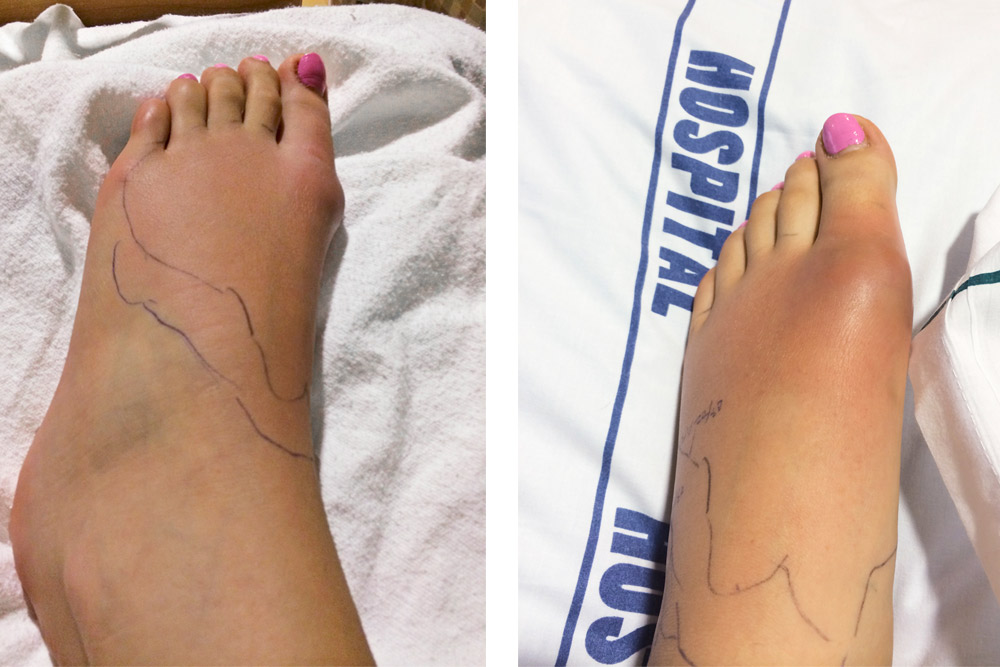 While Mitchell says hospital medical staff didn't question that she contracted the infection during the massage, and she is convinced that's where she got it, an infectious diseases expert and GP we spoke to were less certain. Because of this — and the fact the council told us this is the first complaint against the salon in the 16 years it's held a health licence — Metro has decided not to name the spa involved.
Asked if it was feasible for the infection to develop so rapidly after the foot massage, retired Auckland infectious diseases specialist Dr Rod Ellis-Pegler said, "There's no 100 per cent in biology, but this is certainly stretching it. It's extraordinary. But if you ask me what organisms can cause trouble quickly, streptococci are they — far ahead of anything else. You'd get people who would say it's impossible. It is at the extreme end of rapidity, but I'm not one to ever say things are impossible."
Up to 10 to 20 per cent of us carry streptococci on our skin, often between the toes. "They are a member of our normal flora and, for some reason, they sometimes decide to invade. If you could tell me why they did that, you'd get a small Nobel Prize I suppose." He says given the number of massages that are given without problems, the risk of infection clearly isn't major.
Ellis-Pegler says while cellulitis happens a little more often in those whose immunity is already compromised, the "vast bulk" happens in otherwise well people. Amputation would be an "incredibly rare" outcome. "Streptococcal cellulitis is one of the skin diseases that all doctors think about in all ages of people." Schools sores which frequently occur in children are a localised version caused by the same bacteria.
The GP told us it's more likely a latent streptococcal infection was already there before the massage, although it's possible the treatment "aided and abetted the rate of progression". It was also possible Mitchell contracted the infection at the salon. "I've seen it happen this quickly before."
He says Mitchell's experience is "useful for educating people that infection can go bad very quickly and if it does so at this rate, it is, at the minimum, limb-threatening, and at the maximum, life-threatening".
When anything goes wrong, it's usual to look for a cause, he says. "Often the 'cause' is simply a coincidence. There is no way anyone could have foreseen such a series of events as a possible consequence of a foot massage."
An Auckland Council spokeswoman said Mitchell's complaint, made when she was still in hospital, was treated as an urgent case and taken "very seriously". Though the inspection recommended improvements at the spa, there were "no major areas of concern".
This year, of 203 Auckland Council inspections of premises with health protection licences, 15 were failed. Nine of 144 hairdressing salons also failed inspections. Complaints included a customer burnt in a hair salon during an eyebrow wax, and a suspected MRSA infection at a tattoo parlour. The spokeswoman says nail salons are high on the list of businesses with compliance issues.
None has been prosecuted in the past year. The council prefers encouraging business owners to remedy any problems, or compliance orders can be issued to force the changes. Common problems include incorrect disinfectants, clutter and lack of cleanliness, lack of aftercare advice and failure to hold a current first-aid certificate.
From July, new council bylaws mean massage parlours won't need a health protection licence unless they also offer treatments that may burn, break or pierce the skin.
The spa in this case was at the centre of an investigation by the Ministry of Business, Innovation and Employment last year after an anonymous complaint. Metro also received a letter claiming to be from staff at the spa, who said they were being "treated like slaves", getting no breaks, annual or sick leave and minimal overtime.
MBIE northern regional manager David Milne says labour inspectors and an immigration officer visited the business — the salon says the visits were without warning — but found no serious breaches of workers' employment rights.
The spa owner says he pays workers $17 an hour and they get free spa treatments and a company dinner each month. "I'm angry," he says of the anonymous allegations. "Not just for being accused of things we didn't do, but for being depicted as a cold-blooded monster while we actually do love taking care of our colleagues." He believes both complaints came from a disaffected staff member who has since left.
Over the next three months, Milne says, the MBIE labour inspectorate and Immigration New Zealand will be conducting a joint operation investigating conditions in the beauty therapy industry. He won't reveal more details.
Mitchell, who is having therapy to regain the full use of her foot, says her ordeal has made her "paranoid".
"I've never taken risks. I treat my body properly. I've never climbed trees because I thought I would fall out, break my neck and die. I don't run with scissors. I've never gone barefoot even in my own house because I can't stand germs. I don't do paintball. I never light a match. At school I was so scared of lighting a Bunsen burner, I had to get the teacher to do it."
But now, she says, she's "ten times worse. I'm more paranoid now than ever. I won't go to food courts, and if I go to a cafe I won't drink out of glasses or straws — I have water or coffee in a paper cup." She's now added foot massages to that list.
Also on metromag.co.nz: The Cost of Cute Cuticles – how nailbars could be risking your health.