Sep 9, 2015 etc
Words by Margo White. Photo: Getty Images. This article originally appeared in the September 2015 issue of North & South magazine. 
The word "ladies" is being reclaimed, sort of, but what about "girls"?
I'm not quite sure why or when, but "ladies", the word, has come back into fashion. This is a recent development, a novelty, a flirtation with a word that at least one generation of feminists practically banished from our tongues. But these days it's generally used ironically, in a knowing "we're all in this womanhood thing together" sort of way. Sometimes. Ladies (and gentlemen), how do we feel about the revival of "ladies"?
"Lady" is a lovely sounding word, but it has also long been a slippery and problematic one, loaded as it is with assumptions about the role of women. At one stage, it was used to distinguish posh women from working women, and implied a set of behaviours that were associated with those higher up the socio-economic ladder. Ladies didn't swear or smoke, they crossed their ankles when they sat and knew when to bite their tongue. Ladies lunched. Women worked.
But then, as noted by the feminist linguist Robin Lakoff, author of Language and Woman's Place, "lady" was also used to describe women who worked, in a way that seemed to trivialise their job and, by association, the women doing them. "For at least some speakers, the more demeaning the job, the more the person holding it (if female, of course) is likely to be described as a lady. Thus, cleaning lady is at least as common as cleaning woman, saleslady as saleswoman. But one says, normally, woman doctor. To say lady doctor is to be very condescending."
As she also argued, gents' jobs have never been demarcated from men's jobs. "Garbage man or salesman is the only possibility, never garbage gentleman. And of course, since in the professions the male is unmarked, we never have man (male) doctor."
She was writing in the 1970s, and we no longer say "woman doctor" either, so we've come some way since Lakoff wrote that seminal text. And who knows? There may yet come a time when it will seem ludicrous to demarcate sports teams by gender, in the way that, say, "women's soccer" currently is.
This renaissance of "ladies" was highlighted in the television series Girls, in a scene in which one of the characters was recommending the fictional self-help book, Listen, Ladies: A Tough-Love Approach to the Tough Game of Love.
"Wait, but here's my question: Who are the ladies?" asks Hannah.
"Obvi. We're the ladies," says Shoshanna.
"I'm not the ladies," says Jessa.
"Yeah, you're the ladies," says Shoshanna.
The ladies are all over the internet, with websites and blogs aimed at Lady Journos, Lady Writers, at GALS (Graduate and Advanced Lady Scientists) and so on. Self-proclaimed feminists make jokes about their "lady-parts", and not in reference to the bits played by female actors. Concerned Women for America launched its campaign for a conservative vote with the slogan, "Use your Lady Smarts, not your Lady Parts."
Unsurprisingly, not everyone will be amused. "Ladies, like lady parts, lady business, lady writers, etc, started out as humorous and ironic, but overuse has made it clichéd and affected," said the feminist writer Katha Pollitt. "What is wrong with 'women'? Does that sound too fat and hairy for today's young females?"
But words will come and words will go, as will the subtext associated with them. It can be hard to keep up. Benedict Cumberbatch copped it earlier this year after a television interview in the US, in which he talked about the difficulty non-white British actors had breaking into the UK film and television industry. Only he described them as "coloured".
He was widely derided, of course, and he also swiftly apologised, and in the most heartfelt way. But as some (black writers) have noted, there was a time when "black" was often accompanied by "bastard", and when "coloured" was considered a more progressive descriptor of African Americans. "Black" became acceptable only with the American Black Power movement and the "I'm Black and I'm Proud" slogan. Cumberbatch had the best of intentions, given he was drawing attention to the lack of black actors in the UK entertainment industry. He evidently just hasn't been around a lot of black actors, or he wouldn't have used the "coloured" word, which unwittingly proves his point.
I have a problem with the word "girls", an intestinal-curling teeth-hurting problem.
I'm okay with "ladies", I think, at least in certain circumstances. Not so the "girl" word, though, at least when used in reference to women who left school, say, 30 years ago. Like me. I have a problem with "girls", an intestinal-curling teeth-hurting problem. Even when my mother uses it to my face (as in "dear girl" or "silly girl"), even though I understand that as her daughter, I will always be her "girl".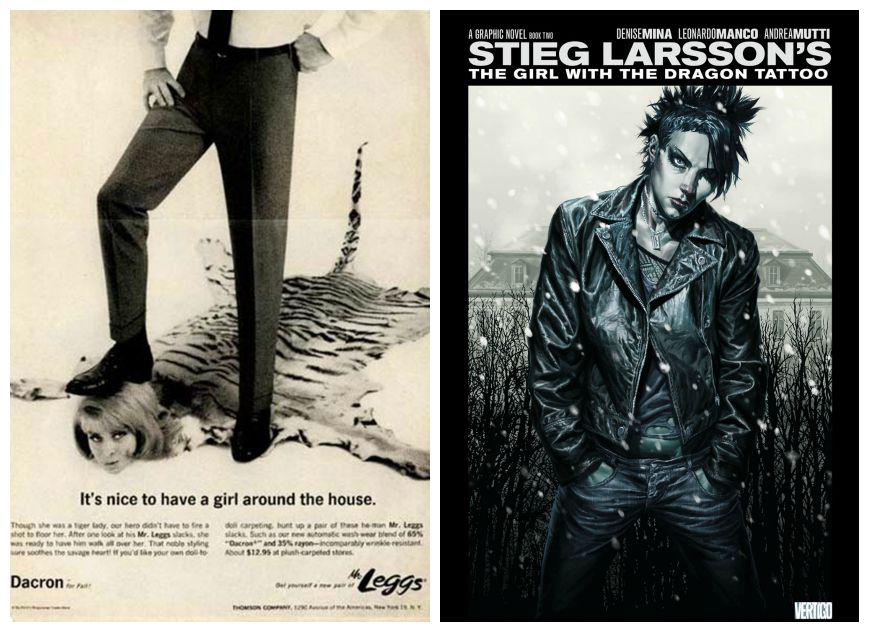 Maybe I'm showing my age, because if women are reclaiming "ladies", so they have "girls". We've had the so-called "Grrrl power" movement, the telly series Girls, and novels like The Girl with the Dragon Tattoo and Gone Girl, featuring adult female protagonists who are hardly shrinking violets. And many contemporary colloquialisms just wouldn't sound right without the "girl" word; we couldn't have the go-to girl, or the it-girl, or the poster-girl without the girl. Yet I flinch at being called a girl or, in fact, when it's used to describe any woman over the age of 25. This, incidentally, is an arbitrarily drawn age line. I just came up with it. I don't know where the line should be drawn or when, linguistically speaking, a girl becomes a woman.
Part of this age-old problem is women don't have the same choices as men do. Boys grow up to become men, or alternatively, blokes, lads, guys, chaps, fellows and dudes – all those friendly, neutral fellas. "Guys" is particularly useful for that in-between stage, between boy, as in a child, and man, as in a mature adult. Girls, once they reach a certain age (and as indicated above, who knows when that is?) are either "ladies" or "women". What are their alternatives? Broads, chicks, dames? Birds? Grrrrrrrls? Garrrrgh.
What is likely to offend, or at least annoy, will always depend on context; the relationship between the person saying the word and the person being addressed, and all those corresponding variables, such as the gender of the parties involved, whether it's a professional or a social context, even the age difference. (Young children are taught to refer to an adult female they don't know as a "lady" rather than a "woman", which strikes me as right.)
Really, in the end, it's almost always about the power, and the less powerful you are, historically or in the present, the more likely you are to feel patronised or belittled or even sensitive to a misplaced word. So, if I'm fortunate enough to be around in a few decades, when I may be appropriately described as an "elderly woman", I hope I still have the Woman Smarts to stick it to anyone callow enough to call me a "little old lady".