Mar 5, 2020 Business
Owning a cafe is hard. Like, really, really hard. Leah Garcia-Purves talks to Metro about the ups and downs of running your own business two months after opening the small takeaway coffee joint, Morsel, in central Auckland.
Leah Garcia-Purves has been working in hospo pretty much her whole life. "My parents had a bed and breakfast when I was born, and I literally got the front-of-house baptism of fire," she tells me. From then, she's worked as a kitchenhand, a chef and a restaurant manager – among other things – and now she runs her own business.
Morsel is a small coffee shop tucked away in the city centre (Durham Lane). Leah opened her doors early January and after airing the ups and downs of business on social media recently, she was greeted by lines out the door in the morning made up of supportive followers – people waiting for her now-famous cinnamon buns. The business has since grown quickly: the buns also took off online, with Leah shipping them across the country.
Metro's Jean Teng talks to Leah about what she wish she knew before starting out, the reality of owning a small business, and what advice she'd give to aspiring hospitality business owners out there.
Jean: Hey, Leah. So, how is Morsel doing at the moment?

Leah: Some days, I feel like it's been really slow. Over the last three weeks, it's been really up and down, and then the last two weeks of that have been steady. Like, insane. I'm really lucky that I know the people I know.
I've worked for start-ups before that's been a huge success – tech start-ups. Huge success, and then they just drop. And I'm trying to sustain that growth a little bit more; just trying to grow it slowly, instead of [the cafe] being this huge bang, and then that's it. I have lines out the door, but I don't have the manpower to sustain that growth. I have to try and keep everybody happy and also churn out good product, and I think part of that is my transparency towards the whole process as well. Me being [like] 'hey, I'm only one person at the moment', I'm contracting a part-timer at work on Mondays while I bake, and sometimes other people are mucking in. There's only so much I can do, and everything's made to order, so I don't really want people to get mad at me and then write things on social media, "Oh, she's so crap."
What made you want to be so transparent on social media?
I think business needs to be more transparent overall. I've worked for so many tech start-ups over my 10 years in media and marketing, and their PR is so box-cutter – people deserve better. The more human you are, the more invested people become. You control that narrative. I think everyone's sick of polish and perfection without seeing the struggle behind it. Business is hard. I'm doing cooking classes as part of my PledgeMe, and people will know how to make my buns. My dad's like 'you don't want to give away your trade secrets'. I actually don't care. Somebody can run with it and I'm totally cool with that, and that's a big risk that I'm taking, obviously. Anybody can start a business, but you need to have stickability and not everybody has that.
ALRIGHT last week was the worst sales week yet! Instead of feeling sorry for myself, I just be straight up and say that I'm definitely on the brink of liquidating my company. However, I do make the best buns in Tamaki if not the country, so order online or in store. PLEASE thanks pic.twitter.com/Jl5ZSDtVuX

— leah (@friesfanclub) February 23, 2020
Before you started, do you think you had the resources and knowledge to successfully open Morsel?
I was definitely a bit cocky about it. Well, not a bit – quite. Allpress [coffee] were really helpful with that stuff, because they invited me to this cafe owners night, and the whole thing was really practical. They were talking about negotiating leases, and I was like, oh my god, I didn't know I could actually do that, even with me thinking I knew everything about hospo. There's the creative part which is awesome, and then there's the business part, and you have to be real savvy about it. I thought I knew enough, but I don't.
What did you think you knew but didn't?
I thought I knew what people liked. I thought people liked variety, because me, personally, I walk into a cafe and I'm like, oh, look at all this variety, it's so exciting. It turns out that they just have a lot of really haphazardly put together things and half of them are ordered in and they're not made on-site. There's nothing wrong with that – there's a lot of places that do that, and it works. But for a spot like that, it has to be a destination. I'm real keen on making stuff fresh. Every single day that I don't sell out of things, I put it on a food waste app, Foodprint, and people buy it off there. Turns out that people actually just want a good thing of one thing. One really good thing, or two really good things. I had the hot cross buns and I had the cinnamon rolls. Next week I'm going to do like an apple toffee cinnamon bun, because lots of people have been asking for it. But we'll see if it sells, because it's not guaranteed. Like, people ask for it, and then they don't come in and buy it.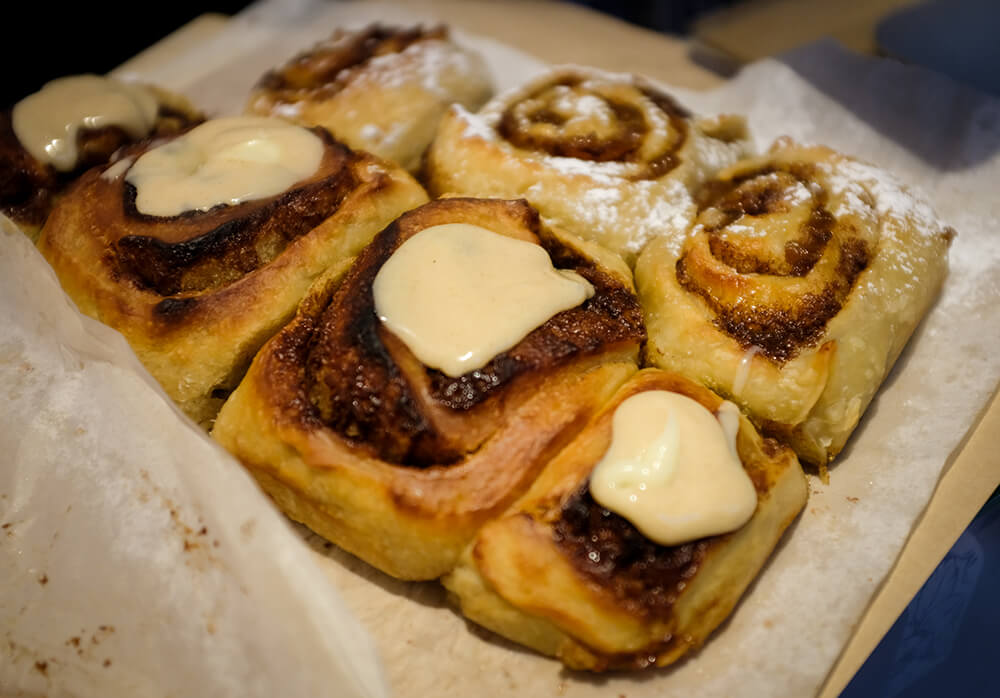 Is that what you want to expand on – selling your baking through the online shop?
I think eventually. I didn't really foresee the success in the online thing, but with the actual immediate retail climate, and also the complications from coronavirus, people don't want to go out anymore. They just want to be given stuff. I was, like, let's do the online thing. It wasn't really supposed to take off like this.
I'm guessing you're working more than what you'd work at a full-time, 8-5 job?
Oh, absolutely. The financial payoff is not [even] close to what I was getting as a front-of-house manager – but I get to control everything. I love it. I do my radio show on Saturday mornings, and I get up at 6am and then during the ad breaks or during a long track I'll just lie on the floor and have a power nap. I do get sick of making cinnamon buns but I get to come in every day and sell them the way that I want to sell them.
What else would you have wanted to know at the beginning about owning a hospitality business?

Not every publicity opportunity is a good idea. I'm glad I did half a Masters degree in public relations, because I see other people in new eateries take every opportunity to take that publicity, and it doesn't always work for their brand. I'm quite a big person on brand, and that's why I was quite sceptical about doing a PledgeMe. At first, I thought it was going to be hype, people are going to donate and get the thing, and then that's it. But then I asked a bunch of people who had done crowdfunding for tech companies, and they reckon it gets people invested in it without there being any shareholder exchange.
Pay using the money you have – whenever you can, avoid using credit. Don't be distracted by signing up for all these cool accounts with all these awesome suppliers and then buying more because you think you'll need it, or you'll think you'll sell out. You don't sell out in the first month. Straight up, I've got $700 outstanding from this time where I thought I'd sell all sorts of different stuffed croissants – me and my son just ended up eating it all because nobody bought anything. Just over the road is a sandwich place, and just down the street is another sandwich place. What I have now is a very small niche that I've carved out for myself.
I didn't take waste (and its cost) into account enough. It's better to buy smaller volumes and then sell out, and then gauge your volume that way, then to buy up large in the hopes that you'll sell out. I find that it's better for people to sell out then gauge that. Customers are very vocal as to what they want and when they want it, and I think that's the beauty of social media and the openness of customers.
Any last word of advice?

When you're starting a business and you're like, "I put everything into this" and you have a really bad day and you're like, "I can't do this anymore", it's OK to look after yourself. You really need to look after yourself first. Chefs and passionate hospo people love pushing themselves too far. It's glamorised. We're getting to a point where we're seeing the effects of poor mental health and not talking about it with everyone in the industry. It's really important to look after yourself because nobody else is there to prop you up. If you're self-employed, you don't have a team to prop you up. Your head is what you have, your body is what you have, it's what makes everything.
Don't go mad at Sabato with your trade discounts.
Lastly, start as small as you can and be very critical about your market. If you're really, really passionate about it, pull in as many different favours from people as possible, and be very, very picky about who you get advice from. Trust your gut. If you're going to spend $300 on something and you're thinking, "I can't test this to see if it's going to work," and it might be $300 down the drain, and then a week later you'll be like, "shit I'm $300 short of my power bill. I could have not bought that milkshake machine."