Jul 23, 2019 Business
French beauty chain Sephora opened in Auckland on Saturday. Pearl Little was there to meet the teens in line and reckon with her own relationship with makeup and beauty influencers.
The first-ever foundation I purchased I bought because Lauren Curtis told me to. One time I mashed up tomatoes and white sugar and scrubbed it on my face because Michelle Phan said it would make my skin glow. I used NIVEA Men's sensitive aftershave as make up primer for three years because NikkieTutorials did. I apply my make up in an extremely specific order because that's how I first saw Shaaanxo do it. Everything I know about makeup I learned from YouTube. I was 15 when I discovered the beauty YouTube community and from that moment I would buy, and do, whatever these strangers staring into their shitty digital cameras told me to. I get what it's like to be sucked in.
The online beauty community has shifted immensely since these early days, the industry is slowly diversifying with an increasing amount of LGBTQI+ and POC influencers. People who were once just hobbyist make up enthusiasts are multi-millionaire global beauty influencers with professional-grade filming rigs and brand endorsement deals. These multi-millionaires also get into shit throwing fights every other week, and the creator of one of the best eyeliners on the market is anti-vaxx. The social platform of choice is slowly shifting. YouTube is still where the big money is made but it's become increasingly more about Instagram. It's not uncommon for new beauty influencers to find their feet on that platform before moving to YouTube.
Trends have changed significantly too. No longer is it about a strong contour and matte lipsticks. Instead, there's a been a huge push for makeup to be fun, experimental and, most importantly, authentic. Brands such as Glossier, The Ordinary and Fenty Beauty have latched on and responded to successfully (read: $$$). Instead of relying on high coverage foundations, achieving glowing dewy glass skin is the goal with skincare slowly taking over as one of the most talked-about topics.
Consumers are also becoming increasingly critical and savvy. Having accumulated huge amounts of knowledge about makeup and skincare, buyers are demanding more from brands. An example of this shift is the relative success and failure of Kylie Jenner's beauty endeavours. Kylie launched her infamous Lip Kits in late 2015 at the height of all the rage about matte lipsticks. They were well received, selling out each release and helping make her the youngest billionaire in history. Then in May this year, she released her skincare line "Kylie Skin". Unlike her success with the lip kits, the line was criticised within beauty communities for being cheap and completely failing to understand the current zeitgeist of skincare.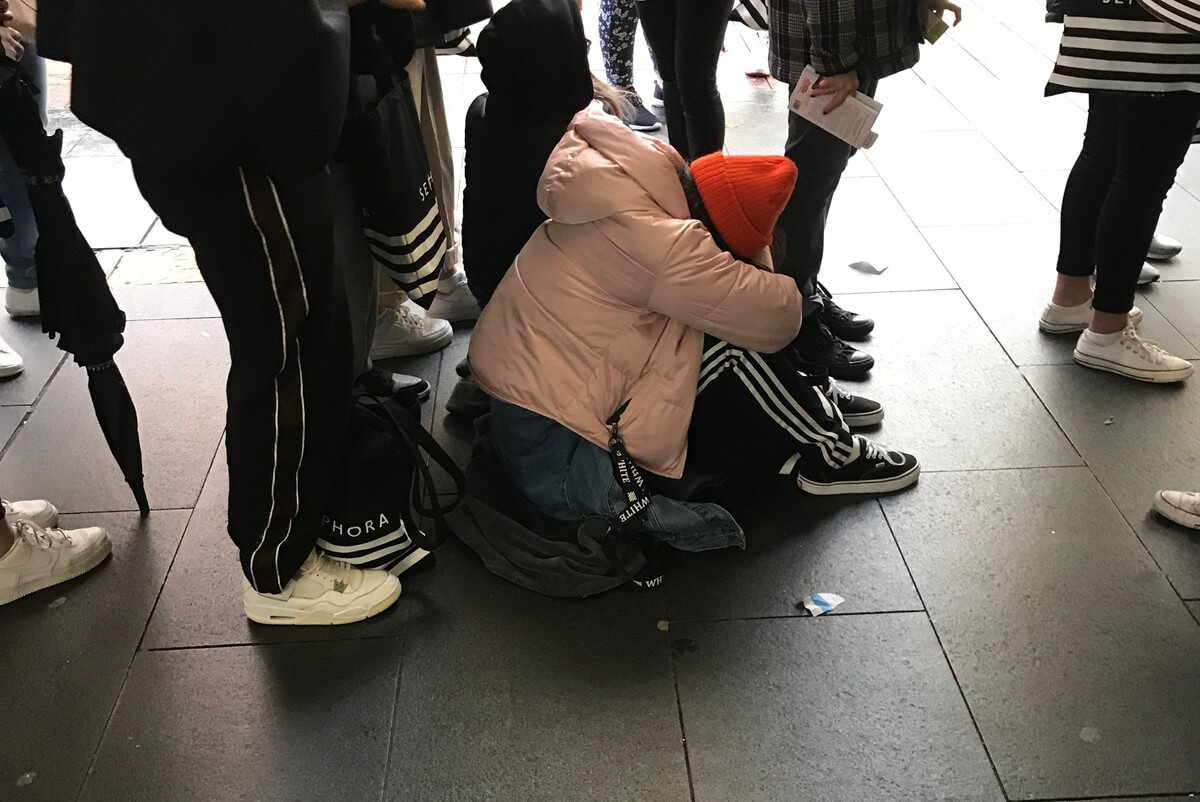 And as trends have shifted, so have my habits. I'd proudly say that I don't buy into the hype. I no longer listen blindly to what these makeup and beauty bloggers tell me to do or use. I do my research on products and tend to make responsible purchasing choices. When I was asked to immerse myself in the launch of the new Sephora opening in Auckland, I thought I'd be completely indifferent to it all. I was aware of Sephora coming and was pleased but honestly hadn't given it much thought. Sephora coming to New Zealand is a pretty big deal for makeup enthusiasts. The chain carries brands that you can't purchase directly in New Zealand and cost a fortune to ship, so much so that it's not uncommon for hardcore beauty heads to send travelling family members away with a large list to be couriered back.
The official launch started at 7am sharp with a pre-party that included an 8.30am Q&A session and doors opening at 9am. The Q&A was with Beck Wardworth, a beauty guru and founder of An Organised Life, a stationery brand "born out of the desire to bring structure & organisation into busy lives". Honestly I'd never heard of this person before and my only takeaways from the Q&A was that Beck had just come back from Fiji, we should all be using jade rollers to massage our face for five minutes (full disclosure: I do this weekly), and be taking some sort of gut health supplements for glowing skin which honestly sounds like a load of shit. But sure, fine, whatever.
What I was more interested in was all the people waiting in the line. As I headed to bed the night before the launch I started to think "Well, what if nobody comes? How many people would seriously line up for some free Sephora merch and an eyeshadow palette?" Thousands apparently. When I arrived at about 7.30am the line stretched from the Sephora store, located across from the Accrossia Apartments, up Queen St, snaked around up Victoria St east, taking a sharp left and continuing along and down High St. I decided I wanted to talk to these people and find out why they were here and what influencers they like. I was tired and bare-faced, having only just woken up half an hour ago and quite frankly was not in much of a mood to be excited about makeup. This quickly changed.
The first two girls I spoke to were both 15, one of them had the most impressive eyeshadow looks I'd seen in ages. They both disclosed to me they had been waiting in this line since 4.30 am – which put their "getting ready time" at 3 am. Not to be dramatic but the dedication made something twang in my heart. 15-year-old me probably would've done the same. "Why the fuck did you bother?" I asked. "Well, the free stuff of course. But also we feel like we're part of such a community ya know, the makeup and stuff, we kinda just wanted to meet other people who love what we love." This pattern and sentiment continued. Most of the people I spoke to were young, between 15-19, groups of friends babbling over each other to talk about makeup, young people dragging along their older siblings and parents to wait with them in the cold since the early hours. The most common influencers people told me about were both expected and unexpected, @makeupbyjack, @bretmanrock, @makeupbyshayla, @priscillaono, etc. The James Charles drama was discussed at length.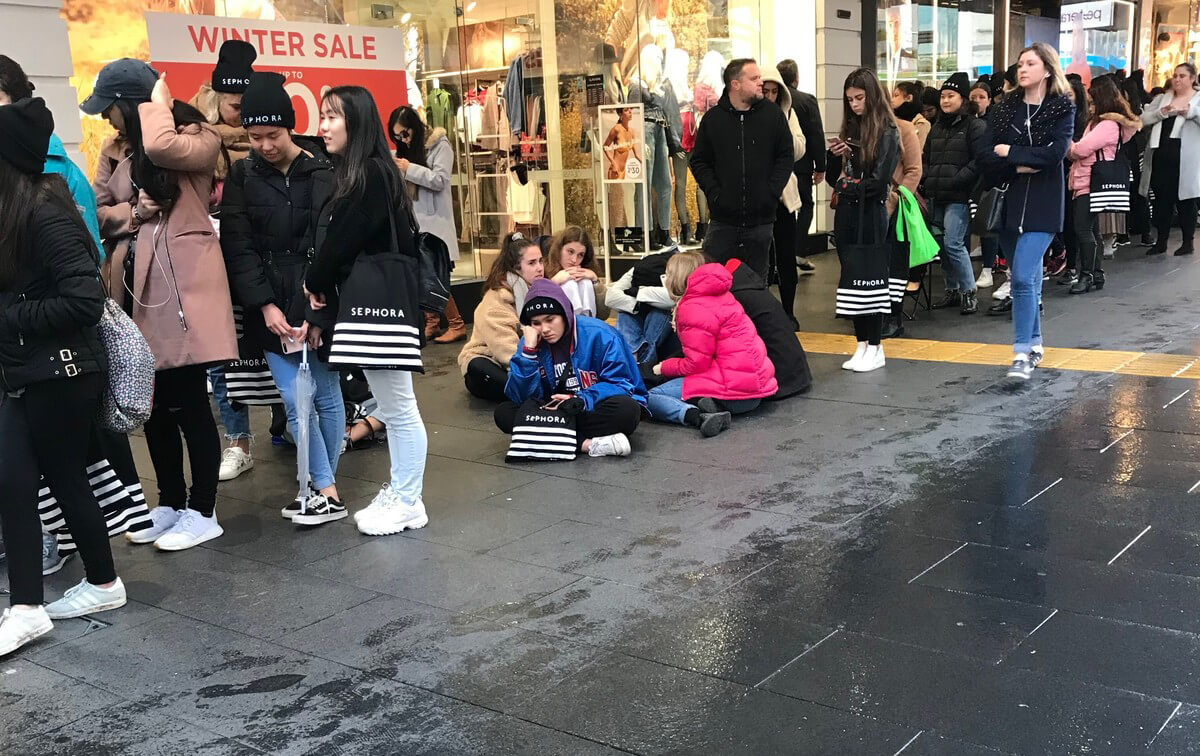 By the end of it, I was enthused. I was with my people! I wanted a Sephora blanket! I should've gotten up at 5am! I want a free palette! I had a list of seven new things to buy on personal recommendation and I was buzzing. By this time, it was almost 9 and I needed to make my way back to the store. On the way back I passed a friend on her way to work. "What the hell is this? Is a pop star here?" she asked. If it had been two hours earlier I probably would've exchanged an eye-roll back, but I was buzzing. "It's the new Sephora opening!" I blurted out before hurrying my way back to the storefront.
Newly hired Sephora employees were bobbing around to a mix of Cardi B and Ginuwine. I was excited, I wanted to see the ribbon be cut and share in the elation of the people at the front of the line who had been waiting hours in the cold. But then the choreographed staff dance Ariana Grande's "Break Free" happened and they lost me. I was snapped out of my daze. It instantly reminded of those creepy viral videos of choreographed sorority house dances where the girls look like they've been taken over simultaneously by a host body. It was like I had been wearing the ideology glasses from Zizek's A Pervert's Guide to Ideology and they had been suddenly ripped from my face and I was able to see everything for what it was.
I was snapped back to my cynical makeup enthusiast self – and running late for work. As the first in line was ushered in by security, I headed off. Reflecting on the morning, I felt genuinely hashtag inspired by all the teens I spoke to (as opposed to the influencer they hired) and was reminded of what makeup and the adjacent communities are about. Not the innately patriarchal multinational corporations and their cheesy, depressing promotions, but the fun of it all. The creativity and the decadence, the boundary-pushing, the pure enjoyment of being able to play with and alter your image and freedom that affords.