Sep 6, 2019 Business
Hannah Paterson's new Birkenhead grocery store is packaging- and plastic-free, championing local produce and making us rethink the way we shop.
"I read The Uninhabitable Earth and it was all over," Hannah Paterson laughs.
David Wallace-Wells' The Uninhabitable Earth, meant to be read as a wake-up call to the dangers of climate change, was a call to action for Paterson, who first went vegetarian in her early 20s and grew up amongst lush, big gardens, connected to the land and to food.
In a previous life, Paterson worked as an auditor in PWC, spending time in their Green Team where she helped create small, environmentally friendly initiatives within the company. But she felt an underlying urge to do more. Overwhelming anxiety about climate change often paralyses people into inaction, but Paterson's passion for sustainability pushed her to open up a plastic-free, packaging-free bulk wholefoods grocery store, which became Sprout the Grocer. It's a similar concept to Bin Inn or the fancier GoodFor, but owned wholly by Paterson, who is helped out by her mum. "I wanted to shop this way, so it was quite selfish of me, really."
Paterson is from Grey Lynn – though intends to move out to Birkenhead, where the store is – and the aesthetic is very Grey Lynn: exposed brick, a dried flower arrangement (which Paterson made herself) and pretty, ceramic mugs. Yet, it still manages to hark back to the original occupiers of the space on this strip in Birkenhead Point; Paterson found out recently it used to be a general store in the '50s, similar to the one she now owns.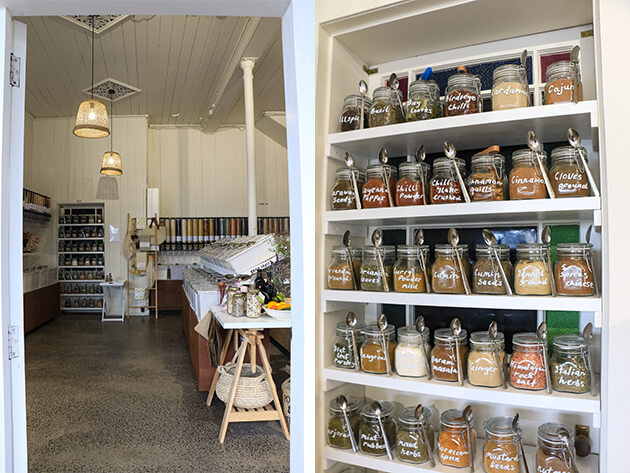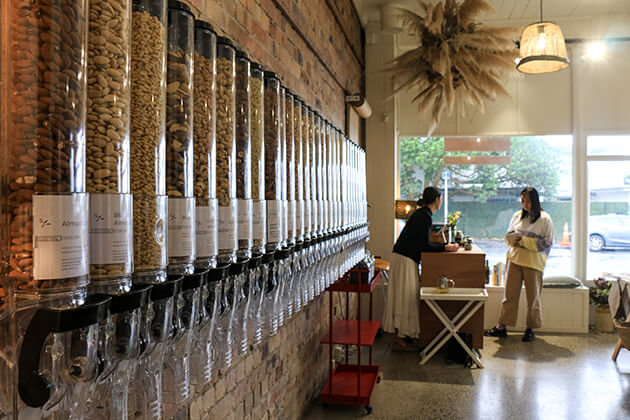 There are neat rows of oils, vinegars, cleaning product refills, rices, legumes, cereals, flours and spices, plus products sourced from brands who line-up with the store's ethos – Ethique, Hello Cup. Beans roasted out the back by Merito can be ground to take-home, and there are chocolate-covered blueberries, cherries and raisins to nibble on. It's a strictly no-plastic kind of store, where they encourage you to bring your own container. If you don't, there are paper bags, plus jars to buy.
Although only open for three weeks, it has quickly evolved into a community hub, embraced by both the young and elderly. "I had a 93-year-old in here the other day, saying how she felt the need to do something for the planet." A community bowl, full of fruit, sits at the centre of the front table, with a little note to encourage give-and-take. (That'll save you trying to palm your excess fruit onto your neighbours.) One recipe is scrawled onto the big roll of paper behind the counter, changed fortnightly. When we visit, it's for chia pudding – made using ingredients you can source from the shop. Recipe and cooking advice is exchanged freely here, as it's an activity both Paterson and her mum enjoy.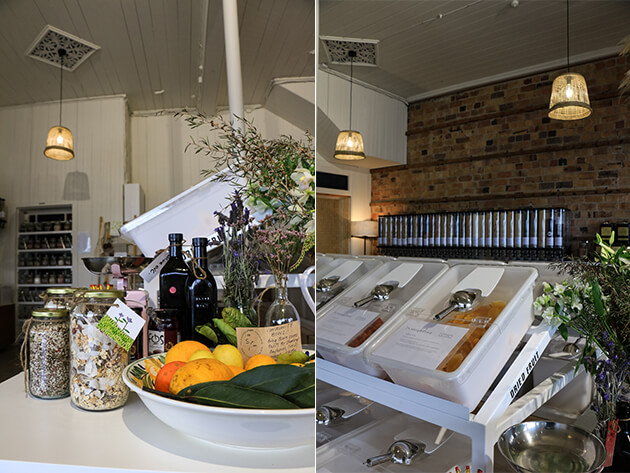 It's hard to put a number on the amount of plastic shopping like this potentially saves. Paterson points towards resources like Icebreaker's "The Vortex Swim" to understand the scope of the amount of plastic we're consuming and throwing away, as well as the Plastic-Free July hub.
As they grow, Paterson is determined to source as locally as possible. While we're in the shop, a man comes by dropping eggs and honey from a small distributor. Good thing, because the eggs sold out in the morning.
100 Hinemoa Street
sproutthegrocer.com
@sproutthegrocer
Open 7 Days