Jul 11, 2019 Business
METRO X HP: The new HP Spectre Folio is all about those thoughtful touches – like a hand-stitched leather exterior, a world first.
When I turned 20, my parents bought me my very first laptop for my birthday. If I recall correctly, it weighed about 5kg, was thick as a textbook, and gave me a permanent shoulder ache from lugging it up the hill to uni every day in an unfashionable nylon satchel.
It was slow, and loud, and I had to put a book underneath it while I was watching episodes of 30 Rock in bed at my cold damp flat because the bottom got hot enough to actually burn the tops of my thighs.
The HP Spectre Folio, which has just launched in New Zealand, is about as far away from that mid-noughties monstrosity as you could get. Design-wise it has more in common with a Moleskine notebook than a traditional laptop, thanks to its hand-stitched leather outer – a world first. It's quite buzzy, because the leather isn't just a slip or cover, it is the outside of the laptop. If you wanted to tinker with any of the internal mechanisms, someone would have to unstitch the lining. The chromed tan, full-grain leather looks sleek and writerly (it's available in Cognac Brown and Burgundy), but it's also practical.
It's a durable material providing a natural hinge, which allows the screen to move from laptop mode, to tablet, to tent (for watching TV or endless YouTube videos). Leather is also a natural heat conductor, and the Spectre Folio has been made without a fan. Instead, the heat is dispersed evenly by a thermal conduction system helped by the leather, which stops the laptop overheating even when it's working hard.
HP wanted to create something completely different from anything else on the market, and the Spectre Folio's design is certainly unique. The leather outer is what sets it apart, but small details like an attachable leather wrapped digital pen with a clickable function like a mouse reassure you you're in good hands – the designers have thought of everything. The device is wafer-thin and featherlight, and the display has simultaneous pen and touch input – so you can use both fingers and the pen to interact with whatever is on the screen. The sound is also pretty top notch thanks to the four front-facing Bang & Olufsen speakers integrated into the design of the Spectre Folio, which play sound perfectly no matter what position the device is in.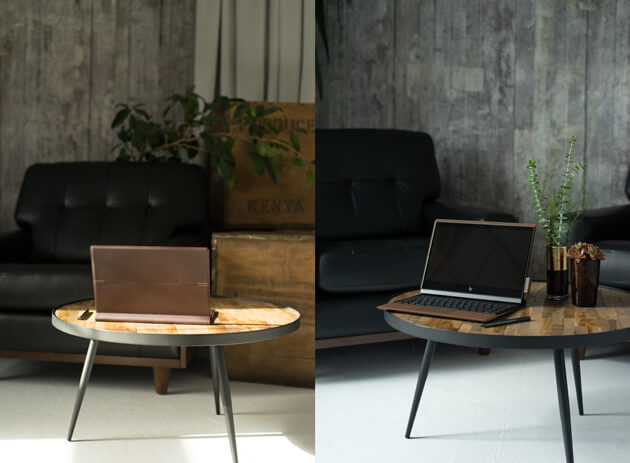 HP have put a lot of effort into giving the Spectre Folio an artisan inspired feel with the leather-bound design – a level of craftmanship we're not used to seeing on a technology device.
The Spectre Folio is "the PC reinvented, achieving the perfect balance of luxury design and cutting-edge engineering," says Alex Cho, President, Personal Systems, HP Inc.
Able to last at least 18 hours between charges (depending on how you are using it), the Spectre Folio is perfect for freelancers or those working remotely, who might need to park up in a cafe for hours without access to a power supply. Whether you use the Spectre Folio for keeping up on business, sketching and tinkering away in Adobe CS cloud, or simply catching up on your favourite Netflix binge, the Spectre Folio has enough grunt to suit most needs, without comprising on looks.