Jun 9, 2023 Food
Pick up one small pottle of olive oil. Swirl it around. Give it a sniff. Bitterness, pepper, grass. Pick up another small pottle of olive oil. Swirl it around. Give it a sniff. Huh. Nothing. How is this possible? Is there really that much of a difference between two olive oils that, in all other respects, look exactly the same?
The answer is yes, and the longer answer is: there can be a lot of difference. Prior to the Great Day of Tasting, there were only three types of olive oil in my life: the one I use to cook pasta with; the one I drizzle on salads; and the one that gets poured on desserts at restaurants. The pasta one is usually of the non-extra-virgin variety, a blend, sold in stores as 'olive oil' and which tends to be more neutral in flavour; while the drizzle one is a) much more expensive, b) in a much smaller bottle and c) much more tasty. 
But it's the silky olive oil that gets poured on desserts that really piqued my interest — the fullness of its flavour, the way it came off so intense and vibrant when paired with something sweet and creamy and a sprinkle of sea salt. Although I theoretically knew that olive oil adds a shit-tonne of flavour to my food even when just used for frying, having it as a condiment — and seeing it greatly affect the profile and enjoyment of what I was eating — made me ask: how much does quality olive oil matter, really? 
We're also having something of an Olive Oil Moment. That seems ridiculous to say, considering it is used daily by many people around the world, but you know what? It's true. Every wine bar has some sort of cheesecake/soft serve/semifreddo/mousse that is doused in the stuff; Starbucks has just released a drinks range with olive oil infusions; and every single serious home cook in America has a squeezy bottle of Graza on their home shelf (seriously, google 'Graza' — you'll see what I mean). 
I reached out to a number of New Zealand olive oil producers, all of whom use olives that are grown here. The response I got back was enthusiastic. New Zealand makes a lot of olive oil — from Northland to Waiheke Island to Hawke's Bay to Masterton, the small bitter globes of green are grown everywhere. As with grapes and wine, there are a range of olive varieties and oil styles, and olives may end up in the bottle either as a blend or as a single-variety form, for a purer expression of the type. 
In the end, we tasted 31 oils. (FYI: This is not a definitive list, and there are certainly other Aotearoa-based producers that make and sell olive oil.) Many of the bottles came with gold and silver stickers, commendations bestowed during the New Zealand Extra Virgin Olive Oil Awards run by industry body Olives New Zealand. "It'll be interesting to see the results of a consumer panel, rather than olive oil specialists," one producer wrote to me in an email. I had not realised there were olive oil specialists, but of course there are. We are not olive oil specialists, but merely people who enjoy eating, drinking, and olive oil.
I recruited a few people to help me and form a panel: the editor of Metro, Henry Oliver, who has 'olive' in his last name and is an old hand at this tasting thing (he also tasted more than 200 wines recently on a previous Great Day of Tasting); Sam Low, a barista trainer and someone who (I personally know) is versed in slurping things loudly (as part of a ritual they do in the coffee world called 'cupping'), then using a variety of adjectives to describe the flavour elements he parses — oh, and he's the current MasterChef New Zealand champion; and Simon Benoit, a wine specialist originally from France, who approaches these things with the sort of seriousness only the French can muster.
We tasted all olive oils straight up, with a teaspoon, and cubes of sourdough in between (traditionally, olive oil tasters cleanse their taste buds with a slice of green apple). No infused or flavoured varieties were included.
We then evaluated the oils' aroma, flavour and intensity, and sorted them into categories of 'Best', 'Great', 'Very Good' and 'Good'. Not one of these olive oils was bad — every member of the tasting panel would personally use them all — and we hesitated to award an overall Best in Show this time around, because the flavour profiles and varying intensities meant different oils inherently leaned towards different uses. 
Note: The place-of-origin line for each olive oil refers to where it's produced — the olives may be from trees grown in the area, but they may also come from a range of groves around the country.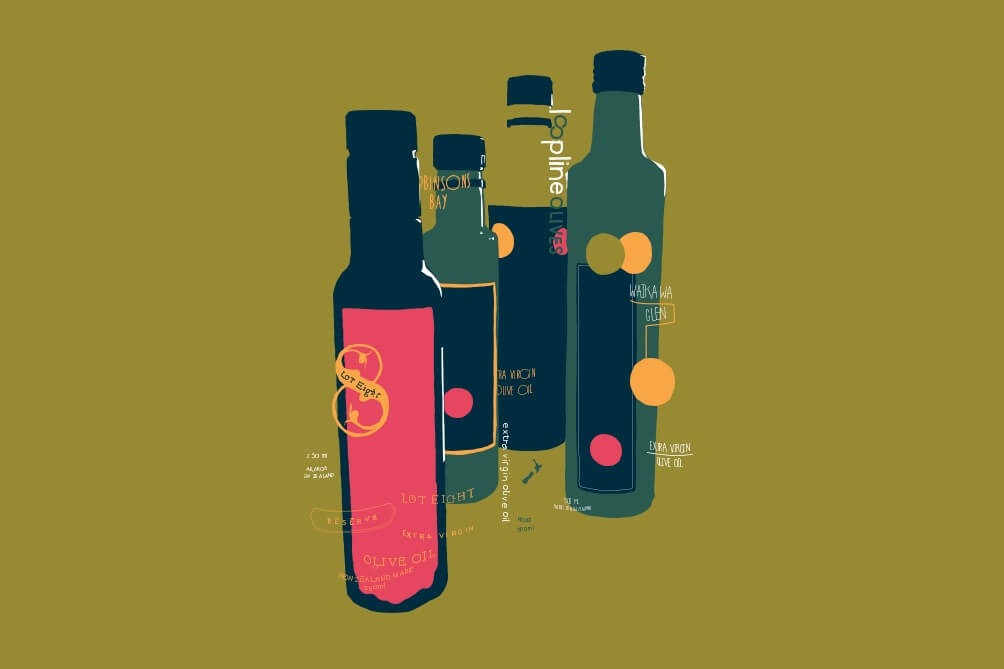 BEST
Evergreen Organic
$16 for 250ml
All four of us were big fans of the olive oil from Evergreen, which had a luxurious, ripe, red-apple aroma and a deepness that finished clean, with a lovely, sweet banana aftertaste. It had a fullness of flavour without leaning too deep into peppery.
Northland
Kakariki Olives Mediterranean Blend
$19.99 for 250ml
We unanimously decided this was the bottle we'd reach for if we had to dress a salad in the near future — a summery, warm, fruity variety that had great depth and richness. "The Platonic olive oil," one of us wrote, meaning it was exactly what we imagined in our olive-oily dreams.
Redwood Valley, Nelson
Loopline Olives Picual
$20 for 250ml
Fragrant and aromatic. One of us thought it would be the ideal oil for cooking: just a great nose, with a balance of flavours and a smooth mouthfeel.
Ōpaki, Masterton
X-Cell Gourmet
$13.90 for 250ml
"Insane ripe ferment," someone wrote, in reference to the aroma of this olive oil. It's a bold smell that reminded one taster of "the outdoors", another of "freshly cut grass". Smooth, with a great pepper, there's an intense afterburn that lingers.
Bay of Plenty
GREAT
Bracu Estate First Day of Harvest
$39.99 for 500ml
An immediate grassiness on the nose, with a peppery richness that has a long and intense finish. Powerful.
Bombay, Auckland
Juno Picholine
$23 for 250ml
A spoonful of this hits the back of the throat almost immediately, carrying a leafiness with a long wave of peppery spice. Great intensity.
Greytown
Kapiti Koroneiki
$16 for 250ml
This was one panel member's favourite — "well balanced, complex", they said — with a nice fruitiness that came through and a mildness on the spice.
Ōtaki
Leafy Ridge, Mild and Fruity
$14.50 for 250ml
One of our top picks for using atop a dessert, there's a great body and banana-fruit flavour to this one, and a balance of flavour (sweet, ripe, deep). "A great flavour experience."
Wairarapa
Lot Eight Reserve
$24.95 for 250ml
The Lot Eight Reserve has a medium, weighty burn, but with a pleasant, lovely and long finish — like being immersed in olives. "Great carry through," one panellist wrote.
Martinborough
Number 29
$32.50 for 250ml
If you've ever been to a fancy restaurant in Auckland, you may recognise this bottle. This super-peppery, bitter oil with an "aggressive second wave" made us do an immediate eyebrow raise — it makes sense as a more in-your-face addition to food.
Waiheke Island
River Grove
$10 for 250ml
A savoury, rich olive oil, this one invoked a sense of soy-sauce-like umami (and, as such, was one of Sam Low's top olive oils of the day: go figure).
Masterton
VERY GOOD
Allpress Koroneiki
$32.50 for 250ml
"Sweet, pleasant and ripe," one taster wrote. "Quite peppery, acidic," another said. Clearly, this one divided the panel, with its dual identity of floral freshness and bitter pepperiness, but both sides of the spectrum enjoyed it.
Waiheke Island
Juno Olives Picual
$23 for 250ml
This had a great burn, with a very fresh, grassy overtone.
Greytown
Kapiti Frantoio
$16 for 250ml
A straight, true olive oil flavour ("pure and direct"), this one is fresh but has a peppery complexity. A lot of almond coming through.
Ōtaki
Kapiti Picual
$16 for 250ml
"Really tasty. Something food-like about it," one of us wrote, while another noted: "Nicely rounded, smooth and silky." The mouthfeel of this one stood out.
Ōtaki
Noble Estate Reserve
$28 for 250ml
"Tomato leaf, light and bright," someone wrote. "Almond, macadamia," another said. "Great texture."
Waikanae
Old French Road Kalamata
$22.50 for 250ml
"Cough, cough," one of us wrote in our notes. (We later discovered that the term 'two-cougher', on a three-notch coughing scale, is a common way of evaluating olive oil). Dark and ripe.
Akaroa
Old French Road Picholene
$22.50 for 250ml
This one divided the panel a bit. While one of us wrote "too sharp", another felt it was "powerful", with a load of pepper and slight spice. It scored high on intensity, with a touch of raw almond and tannins.
Akaroa
Rangihoua Waiheke Blend
$31.50 for 250ml
Another of those weird ones in which the panel was divided between "mild" and "intense" — it happened a few times and is reflective of just how subjective these things can be. A good, deep nose; fruity and rich.
Waiheke Island
Waikawa Glen
$24.55 for 250ml
"Feels really heavy and luxe, like chewing on a leaf," someone said. Broad, with a medium intensity.
Manakau
Waikawa Glen Frantoio
$26.27 for 250ml
Had a rich, intense mouthfeel, and a fragrant fruitiness.
Manakau
GOOD
Allpress Waiheke Blend
$31.50 for 250ml
This oil had an inviting aroma, but left a panel very divided on its flavour. Two of us felt it had a peppery, long, complex finish, while two others wrote that it was mild and forgettable.
Waiheke Island
Bracu Estate
$19.99 for 250ml
"Banana, almond," one of us wrote. The oil had a sweet, mellow mildness that more than one of us described as "inviting".
Bombay, Auckland
Duck Creek Road Single Estate
$40 for 250ml gift box
"Ripe fruits", "inviting grassiness". Surprisingly lacking the strong, peppery, vinegary taste many of the others had. "Sweet peas."
Matakana
Kakariki Olives Kakariki Blend
$19.99 for 250ml
A full-flavoured oil that has a very pleasant aftertaste, lingering salty and spicy at the end.
Redwood Valley, Nelson
Kapiti Leccino and Picual
$16 for 250ml
Though this had a lush, fresh aroma, it felt a bit hollow, falling off midway, with a short length.
Ōtaki
Lot Eight Oilmakers Blend
$23.85 for 250ml
A less intense, subtle olive oil, with a sweet, almond aroma and a subdued, mild flavour. One noted there was "great length".
Martinborough
Olive Black
$24.50 for 245ml
How is it possible that one of us wrote, "Doesn't smell like anything", and another, "intense, vibrant"? Such is the way of the human palate. Pro: good-looking bottle.
Wairarapa
Rangihoua Frantoio Blend
$31.50 for 250ml
"Ripe tomatoes, almonds," one of us wrote of the aroma. It had a persistent spiciness, but one of us felt it had a slightly watery finish.
Waiheke Island
Robinson's Bay
$20 for 250ml
Had a great start — quite acidic — but drops in flavour, one of us thought.
Akaroa
Telegraph Hill Premium Blend
$20.95 for 250ml
A olive oil that split the panel neatly in two, with two of us rating it highly — "feijoa, guava"; "strong but sweet" — and two others feeling it was good, but unremarkable — "mild intensity, short finish".
Hawke's Bay
Note: The olive oils are listed alphabetically under each category, not ranked. The place-of-origin line for each oil refers to where it's produced — the olives may have been grown elsewhere.
This story was published in Metro N°438.
Available here.