Jan 17, 2022 Food
On Greenlane's busy Great South Rd, Slowlane beckons people inside with a friendly wave – that is, the friendly wave of its mascot on the sign outside. A coffee cup with one raised eyebrow and a hand sticking out the side, co-owner Isaac Yu affectionately calls him Huey, though, he says, the other staff are somewhat resistant to this idea.
Slowlane is the newest venture from the team behind &SUSHI, a colourful mostly-sushi spot that now has several franchises across Auckland. It had a long-delayed opening (they signed the lease last January) that echoes many other hospitality joints caught in the frustrating stop-and-starts of the pandemic; Yu, together with his business partner Jeff Kim, finally got to throw open the doors just before Christmas last year, soft-launching the cafe and welcoming locals to drop in for a coffee and bite.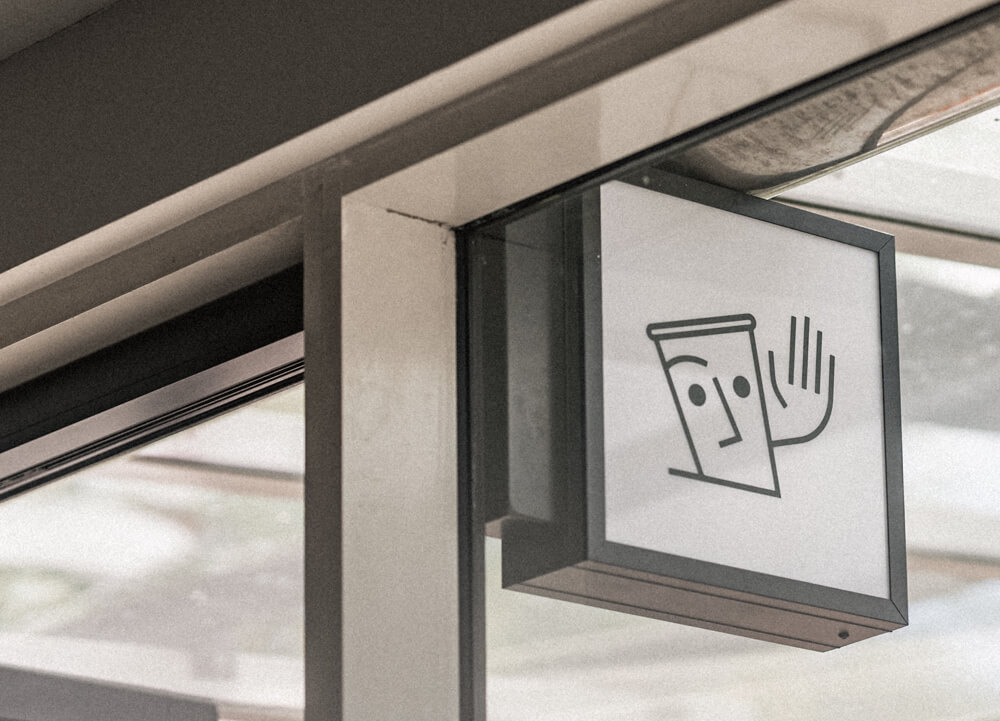 The neutral, soothing tones of the light concrete grey walls, dark wooden furniture and generous tufts of artificial dried flowers all work alongside the cafe's name, and, by extension, its ethos: to take things slow. Yu and Kim came up with the name Slowlane as an acknowledgement of the busy location which, in Greenlane, is bookended by offices and business galore, but also to act as an antidote to the stresses that have come with, you know, living in a pandemic. It helps that the interior is airy and light-filled, with ample space to catch up with a friend or work away by yourself, tucked inside up at the long bench by the kitchen. A few character accents – like the neon light coiled around a pole above the counter – help to pull everything together.
Kim, who founded &SUSHI, has been in the hospitality industry for the last 15 years, leaving the more rigid hotel world to follow what he actually wanted to do. "Having a great team with staff that puts customers first and makes them feel valued are the two pillars to any successful food outlet," he says. Yu has an extensive background in coffee, having been involved with RAD Cafe in Mount Eden and the now-closed Champ in Newmarket, as well as various other roles in roasteries, plus entering barista championships himself. They currently roast their own coffee to use at Slowlane which, on the day I visit, is single-origin from Papua New Guinea. In a flat white, it's light and delicate. 
Food leans towards classics executed right, rather than trendy for the sake of being trendy: think the usual Things on Toast (mushrooms on toast, avocado on toast), eggs bennie, granola. The all-day menu has a few other things of interest, like ceviche (tuna, with pomegranate,  sunflower sprouts and mint watercress pesto) and a butterfly steak (sirloin with fried eggs and onion rings). When I spot the wine glasses crowding up the open shelves, Yu tells me they'll eventually open for dinner, with the menu being just a little bit more fancy. "Jeff's more the wine guy," Yu laughs. "I'm coffee." They already have an on-license, so you can have a  drink at brunch, too.
For Yu and Kim, it's a relief to see everything they worked on come alive, though there's been no real time to stop and relax. Despite their own cafe's name encouraging them to do otherwise, the duo have a few more places in the works. Life in the fast lane.
Slowlane officially opens today, Monday 17 January.
604 Great South Rd, Ellerslie