Sep 19, 2022 Drinks
One of the wonderful (and sometimes frustrating) things about drinking wine is that it can take us back in time. This leads, all too often, to misty-eyed nostalgia for a time that we never really knew, or a time significant to only one individual. But as I went over the notes we took and the wines we tasted for our Top 50 this year, I realised many of the wines were made at a time when this country was experiencing its first lockdown.
All the 2020 chardonnays and pinot noirs and others (just under half the wines in our list are from 2020) were made by people isolating at home or at wineries. I remember travelling to and from the winery I was working at on empty roads, with grape harvesters the only other traffic.
It was a surreal time. Some people will have stashed away newspapers from that late summer of 2020, but we really should be tucking away a few bottles of wine with the '2020' vintage stamp on it. I don't say that to try to claim that the wine industry was an essential business (my thoughts on the matter shade more in the other direction), nor am I wilfully being crass. But for all the horror of the time — and the divisiveness now — it shouldn't be forgotten how many people pulled together. Nor should we forget that, despite it all, a warm sun still rose again and again. And that's the strange thing, looking over these wines through that lens: while my first reaction was a sharp intake of breath upon realising I was tasting wines made while I was living in vineyard accommodation and not having gone within two metres of my family for weeks, I also noted an undeniable warmth to many of these wines that's almost redeeming.
In previous tastings, I've got a bit down-in-the-mouth while tasting chardonnays, which all too often come across as under-ripe and overworked. Not so here. There were so many fantastic chardonnays, all was forgiven and forgotten. Beyond chardonnay, it wasn't just that in the few years up to 2021 we'd had some benign weather, it's that so many of these wines show an irresistible level of both warmth and freshness. So often did the word 'juiciness' crop up, across so many wines, I actively began redact- ing it. There was a general combination of freshness and luscious fruit in these wines that, as we begin to see more 2021s and 2022s on the shelves, I fear may not last.
That said, two of the stand-out groups of wines we tasted were the heterogenous aromatic white wines, covering the likes of riesling, commercially minded albariño, a range of chenin blancs (all fantastic) and even a Spanish xarel-lo. The 2020 syrahs from Hawke's Bay also shone, as did the 'Mediterranean reds' (as we grouped them) and, in particular, the home-grown and native tempranillos which, much like our other Spanish import, albariño, should really get more attention from critics and consumers. As with Tuscany's sangiovese, tempranillo can hold its own, even in more marginal climes like ours. It's the ideal package for a no-nonsense red wine: red fruits on the nose, great palate and textured tannins perfect for any number of foods.
Another phenomenon worthy of note is the prevalence of organic wines in this list. All of the wines are judged blind and we didn't note where a wine was organic or not, so it's all the more heartening — and encouraging (if that were needed) — to see so many here.
The dissident in me is also heartened to have no less than three sauvignon blancs in the top 10. For a category of wine so pooh-poohed by amateurs and wine professionals alike, I feel the variety is finally getting its due — and is represented from both ends of the spectrum, the non-interventionist and the commercial.
But the sad part of all this is thinking about the wines that didn't make it. Honourable mentions go to (among so many others): Martinborough's Hampden Estate for producing our top pinot gris with its 2021 effort (sadly, not enough to get it into the listing); Huia's 2017 Blanc de Blancs for the same in the sparkling wine category; Easthope's Two Terraces 2020 gamay; and the three top-ranking pet-nats (The Darling's Organico, Das Juice's and Greystone's Organic 2021 efforts, in that order).
Lastly, I feel I should mention the Mosse Bisou 2020 bottle we tasted. This wine, and our reaction to it, is emblematic of what we, as judges, were trying to do. Some people adored the wine (it's a Vin de France red blend designed to be savoured chilled), others said it was faulty. It can be both. Too often in wine competitions such wines are disqualified by wine judges for having a fault, such as a spoilage yeast. The same judges will then happily, and knowingly, drink a faulty Burgundy grand cru over dinner. There are good reasons why this occurs (protecting the image of our award-winning wines abroad is one) but judging in this way doesn't really reflect how winemakers would approach such a bottle in any other sitting. Sure, for some, a faulty wine is undrinkable, but there are degrees of fault, just as there are degrees of perception of that fault. It is a shame that such wines might get dismissed out of hand. In the end it didn't quite make the cut, but it was still judged as much on its merits as its faults, and I think that fact should be retained.
I'm still not entirely sure how we manage to come up with such a range of fantastic wines, from conventional to organic to minimal intervention and everything in between. Sometimes I think it's the mix of judges, some- times I think it's the briefing, but mostly I think it's because we all love wine. And there's so much wine to love in all these categories.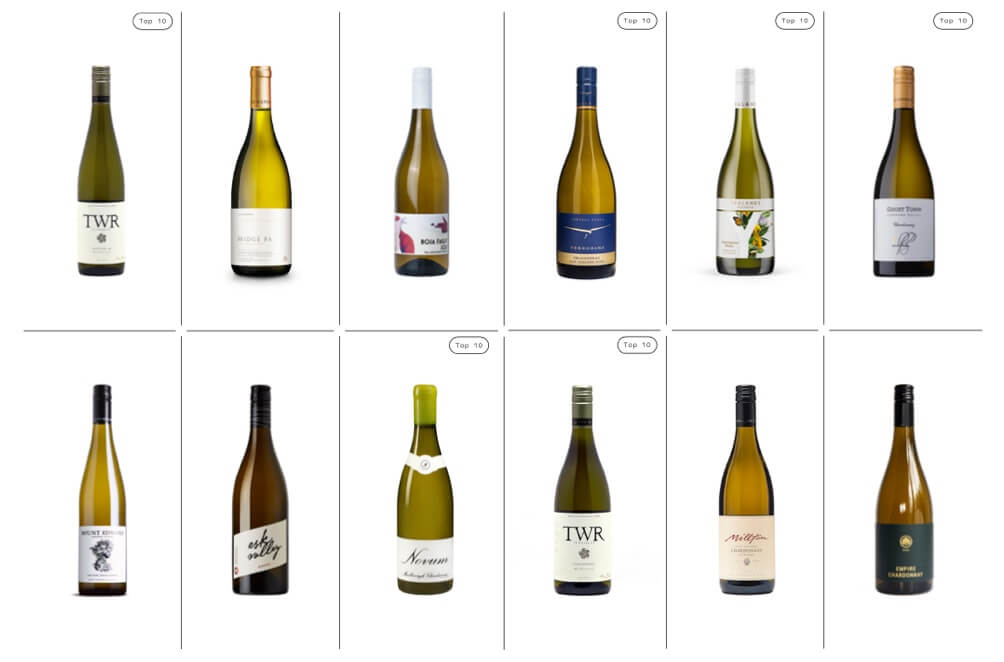 ENERGETIC WHITES
Carrick Bannockburn Sauvignon Blanc 2020
$36, TOP 10, Organic
One of three sauvignon blancs in the top ten which, given its pariah status in most learned wine circles, should be cause for something of a reappraisal of New Zealand's signature export. This isn't your run-of-the-mill Kiwi sauvignon blanc, however. Hand-harvested, fermented to dryness in oak barrels and bottled after seven months, this wine has aroma, texture, balance and interest – everything you want in a great wine. "So intriguing," wrote Dale. "Boxwood and vanilla on the nose…green grass, sweet lemongrass…salty ocean breeze."
Te Whare Ra 'M' Single Vineyard Marlborough Riesling 2021
$31, TOP 10, Organic
Another great showing at our tasting for Marlborough's Te Whare Ra (who, in the opinion of this writer, should have got their gewurztraminer into running as well, but you can't argue with democracy…well, not much). This M (for medium) riesling shows its characteristic sweetness on the palate but the acidity is so bright and vibrant the wine just soars on the palate. So juicy and so drinkable — a riesling in the German tradition: clean, pure, beautiful and so drinkable.
Jumping Juice Wine of Australia Yellow 2021
$25, TOP 10, Organic, Best buy
I don't like to be protectionist, but I do admit to feeling a touch dismayed that an Australian wine scored so highly. Seriously, though, this is a great bottle of wine and, despite its low-intervention credentials (it's produced by Australian natural wine poster-boy Patrick Sullivan), it's a crowd-pleaser. Everyone at the tasting loved this Western Australian, biodynamically farmed, whole-bunch fermented sauvignon blanc. "Lemon confit, pear and apple together with floral aromas of elderflower and jasmine," wrote Kawahara. How could you not love this wine?
Sam Harrop Bridge Pā Fiano 2020
$44
Sam Harrop MW spent years as a consultant winemaker and wine business mentor based in the UK before returning to his native New Zealand and settling on Waiheke Island. He makes a range of wines and this belongs to his Tūrangawaewae range. The fiano (a southern Italian white variety we really should see more of) is sourced from the acclaimed Howell vineyard in Hawke's Bay's Bridge Pā subregion. This wine was a standout in a hugely enjoyable flight of aromatic and lesser-seen white varieties, showing sweet spices alongside citrus and tropical fruits. But it came together in the mouth with a textural, crunchy, salty but refreshing, ocean breeze of a palate.
Amoise Hawke's Bay Chenin Blanc 2021
$40
Canadian expat Amy Farnsworth has finally settled in Hawke's Bay after lengthy stints working for stellar wineries in Burgundy and the Rhône, among others. A minimal interventionist, this is a no-additions, unfiltered, unfined chenin sourced from the Two Terraces vineyard in Mangatahi, further inland from Bridge Pā. This wine threw up a raft of descriptors covering baked apple, spice, pork rind, cooked fruit, honey, quinoa and pear. There's even a beguiling element of woodsmoke on the nose coupled with a textural tannic element on the palate. A fantastic chenin well worth seeking out.
Untitled Boja Fauss 2021
$24.99, Best buy
There's a fair bit of arneis planted in New Zealand. Sir George Fistonich went for the variety in a big way, planting a sizable arneis vineyard for Villa Maria in Hawke's Bay. But the aromatic and often textural white variety, which hails from northern Italy, rarely makes headlines here, let alone from Clevedon, which probably has more ponies than lovers of Piedmont whites. But this was great. Smokey, sea breeze and salted Margarita on the nose, this really came together on the palate with a lovely texture and great freshness. "Nutty, rounded, great acid – cohesive," wrote Pain. "Boja faùss" is a Piedmontese expression of amazement or anger. We're in the former camp here.
Carrick Dry Riesling 2019
$28, Organic
Another great wine from Carrick but something of a departure from a straightforward, fruit-driven riesling. Like a lot of our favourite white wines, this is indigenous yeast-fermented in oak and the nose is more Alsace than Mosel. Kirkland noted an aroma reminiscent of a winter garden, which comes close to nailing it. There's apple juice and citrus notes too, with lemon leaf, finger lime and salty notes. All on top of a bone-dry, searingly zesty palate.
Mount Edward Central Otago Grüner Veltliner 2017
$29, Organic
Grüner never really took off in New Zealand in the way it promised. It remains an ideal grape for our climate (as evidenced by such wines as this), but it just never really captured the imagination. Nonetheless, this is well worth seeking out if you're looking for something in the middle of a Venn diagram comprising riesling and chardonnay with aromas of peach and stone fruit along with juniper, gherkin, thyme and white pepper. The palate, too, is beguiling with quite a full body, a great backbone with lovely texture and a fresh, very long, finish. Worth picking up if you're keen to try something different.
Still Life Barrel Fermented Nelson Sauvignon Blanc 2018
$29, Organic
From an organic vineyard in Nelson, this is one of those wines that is organic but not officially so (it's a minimal-intervention wine made from organic grapes). Fermented in old oak and now four years old, this is relatively far from your commercial sauvignon blanc. Although it had hints of asparagus and peas on the nose, tasters also noted toasted hazelnut, bread, sweet spices, grass, tobacco and boxwood on the nose. There's a long finish but it is starting to show its age so seek it out but don't hold onto it.
Brancott Estate Chosen Rows Marlborough Sauvignon Blanc 2015
Seven years old now, this is on the edge with some tasters loving the fresh tennis ball packet smell and others less convinced by the tertiary aromas starting to develop from the age. There are some classic green notes still there with smokey manuka, boxwood and dried mushrooms and quite a beguiling all-round experience. If you can still find a bottle, it'll be worth giving it a go.
Esk Valley Hawke's Bay Artisanal Albariño 2021
$22.99
I've yet to be convinced that, in terms of wider appeal, albariño won't go the same way as grüner veltliner or even, dare I say it, riesling. It's a delightful variety for the initiated but unless consumer habits really start casting further out, I don't hold too much hope. Which is a shame because, like so many "other" aromatic wines we tasted, this was brilliant, with sweet, ripe fruit, hints of coriander seed, lemon verbena, lemon meringue, and apple, hints of salinity and a really juicy, refreshing acidity – "super zippy," as Kirkland noted.
RICH WHITES
Novum Marlborough Chardonnay 2020
$54.99, TOP 10
What a wine! It's testament to how good a wine is when, after a long day of tasting, judges reach for a half-bottle to take home for the evening. The Novum was one such bottle. Made by industry stalwarts Willy Hoare and Rachel Jackson-Hoare, this is a cracking chardonnay. "Summer lovin'," wrote Dale with Kirkland lauding the aromas of toasted Piedmont hazelnuts. "Rubber, peach, white rose, oak, vanilla, honey, toast, wet river stone," wrote Franco, giving some idea of just what is packed into this wine. A glorious chardonnay from Marlborough.
Peregrine Central Otago Chardonnay 2020
$45, TOP 10, Organic
Another fantastic chardonnay in the top ten, this time from Central Otago mainstays Peregrine. Whole-bunch pressed and barrel fermented with indigenous yeasts, this wine spent 10 months in a range of oak barrels and ticks all the boxes of great chardonnay. "Mealy, hazelnut, peach skin," wrote Dale. "High acidity, long finish, brioche, oak, cedar, vanilla," wrote Franco while Kirkland didn't hold back either: "A ton of citrus and white flowers," she wrote, "silky and persistent".
Yealands Reserve Marlborough Sauvignon Blanc 2021
$19.95, TOP 10, Best buy
New Zealand sauvignon blanc in a classic mould but with something extra here. Made from select parcels of fruit from the Marlborough giant's Seaview vineyard, close to the coast in the Awatere Valley (south of, and generally a touch cooler than, Marlborough's main production region: the Wairau Valley) this shows classic New Zealand aromatic hallmarks of fresh asparagus, tomato leaf and passion fruit but alongside other, more complex notes including Jalapeño. The palate shows its residual sugar but there's a succulent, salty, juiciness to the finish that really sings. Kudos to winemaker Nat Christensen.
Mt Difficulty Ghost Town Lowburn Valley Chardonnay 2019
$59.99, TOP 10
This is a small-production wine from one of Central Otago's bigger players. The fruit is sourced from Mt Difficulty's Lowburn Vineyard on Burn Cottage Rd, on the western side of Lake Dunstan, just north of Cromwell. Hand-picked, pressed straight to barrel with indigenous yeast fermentation, this is another chardonnay to write home about. "Salty and driven," wrote Dale, "with hazelnut, lime and lemon" while Franco found the balance on the palate really shone through.
Te Whare Ra  Single Vineyard Marlborough Chardonnay 2020
$60, TOP 10, Organic
Another cracking chardonnay and another wonderful wine from Te Whare Ra. This chardonnay had it all, from smokey oaky notes to church incense, grilled stonefruit, baked custard, lemon curd with a touch of spice, some flinty characters and manuka honey. If that wasn't enough it all sits on a full-bodied but remarkably fresh and juicy palate – "like fresh morning fog," wrote Dale.
Millton Opou Gisborne Chardonnay 2019
$35, TOP 10, Organic
Some wines are just quietly impressive, others elicit a raft of scribbled notes and descriptors. This is one of the latter. Millton's own words that "it smells like yellow and tastes like the words from AA Milne" seem appropriate. "Nectarine, lemonade, subtle oak…white rose," wrote Franco, while Kirkland lauded the "fresh, salted lemon preserve" nose and the "great freshness". Yet another indigenous yeast, barrel-fermented chardonnay, but this time from one of New Zealand's natural wine pioneers.
Windrush Empire Marlrborough Chardonnay 2020
$32.99, Organic
This is a chardonnay in the more reductive, flinty/smoky style. Not everyone's cup of tea but there's more going on here with salted stonefruit and mineral, wet stone notes. The minerality follows through on the palate but also combines with a creaminess and really lingering finish. The Marlborough fruit was whole bunch pressed before being settled and racked to barrel for wild (indigeonous yeast) ferment and aged for just over six months before bottling.
Carrick Bannockburn Pinot Blanc 2019
$36, Organic
I really have to cede the floor to Renée Dale here. "Pork rind, aromatic, lime cutting through the weighty palate; spicy with a dry finish. Awesome. This wine is a complete storyline, like a German fairytale complete with antagonist, breadcrumbs, Brothers Grimm – there's even a dark side to the story." Franco noted the "white pepper, white stone fruit and juniper". The wine has a certain heft on the palate but it should reward the curious, the open-minded, and the lover of dark German fairytales.
Deep Down Marlborough Chardonnay 2021
$39.99, Organic
Another great chardonnay from another great New Zealand minimal-intervention pioneer – and this time it's from Clive Dougall (formerly of Marlborough's much-loved Seresin) the winemaking co-founder of Deep Down – along with wine marketing guru Peter Lorimer. A complex, mealy, biscuity nose with great freshness and length. "Balanced, with great fruit power and showing some oak influence," wrote Kawahara while Pain noted the "fruit and spice" on the nose. There's a lot going on here.
Church Road 1 Single Vineyard Hawke's Bay Chardonnay 2019
$100
This one comes from the Church Road Terraces Vineyard (not to be confused with Esk Valley's former Terraces site) which actually neighbours the Te Mata winery just outside Havelock North. There's a lot going on here with sweet Manuka notes, lemon and lime, tropical fruits and stonefruit, bread and peach notes on the nose. The palate is bright and silky with high acidity and good length. The toasty oak is noticeable but even for the less toast-inclined this is a well-made, very enjoyable drop.
Els Vinyerons Lluerna Penedès Xarel-lo 2019
$27, Organic
If you're wondering, xarel-lo (pronounced "Sharello") is a white grape variety found in and around Catalonia. It's an important component in regional sparkling Cava as its high natural acidity helps give the bubbles some backbone. This is a still and dry, minimal intervention rendition of the grape which is made with ten percent of the previous year's wine added into the mix. This won't be for everyone as it is made in a somewhat oxidative style, giving notes of lightly bruised banana, nectarine, smoke, baked apple and there's even a rubbery, tyre-yard note to it. The thing is, we all still really liked it. And, as Kawahara pointed out, it could really do with a cheese platter (Manchego and Comté would be ideal).
Stoneleigh Rapaura Series Marlborough Chardonnay 2020
$21.99, Best buy
The Rapaura series is Stoneleigh's flagship range but this wine will still provide excellent value-for-money at your local supermarket. Hand harvested and whole bunch pressed into predominantly new French oak barrels and fermented on indigenous yeasts, this shows an attractive perfume of croissants, butter and toast with peach and vanilla notes. There's also a nice hint of smoke and flint, and a fresh and vibrant palate.
Te Whare Ra Marlborough Chardonnay 2020
$40, Organic
A blend of Te Whare Ra's home block (in Renwick) and fruit from the Wreckin vineyard in Brancott Valley, 10km south of Renwick, this is a classically made chardonnay aged in large volume oak barrels of which a quarter were new oak. It shows fruit notes of grilled peach lemon peel and lime with hints of hazelnut, hay and even warm cream. The palate too is interesting with great body and a soft, supple finish with balanced alcohol.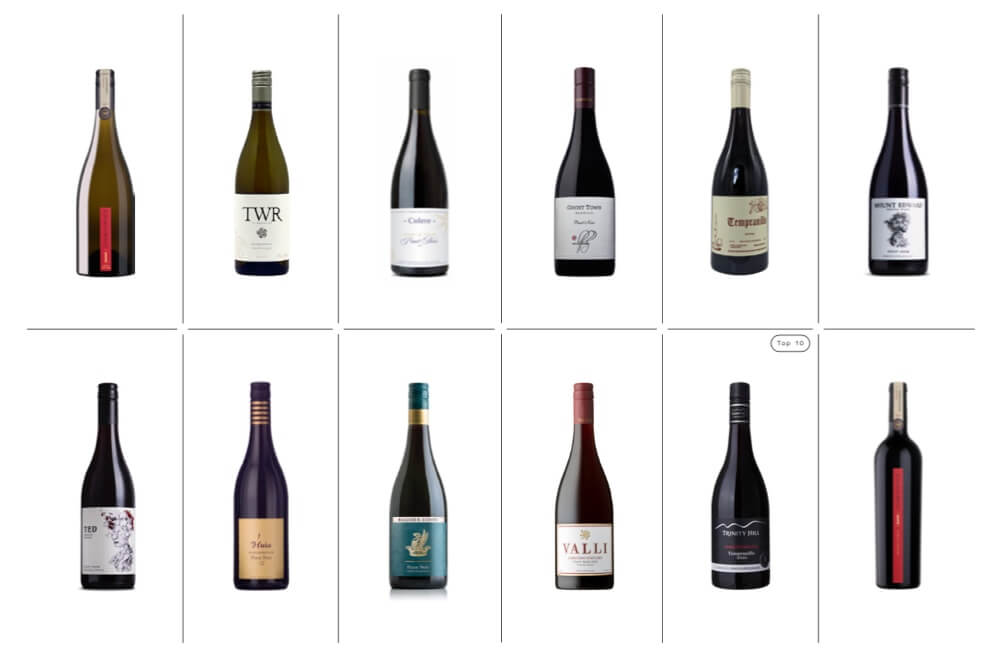 LIGHTER REDS
Colere Pinot Noir 2020 Organic
$65
A cracking pinot noir from minimal-intervention winemaker Julian Richards. This is from the Ashmore Vineyard in Marlborough's Southern Valley, but it goes beyond the straightforward fruitiness often associated with Marlbrough pinots helped, not least, by 100% whole bunch fermentation which really beefs up the aromatics of cherry and dark plum. There's also a great structure and balance that is both chewy and juicy. It's a strange sensation to have but tasting this wine felt that the wine itself was unashamed of what it was. Vibrant and a real pleasure to taste.
Mount Edward Ted by Mount Edward Central Otago Pinot Noir 2020
$35, Organic
A cracking pinot noir second label from well-regarded Central Otago winery Mount Edward. The organic fruit comes from estate vineyards and is fermented with indigenous yeasts, aged in French oak and bottled with no fining or filtration. "Cherry, Damson plum, oak spice and dried herbs," wrote Kawahara. It certainly shows its Central Otago fruit intensity along with umami notes and a really deft hand in the winery. So well made and so enjoyable.
Huia Marlborough Pinot Noir 2017
$45
Long-time organic (and biodynamic) proponents Huia seem to like releasing their pinots with a bit of age and this wine is full vindication of that approach. It shows great complexity on the nose with pinot's trademark red fruit notes but with some cedar and oak tones too. It hasn't lost its freshness or juicy fruitiness with age, either, and shows all of that with some luscious tannins to boot.
Black Estate Home Pinot Noir 2020
$45, Organic
A complex and beguiling pinot noir from North Canterbury minimal-intervention stars Black Estate. There's a fruit-purity to this wine that belies its more serious palate. The nose shows some deep red cherry fruits and even Marmite-like umami notes. The tannins are there although more than one person used the word "chewy" to describe the overall effect on the palate (which is a good thing, by the way). A great wine that will do really well with a bite to eat.
Palliser Estate Martinborough Pinot Noir 2020
$55
"Sweet, deep spice and concentration," wrote Pain of Palliser Estate's 2020 effort. This is a really pretty wine with bright, forward and ripe fruit with classic pinot Noir cherry aromas. The tannins are really lovely too. This wine is such a pleasure to drink, it feels like a low intervention effort. Palliser gets a little flak for being one of Martinborough's "larger" producers but with wines like this, it's a shame they don't make even more.
The Darling Pinot Noir 2016
$31.99, Organic
A cracking number from Darling's founding winemaking and viticulture duo Chris Darling and Bart Arnst. These guys like to release their pinots with a bit of age and this is showing some of those tertiary characters associated with a bit of cellaring. There's some intriguing forest floor notes alongside baked strawberry which will appeal to fans of less straightforward Pinot Noir. There are some nice, ripe tannins and a lingering finish.
Mt Difficulty Ghost Town Bendigo Pinot Noir 2017
$56.99
Mt. Difficulty pulls off the double, with its Ghost Town chardonnay and pinot noir making it into the top 50. This time, however, the pinot noir fruit is sourced from the other side of Lake Dunstan, in Bendigo, just down the road from Prophet's Rock, northeast of the Lake. The wine is made from a range of pinot noir clones (which are predominantly sourced from Burgundy) with a small portion of whole bunches and long pre-ferment cold soak. To cut to the chase, though, this is a great pinot showing even some tertiary aromas, perhaps in keeping with a wine released at five years of age. Great acidity and mineral notes too.
Still Life Central Otago Tempranillo 2020
$29, Organic
Still Life is the project of winemakers Ashleigh Barrowman and Dan Gillet who also run the Everyday Wine stores in Auckland and Wellington (among other projects and a wine importing business). This is their tempranillo sourced from Bendigo in Central Otago, which is surely one of the world's most southerly tempranillo sites? Although associated with the warmer climes of continental Spain, tempranillo is quite a red-fruited variety and in cooler zones this really shows – this is no exception, showing almost pinot noir-like aromas with a hint of Mediterranean herbs. The palate too is more juicy than hefty – a really succulent, delicious red wine.
Mount Edward Central Otago Pinot Noir 2019
$55, Organic
Another great effort from Central Otago starts Mount Edward. All sorts going on on the nose with red fruits and even notes of red peppers combining with hints of autumn leaves and dried hazelnuts as a little age presumably starts to show, blending into the oak notes. The palate is cracking too, with a real lusciousness and juicy fruit. Worth seeking out if you can get hold of a bottle.
Valli Gibbston Pinot Noir 2020
$75
This is a class act with an already really complex nose of primary, crunchy red and strawberry fruit alongside notes of rosehip, forest floor, dry leaves and mushrooms. The tannins are super silky but this is going to need a bit of time to soften and come together and will most likely really come alive a few years down the road. It's still very young, so that shouldn't present a problem!
BIGGER REDS
Trinity Hill Gimblett Gravels Tempranillo 2020
$39.99, TOP 10
Trinity Hill always has a certain polish to its wines and this example shows it more than others. Furthermore, tempranillo is a tricky grape to pull off in such a maritime climate as ours but this really makes a case for the variety with this wine simultaneously showing Tempranillo's tendency towards lovely yet delicate red fruit notes (raspberries, strawberry leaf, redcurrants) which are often subsumed in warmer climes and the variety's somewhat coarse tannins. This has all of that along with some oak spice and a touch of black pepper and those tannins will sing alongside a range of food. Well worth seeking out. 
Church Road 1 Single Vineyard Hawke's Bay Cabernet Sauvignon 2019
$120
There's often a cosy warmth to Church Road winemaker Chris Scott's wines – it's not necessarily alcoholic warmth, rather that he manages to encapsulate Hawke's Bay's sunshine better than most. This wine is no exception showing some lovely sweet blackcurrant fruit, fresh and dried herbs, integrated oak and hints of leather on the nose. Combined with a big palate and a juicy, delicious and lingering finish, this makes for an unapologetic Hawke's Bay cabernet sauvignon from a warm year. 
Stonecroft Reserve Hawke's Bay Syrah 2020
$60, Organic
It often feels like Stonecroft and owners Dermot McCollum and Andria Monin don't get the props they deserve, not least for being one of the first outfits in Hawke's Bay to convert to organics. They also consistently craft some unique – and often sublime – wines. Both this Reserve and the 2021 Undressed syrah were fantastic wines. This bottle showed everything I love about syrah, combining a bloody, meaty aromatic intensity with notes of cassis, liquorice, plum and well-balanced oak alongside a fresh and juicy, lingering palate. A wine to rekindle, confirm or reinforce your love of a variety that can often be underwhelming on our shores.
Stonecroft Undressed Hawke's Bay Syrah 2021
$31
A second Stonecroft syrah in the top 50. This time with a younger, no-added-sulfur, number (hence the dubious name). But nothing untoward about the wine itself with great depth, lovely plum fruit notes and some minerality on the palate. It's got sweet, juicy fruit and an elegant, long finish. A fresh, bright syrah that doesn't try to overplay its hand. A really well-made wine that should silence any zero-sulfur sceptics.
Badiola Laderas Rioja Tempranillo 2018
$24.99, Best buy
It's always nice to have a few outsiders in the mix and this wine was no exception. Made by Bodega Badiola in northern Rioja region of Alavesa from old-vine tempranillo. "Classic!" wrote Kawahara, who took to the wine immediately. "Well ripened cherry and a hint of orange on the nose, this is a food-friendly wine for the winter months," he added. This is still a light-footed style of tempranillo with a touch of spice on the nose. It's not overbearing, it's just delicious and crunchy.
Paritua Stone Paddock Hawke's Bay Cabernet Franc 2020
$25
We don't see/drink enough straight cabernet franc wines in New Zealand and there's every reason to ask why. Aromatic, food-friendly and versatile, it doesn't need to be overworked and it can produce really delicious red wines. This is from Paritua's second tier range, Stone Paddock, but it shows so much promise with some really classic varietal notes of tomato leaf and blackcurrants. There is some oak here too, but the palate is glorious, showing cabernet franc's trademark tannins but alongside a plump and fresh palate. "Lightness and concentration together," wrote Pain. Indeed. Delicious.
Villa Maria Cellar Selection Hawke's Bay Syrah 2020
$24.99
The wine that wins all the syrah categories in New Zealand tastings, is this the swansong of Villa Maria's winemaking old guard? Since Villa's takeover by Indevin last year, much of Villa's original winemaking team has dispersed (mostly to wineries around Hawke's Bay, but that's another story) and it remains to see what direction the wines and brands will take over the next few years. This, though, is the wine is always was: somehow effortless and yet undoubtedly well-crafted with beguiling aromatics of lavender, plum, cherry and violets. The tannins are soft, the finish is warm, fresh and long all at the same time. As Dale noted, it is a "complete wine".
Church Road 1 Single Vineyard Hawke's Bay Syrah 2019
$120
This is more of the "drawing room" syrah. It's a classy act, showing aromas of oak, dried flowers, tobacco, spices and prunes with cacao, vanilla and blackberry notes. The tannins are really fine-grained with sweet fruit on the palate. This finishes really lush, showing that warm heart that Church Road winemaker Chris Scott says he hunts for in his wines. The single vineyard here is Church Road's Redstone site in the Bridge Pā triangle which, as a subregion, tends to give plumper wines than the more structured reds from the neighbouring Gimblett Gravels.
Church Road Grand Reserve Hawke's Bay Syrah 2020
$40
Another sumptuous number from the team at Church Road with this wine showing notes of cassis, black pepper, berry compote – even burnt steak crust, noted one judge. It certainly does have a smoky, toasty note to the nose which suggests a pairing with a barbeque but that might be overkill. However, it's on the palate where it's really happening and, while the oak is still noticeable at this stage, this wine has a beautiful, textural mouthfeel that just keeps on giving. A well-made syrah.
Trinity Hill Hawke's Bay Syrah 2020
$24.99
Chief winemaker Warren Gibson and winemaker Damian Fischer clearly cracked the syrah code in 2020 with both this and their Gimblett Gravels syrah breaking into the top 50. This is my pick of the two but it's really very close. This wine shows spicy, berry fruit on the nose with a really succulent mouthfeel. It also has texture and real beauty to it.
Stonecroft Hawke's Bay Cabernet Sauvignon 2020
$45, Organic
"A textural sensation," wrote Pain of this wine, whose vines are now twenty years' old. The nose has a heap of red and black fruit and is still reflecting the wonderful weather of 2020 in the glass. There's more hints of dill and fennel and some savoury. umami notes that come through to the palate too. The palate itself shows great concentration but it's not overly weighty. 
The Boneline Amphitheatre Waipara Cabernet Franc 2019
$75
Red plums and iodine notes on the nose – there's a real raspberry and radish cabernet franc thing going on and, although you'd be forgiven for thinking Waipara's maybe a bit marginal, climate-wise, for the variety, there's actually a fair bit of power coming through on the finish. This is classic cabernet franc.
Paritua Stone Paddock Hawke's Bay Syrah 2020
$25
Another showing for Paritua's second tier Stone Paddock range. This time it's the syrah from fruit grown on the Paritua site in Hawke's Bay's Bridge Pā subregion. Dark fruits and chocolate, coffee and sweet spice on the nose give way to a really svelte and lush palate. This is a really generous and giving wine made with some great, ripe fruit. This is more on the riper side of Hawke's Bay syrah, but there's nothing wrong with that!
Trinity Hill Gimblett Gravels Syrah 2020
$39.99
Chief winemaker Warren Gibson is something of a syrah guru and it really shows on this wine. Plush, even from the nose, it has some lovely hints of black and blue fruits, white pepper and oaky vanilla notes. Medium-plus tannins with really juicy fruit and a fresh, enchanting finish. Glorious.
Save Our Souls Murray-Darling Sagrantino 2017
$32.99
I wish we encountered more southern Italian wines on these shores but this is a relatively good stand-in, showing the inky, bloody aromatics of sagrantino with notes of balsamic vinegar and soy sauce. This is a big wine with chewy tannins and concentrated fruit but it still manages to pull you in (if the label hasn't put you off or hooked you beforehand, that is).
Orlando Lawson's Padthaway Shiraz 2016
$70
There's something about that sweet, sun-drenched Aussie fruit that brings you in, and this has it all, from classic Australian shiraz notes of eucalypt and mint through to anise, black pepper and herbs. The aroma really draws you into this wine but the palate too, is all there, with a nice, refreshing finish and a really deep mid-palate. Immediately pleasurable.
JUDGES
Renée Dale, owner and winemaker at Moi Wines
Julia Franco, DipWSET; wine specialist at WineSearcher
Hiro Kawahara, previous sommelier at Sid at the French Cafe
Leah Kirkland, restaurant manager at Mr Morris
Henry Oliver, editor
James Pain, restaurant manager at Pici
Oliver Styles, wine writer and winemaker at Halcyon Days
–
This feature was published in Metro 435
Available here in pdf format.