Apr 14, 2015 Restaurants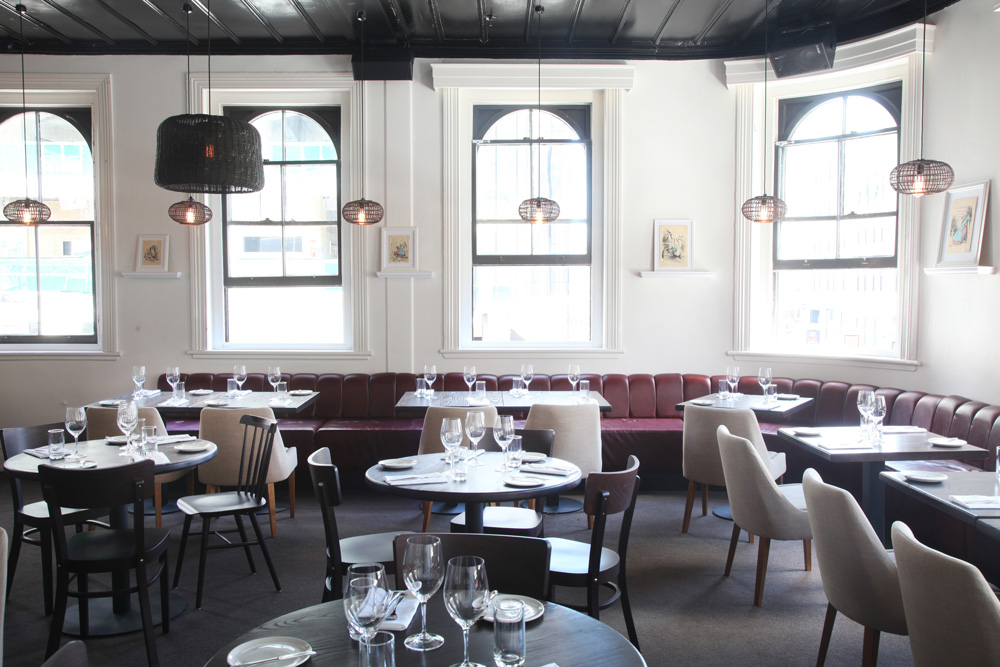 The White Rabbit goes the extra distance to get it right.
By Simon Wilson. Photos by Ken Downie.
The White Rabbit
69 Customs St East, central city. Ph 369-5069.
thewhiterabbit.co.nz
Hours: Tuesday-Saturday, from breakfast until late.
Dinner bill: entrées $16-$20; mains $25-$40; desserts $15-$16.
First published in the March 2015 issue of Metro.
Duck burger. It sounds good, and it is. The mince is coarsely "hand cut" and the greens are celeriac and apple. A better kind of burger, and it sets the tone.
This is food for an informal bistro, conceived afresh and served impeccably well. I've had a starter of sardine bruschetta with feta and "olive cheeks", a glass of Amontillado sherry on the side, the whole concoction bursting with savoury delights. For the "pig's head" entrée, the rich and powerful meat is cut through with the sweet sharpness of granny smith apple and the bitterness of radish.
I've eaten snapper here, beautifully moist, served with broad slices of char-grilled corn, watercress, fennel and chilli. A dish like that makes half the other "fish of the day" clichés in town seem irrelevant. Even with the sides, they make a proper effort: the green salad, for example, is made from endive and celeriac.
There is a lovely serendipity about The White Rabbit. First, the building, that old pub on the corner of Gore and Customs Sts most recently known as the Crown. It's been given a fresh white facelift, inside and out, revealing it to be an extremely attractive colonial pile. Downstairs, in the cafe/bar, there's an impressive pressed-tin ceiling they like to say is the oldest in the Southern Hemisphere (slightly hard to believe), and upstairs in the evening dining room the ceiling is broad kauri planks and there's a row of sash windows along both street frontages. All of it speaks of elegant ease.
The executive chef is Sean Marshall, the culinary wizard who emigrated from Wellington's Matterhorn a few years ago, wowed us at Roxy and has been struggling a little to find his right niche ever since. And the man actually in charge of the stoves is Ian Harrison, who has worked for nutcase perfectionists like Marco Pierre White and perfectionists of an altogether more pleasant sort like Des Harris at Clooney. Marshall and Harris created the menu between them.
And front of house? That's in the hands of Gary Olasz (Roxy, Clooney), the most charming man in Auckland hospo and also quite possibly the most knowledgeable sommelier. Want to talk wine with a soft-spoken, always smiling fount of wine wisdom? Gary's your guy.
There are prior links among these people, as you may have noticed: they've all worked for the Pack Group (Roxy and Everybody's, Libertine, The Commons and a whole bunch more places). It's fair to say Pack has struggled to find exactly the right formula in Auckland, putting fine dining into places the patrons want to use more as a bar, and vice versa. But Pack partner Mark Keddell has now left that setup and regrouped with Marshall as partner. And this time, Keddell has really got it right.
Back to the eating. They do three kinds of steak — which makes them a semi-steakhouse, I guess — with a choice of four kinds of sauces. I've had the ribeye (usually called scotch in New Zealand) with café de Paris butter, and it was splendid. With wine recommended by Olasz from his excellent list and a side of hot, crunchily just-cooked broccoli, it was a near-perfect dinner. Only the chips were poor — thick cut but dry and shrivelled, as if they'd been sitting under the warmer since mid-afternoon.
They're not always like that — I've had them again and they were properly crunchy and fluffy. But still, on my first visit, it was a letdown.
Save a corner for desserts — there are some triumphs. Chocolate and salted caramel for the power hitters; a deconstructed palm sugar and lime cheesecake for those looking for intrigue; and, best of all, a Szechuan pineapple arrangement whose flavours simply dance with delight.
Next up for Keddell and co: a rethink of Libertine, which they will reopen as an Auckland version of Matterhorn. Definitely looking forward to that.