Apr 6, 2018 Restaurants
Metro Peugeot Restaurant of the Year Awards 2018
How we judge
Restaurants are rated for what they are trying to do: a superb bistro and superb fine-dining place both get five spoons. We pay for our meals and, if possible, do not declare our presence. We make repeat visits where necessary to build up a clear picture.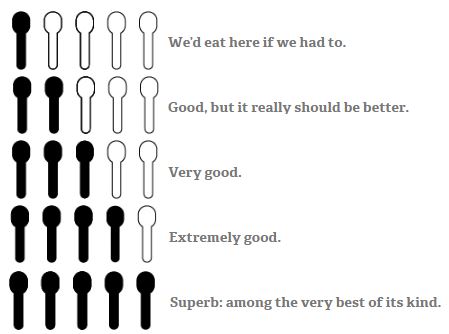 Pricing code
$ mains under $30 / $$ mains $30-$40 / $$$ mains over $40
Each restaurant in the Top 50 is listed in one of the following six categories:
Fine-dining restaurants
A fine-dining restaurant puts great emphasis on the preparation and presentation of each dish. Service will be professional, the atmosphere quiet, and the tableware will probably (but not always) include linen, silver, fine china and crystal. You will receive complimentary extras: bread, amuse-bouches, a palate cleanser after the main, chocolates. There are almost always degustation options and at one or two places that's the only way you can eat.
Smart-dining restaurants
Smarter than a bistro, but without the staffing levels or elaborate food styles of fine dining. Often, but not always, quite a large place. Degustation may be offered.
Inner-city bistros
Located in the central-city and waterfront precincts. Usually with a lively atmosphere and more informal style of food presentation. Platters and/or small plates to share are common, but so are individually plated meals (steak and chips, or pasta, say). It's likely there will be a bar, but note that we did not consider city bars (like Bellota) for this list, even if they serve food, as they are not primarily places where customers go to eat.
City-fringe bistros
Located in the "dress circle" suburbs from Ponsonby through K' Rd and around to Parnell. The criteria are the same as for inner-city bistros above.
Neighbourhood bistros
Bistro-style restaurants sited away from the main dining precincts of the city. Fine-dining and smart-dining restaurants located in the suburbs (eg, Merediths and Cibo, respectively) are listed in the relevant fine-dining and smart-dining categories.
Destination restaurants
Winery restaurants and others for which you have to leave the built-up city — from Matakana to the Bombay Hills and including Waiheke Island.
The restaurants were also eligible for these other awards:
Supreme Winner
Best Fine-Dining Restaurant
Best Smart Dining Restaurant
Best Inner-City Bistro
Best City-Fringe Bistro
Best Neighbourhood Bistro
Peugeot People's Choice Best Destination Restaurant / Chosen by popular vote online, from a shortlist decided by the Metro judges.
Restaurant Personality of the Year / An award that specifically recognises the contribution of waitstaff, bartenders and other front-of-house staff who are not restaurant owners.
Restaurateur of the Year / In recognition of innovation, high standards and success.
Best Chef / Showing a command of techniques and ingredients and an innovative spirit.
Best Service / Showing an unparalleled commitment to excellence from all the staff.
Best Drinks List/ Judges looked for a drinks menu that offers a great range of cocktails, craft beer, wine and other drinks, including non-alcoholic drinks, with knowledgeable staff and in a friendly, inviting atmosphere.
Best Wine List / The best wine list will show impressive depth and breadth, have a good selection by the glass and be well matched to the food and style of restaurant.
Best New Restaurant / Restaurants that opened since we judged the 2015 awards were eligible.
Best New Fitout / The most charming new dining room in the city.