Jun 20, 2018 Restaurants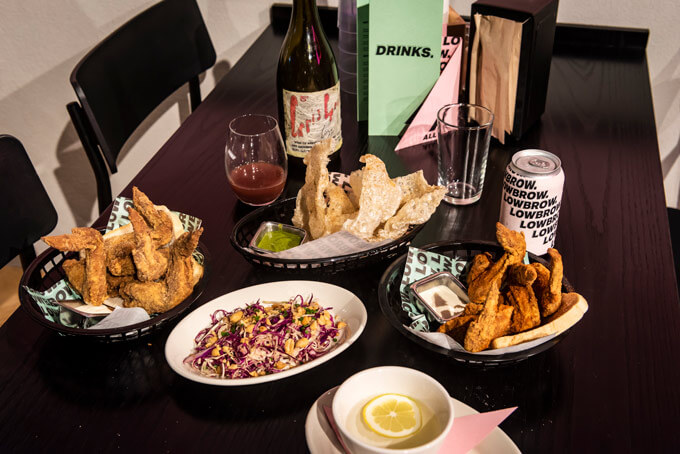 Lowbrow is a new casual all-day eatery in the new upmarket Queen's Rise food court, from the owners of Metro Top 50 restaurant Culprit.
Not all fried chicken is created equal. That's what the owners of Culprit, Jordan MacDonald and Kyle Street, found out on their tour of the USA in 2015 – a research trip ahead of their first restaurant opening. MacDonald spent six weeks driving Street across the States – Street at age 35 still doesn't have a driver's licence – in search of the best chicken. They thought they'd found the cream of the crop at historic Willie Mae's in New Orleans, where chefs have been using a technique called wet frying for their chicken since 1957. The process involves chicken pieces being dredged through a seasoned batter to create a crust on the exterior of the meat as it cooks. It is, apparently, "amazing."
Returning to New Zealand with their minds and stomachs full of chicken, MacDonald and Street continued to work on the restaurant's concept, but found their plan to open something fairly casual that championed their guilty chicken-y pleasures had become more refined. The name they'd initially chosen, Lowbrow, didn't fit any more either, so they changed it to Culprit and the rest went on hold.
In the two years since Culprit opened, Street and MacDonald have regularly hosted local and international guest chefs for pop-up dinners. Perhaps most popular have been their bi-annual no-reservations collaborations with Morgan McGlone of Australia's Belles Hot Chicken; you'll often see lines forming up Wyndham St, sometimes hours before the doors even open.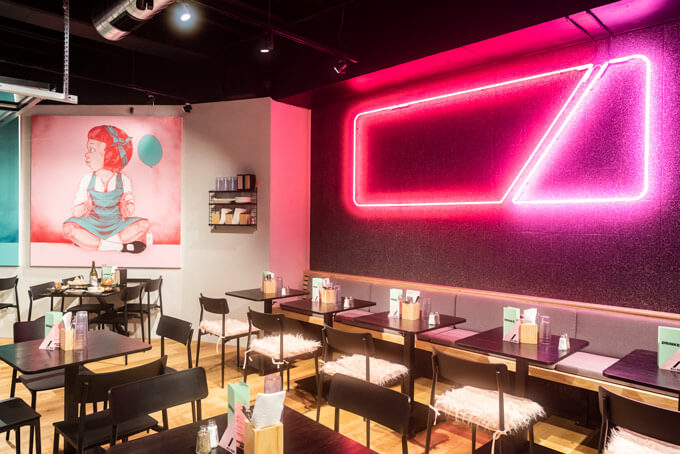 McGlone's chicken, say Street and MacDonald, is even better than the chicken at Willie Mae's and they've learnt many secrets of the chicken trade from him. Inspired by how good Belles is, the idea for a casual fast-food-but-good-food restaurant was put back on the table. Fast forward a year and Lowbrow has finally come to fruition. It's part of Queen's Rise, a new upmarket all-day food court on Queen Street.
Lowbrow, named to reflect the style of food served, looks strikingly similar to Culprit. Fans of MacDonald and Street's Wyndham St site will notice the familiar neon accents, and chunky black and pink branding. But here the fun is turned up a notch with large murals and quirky beer taps which take inspiration from the surrealist lowbrow art movement popular in 1970s Los Angeles. The food, as you might guess, has a distinctly North American bent.
The secret to Lowbrow's chicken, one of the signature dishes on their casual 24-item menu, is that, like at Belles, it's fried dry. Wings are lightly brined then dried and rubbed with seasoned flour before being chucked in hot oil. It's riskier to fry this way, explains MacDonald, who will man the kitchen at Lowbrow for the time being, while Street continues at Culprit. It can come out dry because there's less of a protective coating on the outside. But when you get it right, the chicken flavour really sings and there's no risk of stodgy batter.
While Lowbrow will partly focus on down and dirty food made using highbrow ingredients – the menu includes a dish called "white bread tacos" which is fried clams with iceberg lettuce and Thousand Island dressing on a slice of white bread – there's more to be had than fried things. The menu has balance in more elegant dishes like handmade farfalle puttanesca, market fish ceviche, and beef fillet carpaccio. Happily, there's booze, including a bespoke Lowbrow lager made by Brothers Beer. All the wine is minimal intervention natural wine to reflect the treatment of the ingredients on the menu. It's good, simple food, and some very fine fried chicken.
More eats in Queen's Rise
Nourish Pod will be offering breakfast in the form of healthful acai bowls.
Lunch could be a Pinterest-y salad jar at Jar Story, a hot spud from Potato and Me, more chicken from Dolly Bird, or a Japanese or Hawaiian-style poke bowl from Renkon-owned Tokyo Loco Bowl or Poke Bar.
There will be smoky, chewy pizzas slung all day at Dantes Pizzeria, and hand-pulled noodles from Panda.
See in the evening with a sophisticated cocktail at Grace, and a mezze platter from Ottoman Mezze Lounge.
Queen's Rise opens Thursday 21 June.
Lowbrow
Queen's Rise
Level 1, 125 Queen St
Auckland CBD