Feb 4, 2015 Restaurants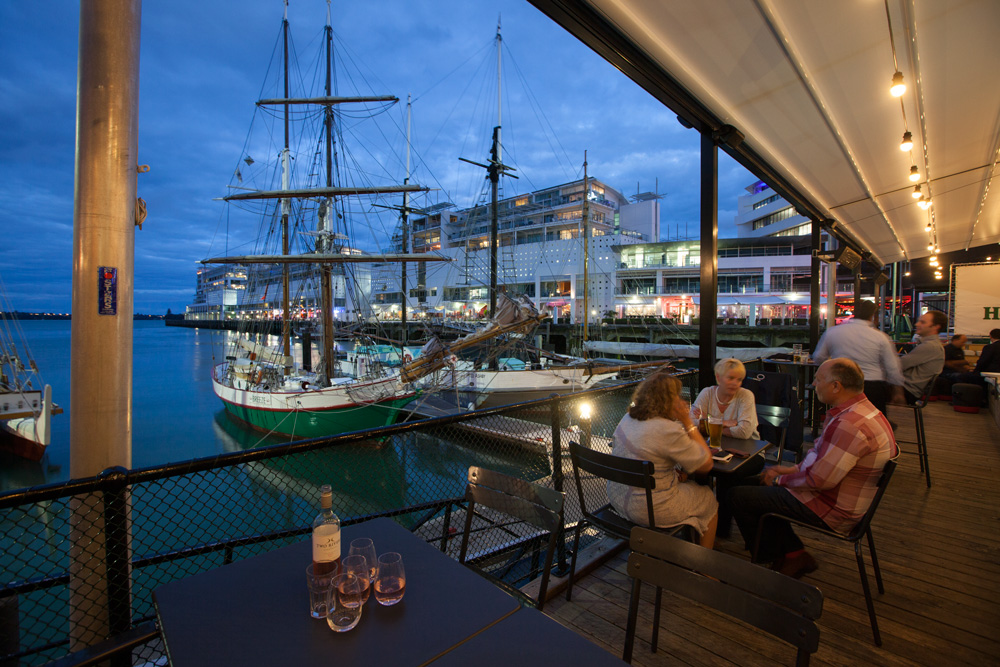 The Crew Club
150 Quay St, Viaduct. Ph 365-2690. crewclub.co.nz
Monday to Friday: 10am to 11pm; Saturday: 9am-midnight; Sunday 9am-11pm.
Bites & small plates $8.50-$17; mains $17.90-$48; desserts $11-14.
By Jesse Mulligan. Photo by Ken Downie.
I'm pleased to add another name to the list of Auckland restaurants where you can get sunburn, but I'm sorry to say I didn't walk away from The Crew Club with much else. The staff are nice and the menu is long and you can see the ocean from every table, but the food is uninspiring, with few hits and lots of misfires.
There are several dishes that don't live up to their menu billing. "Slow-cooked chicken with 63 degree egg" is actually chicken breast, moist enough but not really worth cooking for any long period. And that 63 degree egg is a joke — it sounds good, because in theory an hour in the shell at that temperature creates a sort of quivering but uniformly poached mass. But this one is just hard-boiled — you'd send it back at a charity picnic.
Pork chop comes with "bagna cauda". I've made bagna cauda (literally "warm bath") and it's a constantly heated emulsion of olive oil and butter, garlic and anchovies. But at The Crew Club it's apparently "an Italian aioli" and sits in a puddle underneath the chop, at least adding some garlicky flavour to the meat.
Outdoor tables are made of dark-grey metal; on a sunny day my knife got so hot I had to exchange it, and I had to work hard not to burn my skin as I ate. Maybe they should bus in kids from finishing school to drill in how important it is to keep your elbows off the table.
The staff work hard, but there were a lot of unanswered questions. What does "OP" stand for on the menu? "Don't know." What's the story with these "apple-fed chickens"? "Not sure." What would you suggest to drink with the crab? "Um, gin and tonic?" At least they offered to go ask the kitchen what was in that bagna cauda, though they never returned.
It's not easy to order from the menu, which doesn't encourage sharing but then doesn't have any easily identifiable entrées, either. If you end up here with out-of-towners (and it wouldn't be a bad choice given the views and the broad menu), go straight for the whole roast fish: a flounder when I visited, flaking off the bone and livened up with red chilli and garlic slices. A vego main of fresh peas and various green beans is cold and fresh and would work well as a side for the whole table. The ribeye is perfectly cooked and delicious with a surfy "Crab Oscar upgrade".
Those "upgrades" are a nice idea, though they're still being finessed. By week three, bone marrow was no longer being served in the bone but scooped out, moulded into discs and crumbed. The flavour survives, but the texture and presentation are such a big part of marrow, chef must be hanging out to reprint the menus and ditch it.
And so to dessert, where "Cookie Stack — warm and housemade" again sounded great but was in fact just five dry biscuits next to each other on a teatowel. You can't find a Meyer lemon in the shops as I write, but for some reason the restaurant regards it as such a seasonal treat, the curd is served inside an actual lemon. At least it'll be the right temperature coming out of cold storage.
So overall, disappointing. A few nice dishes and plenty to choose from but this is Auckland, where these days you can eat at a different, brilliant restaurant every week for a year. They're trying hard at The Crew Club, but save your visit for the work function, when somebody else is paying.
2 Spoons
How we review
Every restaurant is visited at least twice and rated for what it is trying to do: a superb bistro and superb fine-dining place both get 5 spoons. We pay for our meals and if possible do not declare our presence.
We'd eat here if we had to – 1 Spoon
Good, but it really should be better – 2 Spoons
Very good – 3 Spoons
Extremely good – 4 Spoons
Superb: among the very best of its kind – 5 Spoons
[booking_form]