Jan 14, 2015 Restaurants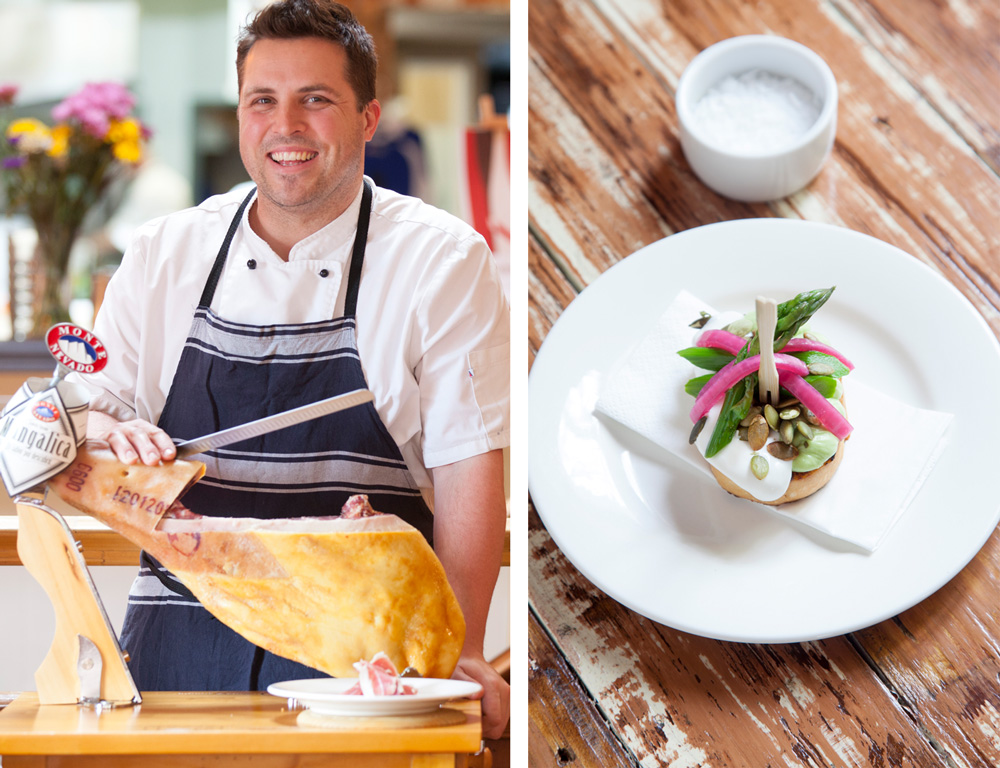 A Spanish heart in the inner city.
By Jesse Mulligan.
Photos by Ken Downie: left, chef Logan Coath and right, asparagus pintxo.
First published in Metro, December 2014.
The Black Hoof is on lower Wyndham St in the city, an unlikely part of town for a decent restaurant. On the Saturday evening I visited, the area seemed to be populated mostly by hens' parties and the homeless, each regarding the other with the same expression of pity.
But of course that doesn't matter when you climb the stairs up from street level into a big, open restaurant and bar, where the food's hard to fault and the service keen to please. If you like Spain, you'll love this place, where you can eat four types of jamón with four types of Fino sherry.
Spain's the sort of country where you remember the food better than you enjoy it at the time. San Sebastian aside, a couple of days on the tapas scene is designed to make you crave iceberg lettuce. I've heard Spanish food described as "a cuisine based on leftovers", which is a bit harsh, but the truth is that a lot of enjoyment is derived from being on holiday, somewhere hot, with a compulsory afternoon nap.
Sensibly then, Black Hoof has made room on its menu not just for classical Spain but for all the good stuff the Basques in the north and Moors in the south have done to improve it. There are also some sensible local additions: you won't see asparagus with goats' cheese and avocado on the menu in Bilbao, or if you do, those spears will be cooked to the same texture as the avo.
Hey, don't get grumpy with me. I used to do the London PR for Spanish food and drink and, truly, I get it. But it's very contextual, and though the food at Black Hoof is great, the staff could do a bit more to help get you there. It's an overwhelming menu, with bites, snacks, charcuterie, cheeses, veges, rice and mains (or, as your pretentious well-travelled friends will insist on calling them, raciónes). The floor team know so much about the food, but they could step in more and help you navigate the menu.
Then there's the sherry. Ask any decent wine writer to name their 10 favourite wines and most will include a sherry. It's great stuff, but it's not easy going. My first-timer buddy asked the waiter for a recommendation and got brought a nutty, fumey amontillado, which he could hardly finish. Sherry's like olives — you need to be warned beforehand and encouraged to persevere. Drinking a full copita with no instruction is like mouth-kissing your aunt at Christmas.
Once you've ordered and found a drink you like, things improve considerably. There's not a dud dish on the menu, and most are extremely good. The lamb shoulder is slow-cooked perfection with North African flavours: labneh and cumin-spiced almonds. Gazpacho is cold, green, pulpy and summer delicious. Fresh sliced jamón almost dissolves in the heat of your mouth — though they need to trim the dry, rough oxidised bits before they serve it.
The atmosphere needs a little work. The bar with its 25 hanging ham legs is more fun than the hall-shaped restaurant, where things weren't helped by a classic iPod shuffle double play of Katy Perry and Marilyn Manson. If you have to play pop, at least plump for Ricky Martin and Shakira.
But the staff are happy and the prices good — if you're missing things Iberian, this is the place to come for lunch. Then afterwards you can return to your office, put your feet up, and if the boss needs something, just tell him, "Bugger off, I'm having a sleep."
3 Spoons
How we review
Every restaurant is visited at least twice and rated for what it is trying to do: a superb bistro and superb fine-dining place both get 5 spoons. We pay for our meals and if possible do not declare our presence.
We'd eat here if we had to — 1 spoon
Good, but it really should be better — 2 spoons
Very good — 3 spoons
Extremely good —  4 spoons
Superb: among the very best of its kind — 5 spoons