Nov 13, 2018 Restaurants
Restaurant review: Teddy's in Ponsonby should either smarten up or loosen up.
First there was
Rosie
, Coco and Odette, and now there's Augustus, Hugo,
Madame George
and Teddy. Auckland's dining scene increasingly sounds like a royal wedding guest list, or the worst group of people to bump into on an OE.
The latest proper noun on the block, new Ponsonby Rd bistro Teddy's, opened in early April. It's taken over the colonial villa that for the previous seven years housed Mark Wallbank's contemporary Thai restaurant, MooChowChow. Like Wallbank, new owners Rob Hill and Oliver Scutts are hospo-savvy: Hill was behind the launch of Britomart's 1885, while Scutts owns Three Lamps wine bar Annabel's, as well as a rosé wine brand.
From the outside, Teddy's makes very little impact. Gone is the twinkly red of MooChowChow at night; in its place is a conservative grey awning. Inside, there's now a bigger bar to the left of the main entrance and a neat semi-private dining area to the right. The slightly paint-by-numbers décor features lots of vertical wooden cladding, luxe floral cushions and a smattering of statement light fittings. It'd be pleasantly forgettable if it wasn't for a few niggling design flaws, like the arbitrarily small gaps between tables, barely a thigh apart despite ample space around them. It makes nipping to the loo — up a staircase so steep you need to assign a buddy and pack rations — even more of an ordeal. The toilet sitch was annoying at MooChowChow; why didn't they seize the opportunity to fix it? If you're a person with disabilities, you have to ask to use the downstairs staff loo, which is, frankly, shit.
Auckland design firm Studio South has done a nice job with the branding. The website, menu and signage are adorned with Tintin-esque line drawings depicting aloof characters variously drinking and — would you believe — smoking. I know, it's 2018. Shouldn't they be vaping?
Leading the kitchen is former Mekong Baby and Molten chef Ben Convery. On paper, his concise share-if-you-feel-like-it menu swerves mediocrity with poetic touches. Duck-liver parfait is served with rhubarb relish; lamb ribs with fermented leeks; deep-fried apple pie with cheddar-cheese ice cream.
The treacly, unctuous lamb ribs were inedible after three bites — too salty — and the fermented leeks a measly garnish barely worth listing. The confit chicken — two perfectly golden upturned legs presented atop a porcini volouté sauce — was disappointingly dry, with a one-note richness the would-be acidic elements (shallots and bacon "jam") failed to counteract.
Read more: Auckland's best restaurants by cuisine: Metro Top 50 2018
I wonder how many Auckland chefs bear beetroot-slicing battle scars? It must be a lot: those earthy little discs of natural tie-dye are bloody everywhere. At Teddy's they're employed to complement sweetly cured Spanish mackerel, salty cucumber, bitter endive and creamy buttermilk curd. It's one of the better dishes, though like the sides (broccoli next to a dollop of goats' cheese, sprouts with an unceremonious blob of beurre noisette), there's an underwhelming starkness to the execution.
Don't get me wrong, sometimes juicy chicken schnitzel and a simple slaw, or deep-fried apple pie redolent with cinnamon and childhood memories — both of which Teddy's nails — is enough. But does Teddy's know that? The décor, the intensity of the seating arrangements and the formal service style suggest otherwise.
There's a decent list of local craft beers and a short and mostly thoughtful wine list, though there's only one rosé (Scutts', which the waiters insisted we try). The bar physically dominates the space, yet there's no formal cocktail list.
So who is Teddy? If the Coco of nearby Coco's Cantina is an eccentric woman who'll have you dancing by the end of the night, Teddy is the guy whose name you've forgotten, despite being trapped in a boring conversation with him.
It's not too late for Teddy's to gain a personality. The owners could go two ways: smarten up and take diners' comfort more seriously, or loosen the tie completely. Perhaps then they'd better embody their bohemian, hand-drawn mascots.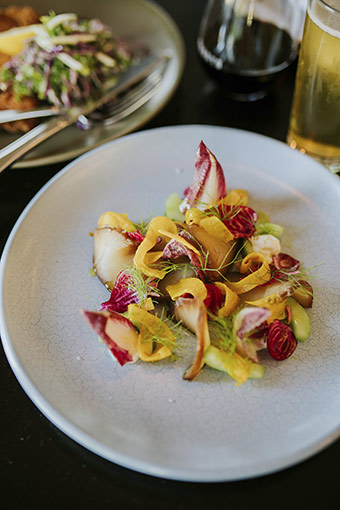 Teddy's
23 Ponsonby Rd, Ponsonby
Ph: 217-2871
Hours: Seven days, 11.30am-late
Dinner bill: Small dishes $16-$22; mains $26-$34; desserts $10-$16.
This article was first published in the September – October 2018 issue of Metro.
Follow Metro on Twitter, Facebook, Instagram and sign up to the? weekly email