Dec 13, 2018 Restaurants
At new Te Atatu cafe, The Sugar Grill, community is the main concept here with family-friendly spaces and nods to local history.
The Sugar Grill is a project 19 years in the making, the seed planted when Nickson Clark and his dad used to joke about opening an ice-cream shop together (Nickson is dairy intolerant). Now the dream has manifested into a light-filled, neutral-toned cafe with community and family at its heart. They're aiming for simplicity; their specialities of sweet goods and hearty grilled fare are right in the name.
Although this is Nickson's first foray into the hospitality business, his family have rallied around him. His dad, the cafe's executive chef, has been cooking for 40 years; his mum took a year off her job to help out; his auntie and partner are lending a hand, having owned a couple of restaurants; and his cousin is on the floor training their staff.
Nickson's family has a 50-year history in Te Atatu, with his grandfather emigrating from Samoa straight into the area. There are black-and-white photos of Te Atatu from 1967 lining the walls – which the locals helped procure – and a wooden table set apart from the rest is the from his mum's side of the family, the Mimilo-So'oialos. The rest of the cafe is clad in wood with dots of plants and an open kitchen to encourage diners to pop up for a conversation with the chef.
Read more: New street food-inspired restaurant Gao opens in Albany | How new cafe Generosity Coffee is helping the Birkenhead community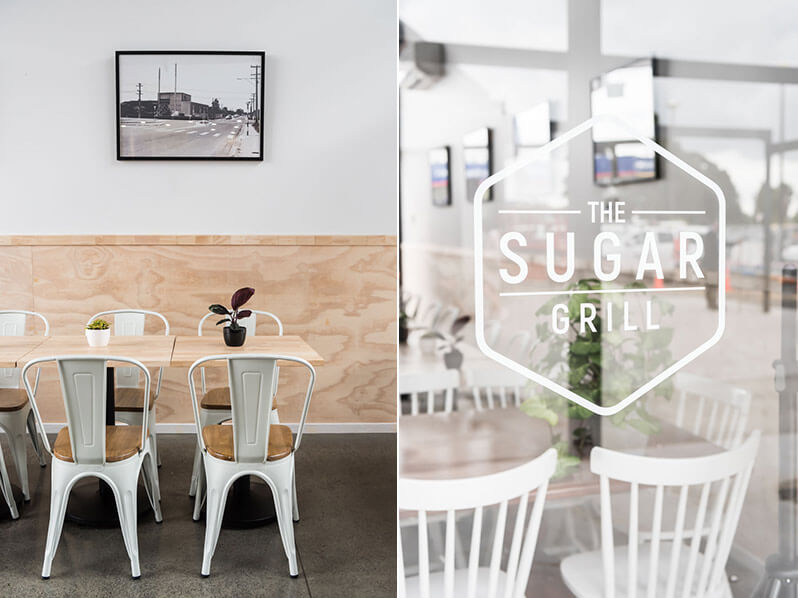 Community is at the forefront of the cafe's concept, designed so it doesn't alienate any generation of the Peninsula's residents. Families have been especially catered for, consciously making room for prams and wheelchairs, and an outdoor area affectionately named "Billy's Balcony" after Nickson's pup. It closes 5pm on weekdays, a little later than normal as a nod to parents' after-school runs.
On the menu there's "cafe classics you'd expect, done in a way you'd expect," as well as a section for vegans. Toasties also feature, with one Nickson refers to as the "hangover toastie", chock-a-block with mac and cheese. In the cabinet there's an array of sweets and pastries like doughnuts, homemade slices, cakes and their signature range of cookies. The cookies are baked to-order, meaning you'll be served one warm from the oven. "Don't come here if you're on a diet," Nickson says.
Coffee is Caffé Moak, an Italian brand carefully chosen for its family-based, environmentally-friendly values. Environmental consciousness is seen throughout; they don't use plastic or straws.
They're licensed, too, and are serving cocktails, wines and beer all day. Their wine list includes tipples from local wineries, and on the beer front, they're stocking Garage Project, as well as Westie favourite Lion Red (at insistence from Nickson's dad).
Opens Monday 17 December
www.thesugargrill.co.nz
571 Te Atatu Road, Te Atatu Peninsula
@thesugargrill
Follow Metro on Twitter, Facebook, Instagram and sign up to the? weekly email for more food news.