Aug 18, 2012 Restaurants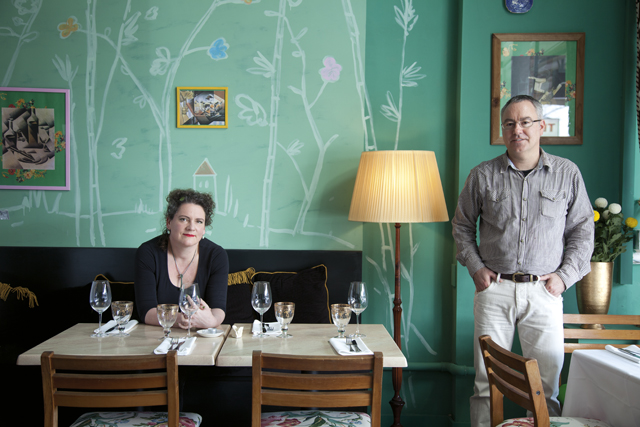 185 Ponsonby Rd, Ponsonby. Ph 360-2001.
sundaypainters.co.nz
Lunch Friday; dinner 7 days.
James Kirkwood painted the walls. Notice the beautiful stemmed water glasses, the sense of a place that's not like any other place. Kirkwood and Esther Lamb (that's them above) dreamed it all up, complete with heavy patchwork curtains that spill onto the floor, a turntable on which they play albums, a wine list conjured with curiosity and love. And food, of course, French bistro food, peasant food, on a high-rotate menu from the extremely capable Beki Lamb, Esther's sister. We've said before that their pork stuffed into duck-neck sausages and served in fat slices on a bed of lentils is the kind of dish every self-respecting bistro should offer, and we love it still. We're also most partial to the roquefort tart with beets, a pumpkin and chevre soufflé served with parsley sauce, kahawai confit with blood orange and fennel salad, and of course the steak frites — scotch fillet, served, last time we checked in, with peppercorns and brandy butter.
A favourite dish:  Kahawai confit with blood orange and fennel salad.
$$$$  |  V  |  FR  |  PR  |  G  |  CL  |  GB  |  K      what's this?
FINALIST
Restaurant Personality of the Year: James Kirkwood