Jan 25, 2022 Restaurants
Just round the corner of the main Onehunga Mall road, Slabs is a no-frills pizza parlour dressed in lilac. All of its full-sized pies are also available by the half and the slice – though even the slices are made-to-order, so be prepared to wait a little. Owner Simon Murphy, an analytical computer engineer in his past life, enjoys the nitty-gritty of baking: its fickle water ratios, temperatures, timing. It's a passion developed at his previous venture, Umu in Kingsland, which also slung pizzas (but of the sourdough variety). Slabs, on the other hand, serves it up Detroit-style: square, saucy, and with a crunchy carmelised crust.
Though Murphy hasn't ever been to Detroit, time for experimentation came in the form of our latest six-month lockdown, stuck in New Zealand after initial plans to travel to Australia for a year after the Umu sale were disrupted. "It's a lot easier than sourdough," he says, "because you don't need that big woodfired pizza oven. You just need an oven. Anyone can do it." Traditionally, this style of pizza is made using a blue steel pan, spread right to the edges to form that signature crust. Murphy describes the bread as being more like focaccia, with its wet dough, yielding a bread that's light and aerated in the middle and crispy on the outside. It makes for a satisfying initial bite and sustained chew.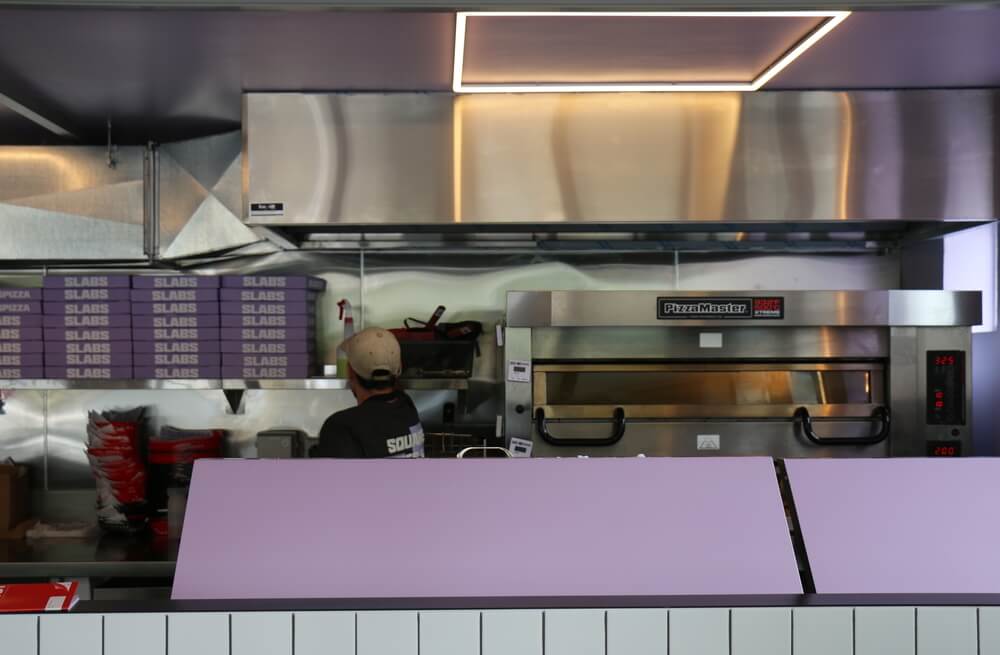 You can get a slice to go, but we recommend dining in (outside tables available), or lots of that gooey, generous cheese and tomato sauce will slide right off into your lap. It's just as pizza is meant to be: dripping, messy. In Detroit, this style of pizza utilises processed Wisconsin brick cheese, but Murphy has adapted it to the New Zealand context and gone with a 70/30 split of cheddar and mozzarella instead. "I tried a lot of cheeses," he admits. The sauce, rather than being spread across the base in the first instance, is ladled on top, so all the flavours have been turned up to eleven. It's a little intense, in a good way.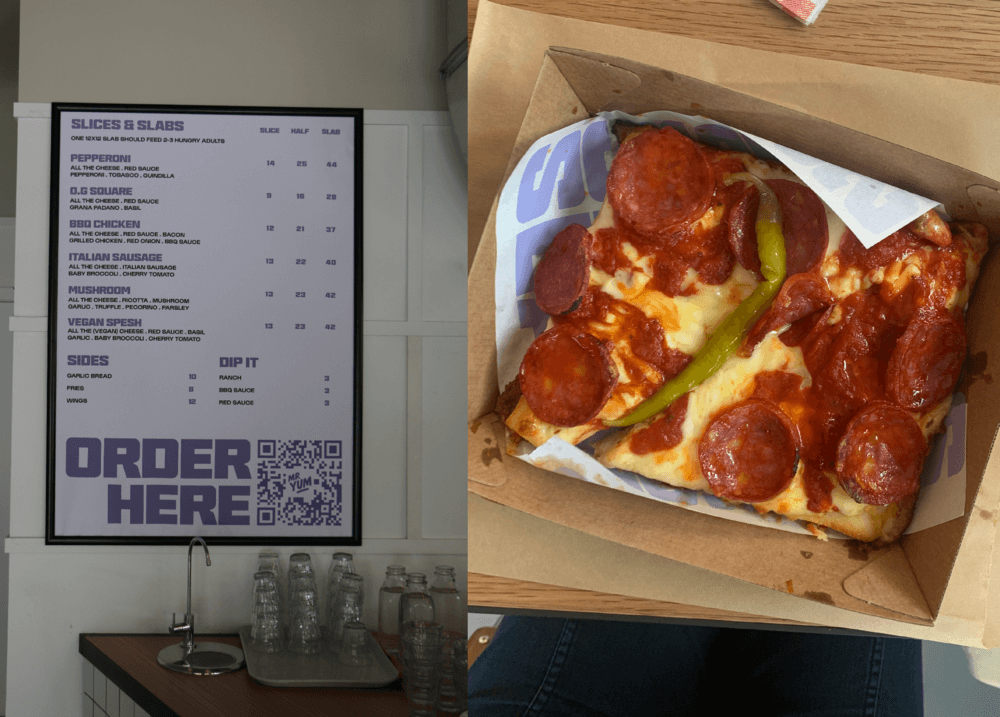 With the pizza market getting increasingly crowded in Auckland, there's something charming about the novelty of a square shape, while still having that nostalgic quality a good slice of pizza has: probably all that extra-ness of the cheese. 
It's obvious that Murphy is aiming to keep it simple. Just six varieties (pepperoni is the obvious choice, pictured above, though the mushroom looks like a good bet for vegetarians), only a couple of sides, and some soft drinks. "We're really just looking to be good neighbours," Murphy says. "Onehunga is awesome."
Slabs is open now at 178 Onehunga Mall.
Wed-Sat: 12pm-9pm
Have a new opening you want Metro to cover? Email us at hello@metromagazine.co.nz.