Jun 29, 2014 Restaurants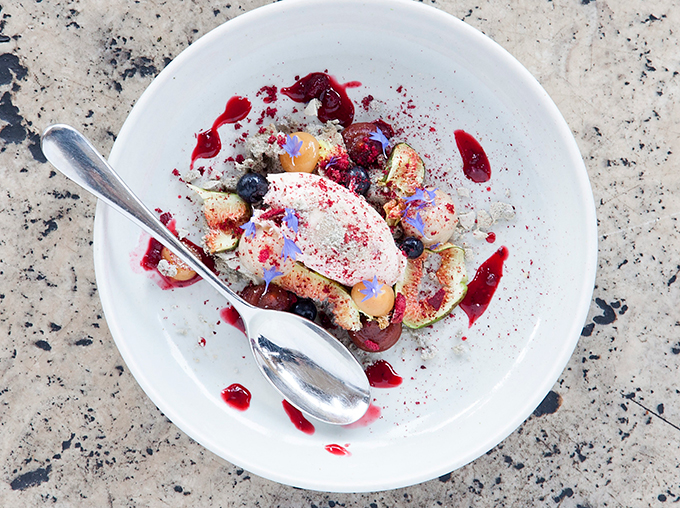 Rosie , Parnell, Auckland" width="1000" height="667" />
82 Gladstone Rd, Parnell.
Ph 369-1182.
Open daily 6.30am-9/10pm.
Small plates $10-$18, large plates $20-$34, desserts $10.
By Jesse Mulligan. Photo by Ken Downie.
First published in Metro, June 2014.
Rosie is another cracking restaurant from the people who brought you Takapuna Beach Cafe , St Heliers' Bistro and Ortolana. The DNA is so good you almost feel like you could write the review without visiting: more seasonal vegetables, obscure meats and ancient grains, no doubt, thrown together with love and talent, in a stylish room in a well-heeled suburb.
Our Restaurant of the Year judging confirmed all that to be true, but more visits last month revealed a couple of problems. The Hip Group do things differently, and thank god for that, but if you're breaking the paradigm you really need to get it exactly right.
Like serving wine from a tap — if this is the way forward I'm keen to hear about it. Instead, after unsuccessfully trying to elicit some information about the "Rosie" chenin blanc, I decided just to have a taste. It wasn't right. I looked at our waitress dubiously.
"It smells like farts," she confirmed. "That's because it's out of a tap."
Should we let someone else know about the problem, I wondered? Your in-house wine expert, perhaps? But no, she wasn't prepared to get anybody else involved. Righto, something from a bottle then.
The menu reads like a Grey Lynn shopping list. Dishes are simply a series of ingredients: "Broccoli, chilli, preserved lemon" or "Endive, pickled green almonds, grapes". You have to just trust that they'll do it right, and they do, although the equal billing can be misleading: we had precisely two almonds in that delicious endive salad, and the dots of preserved lemon purée were so small you couldn't taste them in a mouthful.
Forget primary and secondary cuts, some of the meat on offer is deeply tertiary — they make pork belly look like eye fillet. Often, it works: bone marrow, famously a chef's indulgence, is served with runny egg yolk and crunchy crumbs. Ox tongue is almost perfect: sliced thin as skin then bunched up on a skewer and chargrilled. Pork collar has more taste than fillet but without belly's unctuosity.
Then there's the parson's nose: four grilled chicken tails served on romesco. Wow, I'm up for anything but these are hard going — big blobs of gristle and fat, like chewing on a plump man's knuckles. Surely they must be on the menu as some sort of statement, because I can't think of anyone I'd recommend them to. Maybe somebody doing the paleo diet who needed to be taught a lesson.
But most of the food is so good. I loved the kingfish but even better was the  spatchcock: wholesome roasted chicken flavours with the worthy additions of kale and spelt (though serving two birds full of tiny bones on a concave dining plate made the whole thing tricky to negotiate).
The room is substantially different from its previous incarnation as Rosehip, with a new open kitchen separated from diners by a charcuterie and dessert counter. The ceiling is made up entirely of second-hand window shutters and, as well as bench seating, poufs replace a lot of the chairs — possibly not a great idea, this one, as I noticed a couple of embarrassed businessmen asking if they could swap for something more traditional.
I'm very happy to send you and your loved ones to Rosie, and I bet you'll have a great time. They're just a fair way off perfect at this point, not teething difficulties so much as some unusual choices and a bit of the owners' legendary staff training perhaps getting lost in translation.
Hopefully, this isn't a problem of scale, especially if the expansion of Auckland's best cafe and restaurant group is set to continue apace.
3 Spoons
[booking_form]