Jan 11, 2013 Restaurants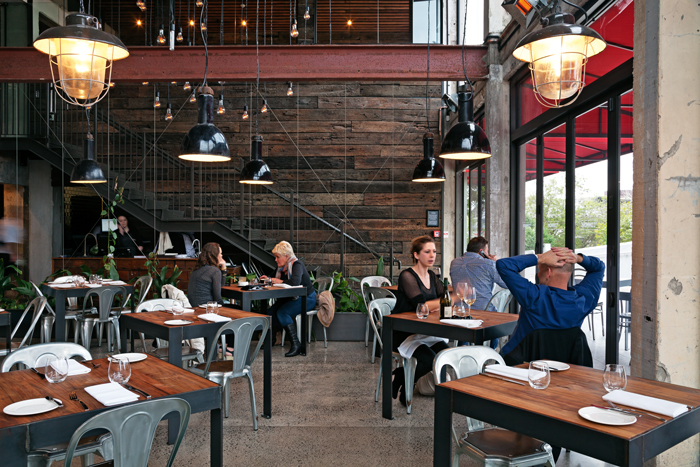 Address: 21 Hurstmere Rd, Takapuna. Ph 929-2791. thecommons.co.nzHours: Monday to Friday 11.30am till late; Saturday-Sunday 11am till late.Dinner bill: Entrées $22; mains $36; sides $8; desserts $15.
By Simon Wilson, October 2012.
I love the food. All those chefs, all over town, scrabbling to do the Al Brown thing, less is more, simple is better, nostalgia rules, and fair enough, the best of them serve up very fine meals. But here's Nick Honeyman at The Commons heroically dedicated to mashing up French sophistication with molecular techniques: more flavours on the plate, more ingredients, more complex methods, more surprises, more, more, more.
And good on him; he's good enough to make it wonderful. His salmon entrée is vanilla-flavoured, with mint, thyme, chilli, kingfish, a scattering of freeze-dried "lemon snow", strips of mildly pickled cucumber and an egg of coconut sorbet. A rush of flavours, temperatures, textures. A flavour bomb, served in a beautiful black bowl. The "carrot cake snapper" is just as complex, cooked sous-vide and as juicy as fish can be. The lamb, the "tails" (scampi and pork), an astonishing strawberry dessert… each on its own, like those fish dishes, will give you a meal to remember.
And there's more. The beef — with ox cheeks, scotch fillet, a smoky potato purée, truffle oil and, well, you get the idea — is a sumptuous comfort dish fit for a king. And there's this: a dessert of Roquefort, chocolate, poached pears, "brioche ice cream", walnuts, red wine… it is possible Honeyman is trying to kill his customers, but what better way to go? By instinct and training, he's a fine-dining chef. But this is a bistro and he's found a way to give his food a freer finish. It's beautiful without being overly artful. He expects you to pile up your fork.
He's not perfect. He reserves his passion for protein and puréed root vegetables, with greens apparently of so little interest that when I ate there he wasn't even bothering to serve asparagus — although they were freshly new in the shops. And his green salad, sadly, was tipped from a bag and saltily dressed. Quibbles, perhaps. On the more positive side, the chairs are comfortable and the tables an excellent size, and there are far too many restaurants you can't say that about. The wine matches were sometimes unusual and always excellent.
And yet, returning to the quibbles, there is the problem of, well, everything else. In these lingering nights of winter-spring, the place is cold. Also, they've got a dumb thing going with the menu: you can order from a cryptic list that says merely "Lamb", "Land & Sea" and "Tails", etc, or you can turn the paper over and read the full list of ingredients. Who wouldn't do that?
It's even dumber when you discover the waitstaff can't explain the dishes properly, either when you order or when they come back with the food and try, less than successfully, to explain what's on your plate. They were certainly smiley, both times I visited, and, yes, that helps. But so does waiting till you've started to eat before asking how the meals are. And not making a big thing of giving you one tiny piece of bread. Coming over to see if you'd like another drink when your glasses have been empty for most of the main course. Not clearing one person's plate while the other is still eating. Being able to explain whether you will need sides…
Eating at The Commons, you start off wishing them well, but to have a good time here you really need the ability not to let all those little things add up. They told me, both times I visited, that it was just so hard to get decent help on the Shore. I don't buy it. The Engine Room in Northcote has brilliant service. It's about how high you set the bar for yourself. It's tempting to think that Pack & Company, the self-styled "social architects" behind both the restaurants reviewed on these pages and a company with a lot of experience in quality control, has decided to be so good, but not better.
I hope that's wrong. But until they can match the standard of The Engine Room, they've got a nerve, because they charge the same prices.
2 Spoons
[booking_form]