Aug 18, 2012 Restaurants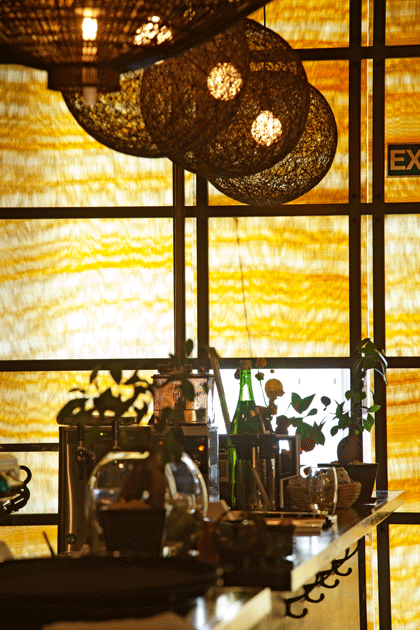 73 Davis Cres, Newmarket. Ph 529-4422.
tatsumi.co.nz
Hours: Lunch, Monday-Friday 11am-3pm; dinner Monday-Saturday 6pm-10pm.
Dinner bill: Entrées $15-$20; mains $27-$33; desserts $10-$14.
1 Spoon
By Simon Wilson, April 2012
This is difficult to write. Enterprising Christchurch restaurateurs are driven out of their city by the earthquakes, their Red Zone premises and therefore their livelihood gone. They emigrate north and set up shop in Newmarket, promising a different kind of restaurant experience, hoping for goodwill, deserving of goodwill, raising money for Christchurch along the way, and slowly but surely they start to fail.
It's not that Tatsumi is a bad restaurant. Their sashimi is good, with interesting components like octopus. Their tempura is very good. They've got most of the Japanese standards including desserts and, in my experience, they're presented competently. Service is willing, charming — it's obvious they're lovely people. Prices are reasonable. The décor is relaxing and pleasant. Drinks-wise, the wine list shows some discerning touches and they clearly have a plum-wine enthusiast on the staff. Even the astrology-inspired cocktails aren't half bad, provided you just drink and don't think about it: I mean, seriously, even supposing that Chinese astrology was the one true guide to universal truth, would it really manifest itself in Japanese cocktails in Newmarket? Please don't write in with answers.
A decent Japanese restaurant, you might say, except in Auckland that's just another way of saying a run-of-the-mill Japanese restaurant. The first problem with Tatsumi is that they don't seem to have noticed what we've already got here. You know, Britomart smarts at Ebisu, underground coolness at Kura and Tanuki's Cave, exquisite cooking at Cocoro " href="/uploads/MetroEats/2012/08/cocoro.co.nz" target="_blank" rel="noopener noreferrer">Cocoro, simple excellence at Sake Bar 601… not to mention all the very fine ramen bars and yakitori joints. Tatsumi's decision to aim for the anonymous middle is peculiar. And it does feel deliberate: sitting in the place, you get the clear sense they're doing it the way they think it should be done, even while looking puzzled they do not have more customers.
They've done their best with a bit of PR to suggest their food is special. But that isn't true. The menu is divided on European lines into a three-course structure, which is completely unspecial. Some of the dishes are a bit different, in a fusiony way — a tempura crab salad, for example, comes with a taco shell and the tempura tastes more of salt than spice. Okay, it's special, but not really in a good way. They're on stronger ground with some of the standards, although I continue to marvel at the extent to which Japanese kitchens are prepared to shred their vegetables. It's just their version of serrated carrot wheels and radish blossoms, isn't it?
There's a prix fixe menu, but it's no cheaper than the same dishes ordered separately à la carte. Missing something there. The bigger problem is that they've set up shop in the Davis St plaza, off the bottom of Khyber Pass Rd, right smack in the middle of that row of restaurants and bars whose tables sprawl out into the square. It's a busy, boisterous place and you'd think it was impossible for a restaurant not to get itself a decent slice of the action. Almost all you'd have to do is open your doors. Which is precisely what Tatsumi hasn't done. The door is closed. The place looks locked up.
If you're in Newmarket and you want somewhere, inside or out, for a drink, for some bar snacks, for a meal, Tatsumi will be just fine. But if you stand in that plaza and look at your options, you'll see tables full of satisfied customers all the way along, and you'll be able to look in through the big glass frontages to see what kind of places you can choose from. Tatsumi, on the other hand, will be hiding in plain sight right in the middle of the row, with the staff standing behind the solid wall and door, wondering why you're not trying harder to find them. Waiting to entertain you with their astrological cocktails.