Aug 24, 2012 Restaurants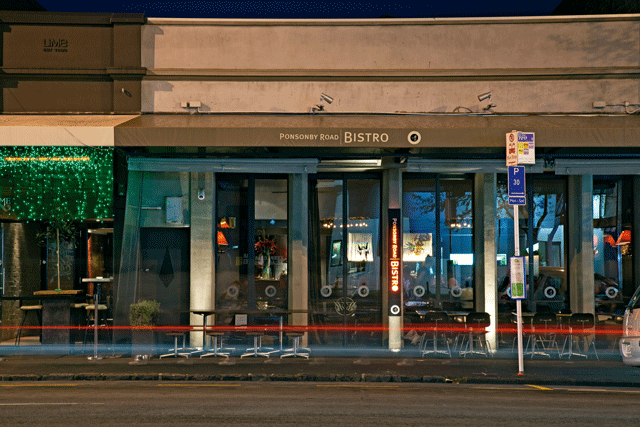 Address: 165 Ponsonby Rd, Ponsonby. Ph 360-1611.
ponsonbyroadbistro.co.nz
Hours: Lunch Monday-Friday; dinner Monday-Saturday.
Dinner bill: Entrées $16-$19.50; mains $29.50-$35; desserts $14.50.
By Simon Wilson, November 2011
One of my favourite Rugby World Cup stories concerns a group of Irish fans — that's real Irish fans, from Ireland — who turned up at Ponsonby Rd Bistro on the evening of the Ireland/Australia game all decked out in their green shirts and silly hats, and then the next weekend, there they were again, for the New Zealand/France game, the same guys, wearing All Blacks shirts. "We were so overwhelmed by the support you Kiwis gave Ireland," they said to co-owner Melissa Morrow, "we thought the least we could do was return the compliment."
The other co-owner, Blair Russell, says Ponsonby Rd Bistro had a very good RWC, and certainly, on the many nights I ate there or looked in to check, they were doing a bustling trade. But that wasn't true for many places on the Ponsonby strip: off the Fan Trail and out of favour with fickle former customers who were spending their money in Federal St and Britomart and North Wharf, Ponsonby struggled during what was supposed to be the hospo highlight of the year.
Two lessons there. One: there's a downside for this town in having all the exciting new restaurants and bars opening elsewhere, and that's the threat to established businesses. Two: the restaurants that will survive that threat best are the ones with something special to offer, that look after their customers, that move with the times in offering the kind of food people want to eat, and that have such good systems in place they can maintain the quality of their offer, for every customer on every night, no matter which staff are on or how busy, or not busy, they are.
PRB is one of those restaurants. There have been a few changes in the place over recent years, as the upmarket bistro-cum-champagne bar settled into full bistro mode, taking out most of the bar stools, opening up the room and dropping its prices a tad. Chef Sarah Conway, a maestro of bold, simple tastes who had been at Rocco, focused the menu fair square on bistro classics: steak with chips, market fish, a spicy chicken dish, a salmon offering. They also make their own bread and do pizza, pâté, a charcuterie plate, seasonal shellfish.
It's simple and impeccable, and full of some deft touches: the chips are deliciously chunky, which, if the potatoes are good, is always likely to beat shoestring, and you can choose your steak: scotch or eye fillet. Asparagus, currently on the entrée menu, comes wrapped in filo with a mint-flavoured salad, chilli jam and the cucumber/garlic/yoghurt sauce tzatziki: you can eat asparagus any way you like at home but it's a bit special here. The pâté is served with the most delicious spiced-fruit chutney. The salmon comes on a bed of lentils, which I think is one of the flavour combinations ordained in heaven, and there are large sweet pieces of slow-cooked onion in the mix.
Yes, there are other places in town with a menu like this, and cooking as good as this. But PRB retains its commitment to smart bistro food in a uniquely elegant bar-style environment, and it backs that with an impeccable wine list and really fine, friendly, helpful service. Auckland dining tastes have evolved towards the high-quality informal and PRB is riding the wave.
Not everything works. Scallops come on a bed of smoked fish purée that provides a mucky mouthfeel without adding anything valuable to the flavour of the dish. The salmon with lentils may well have been ordained on high, as a concept, but my fish was underflavoured and just a little bit boring. And, truth be told, I miss the bar stools. I'm sure it helps remind everyone they're a restaurant and not just a bar, but eating at the bar is a great way for a couple or someone on their own to get in a good meal, and you can't really do that here anymore.
Never mind. They look after you at Ponsonby Rd Bistro, and not at all because you might be Irish. It's because you're a customer, and they care that you have a good time. The thing about established businesses, when they keep up, is that they know what they're doing.
4 Spoons