Sep 23, 2012 Restaurants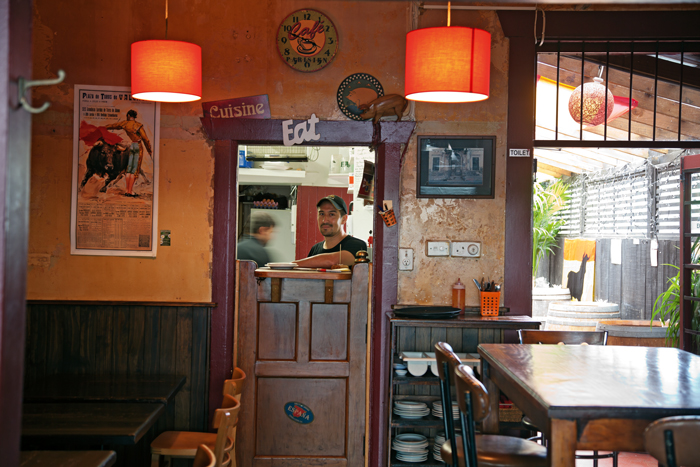 Address: 549 Great North Rd, Grey Lynn. Ph: 376-6682. mondialbar.co.nz
Hours: Open till late, Tuesday-Thursday from 4pm, Friday-Saturday from 3pm.
Dinner bill: Small plates $11-$22; antipasto platters $30.
By Simon Wilson, March 2012
You could be sitting in a tapas bar in a backstreet in Madrid. At least, that's what you're meant to feel. Curved wooden bar, old black-and-white framed photos, marble tops, rickety (but not too rickety) tables… there's even a bullfighting poster. In truth, it's more like sitting in a film set of a bar in Madrid. Everything's a bit too chosen, a bit too "authentically" ramshackle, although I do admit that has its appeal. Mondial is still a pleasant place to while away the time of an afternoon, meet friends, have an easy meal.
The décor was bequeathed to the new owners by the old, Pascal Murello and Manuel Garcia, and it worked so well for them because it was them: European, and with a certain hamminess that's part of their charm. Jeremy Graves, the new guy in charge at Mondial, comes from Taupo. He is a perfectly genial host, there are Spaniards involved in the enterprise and he obviously works hard to maintain everything people used to love. But it's like being in Grey Lynn's version of an Irish pub. Kitset Madrid.
Even the menu has hardly changed, although the few new things on it —watermelon with jamón and goat's cheese; ceviche made with coconut in the Polynesian, not Spanish, way — signal there may be some straining on the leash, back in the kitchen. Perhaps that doesn't matter. These two dishes are among the best things on the menu: a little hint of what the place might become if they sat down to invent a bar-restaurant that really fits their own skills and personalities.
So, the bad news is that you can't walk into Mondial and be greeted by the rambunctious noise of the crowd and that singular Murello charm: ever-grinning, you've-made-my-day-just-by-turning-up-and-yes-of-course-I-remember-your-name (which all sorts of people swear to me he does). He's gone, with Garcia, to Beresford Square. The good news is, most of Mondial's food is now better.
They nail the paella: rich and a bit soggy, heavy on the shellfish, it's a smoky delight. The pâté, served in a casing of fat, is delightfully light and tasty, while tuna skewers and anchovies on bruschetta also measure up well. At the end of the meal, the churros are a standout, crisp and dry and perfect for sharing, although the chocolate sauce they come with is very thin. Bar standards like meatballs, calamari and croquetas are undistinguished but fine for soaking up the drinks, and a better bet than the ribs, which were served in some kind of gluggy mess the night I had them. Chorizo suffered a similar fate, apparently steamed and presented not with onion jam, as the menu promises, but in a rather brutal mushroom and onion sauce.
It's like there are three competing chefs in the kitchen: one doing competent Spanish standards; one experimenting, with real promise, with an Iberian/Pasifika fusion; and the third stuck in Oxo-cube land. That last guy may also have a hand in some of the desserts: there's a large mousse you would swear was instant pudding. Like almost all tapas bars, the ratio of meat to veges is ludicrously out of kilter, and the single vego dish they list, an escalivada stack of Mediterranean vegetables with feta and garlic bread, is oil-drenched and heavy. On the other hand, the sangria is wonderfully musky and moreish, and the wine list is very fine. On the strength of both the bottle specials I tried, it's clear that Graves knows his wine. And what a good thing that is in a bar.
2 Spoons