Oct 9, 2012 Restaurants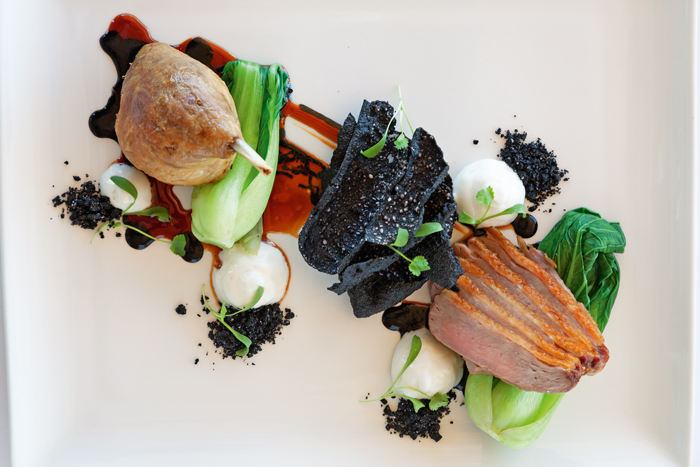 Address: Viaduct Harbour. Ph 304-0454.
kermadec.co.nz
Hours: Tuesday-Saturday from 6pm.
Dinner Bill: Entrées $22-$26; mains $42-$49; desserts $18.
By Jesse Mulligan, July/August 2012
In last month's Metro, I said Mollies restaurant was less romantic than woodsy horror film The Blair Witch Project. The day after that magazine came out, the restaurant announced it was closing down.
Now I'm not saying my criticisms were directly responsible for Mollies' demise, but if you want to tell your friends that's what happened, I'm powerless to stop you. Unusually powerless, for someone who's omnipotent.
The restaurant I'll be deciding the future of this month is Kermadec Fine, which has been around for ages but has been rebranded, with a new chef, Anton Leyland, and an enthusiastic PR team telling us all to come back and give him a go.
That last bit is more difficult than expected, as each of our waitstaff had different ideas about which dishes were the new guy's creations and which were hangovers from the previous chef. So maybe instead of talking about the food, I'll just make fun of the music. Nothing says "forget what you think you know about Kermadec" like "Baker Street" by Gerry Rafferty.
The food's fantastic, actually. Beautiful on the plate, familiar combinations cooked in unfamiliar ways, obscure ingredients pulling their weight not just in the menu verbiage but in your mouth as well. Jaded by the noughties pork-belly craze, I didn't think I'd order it ever again until I met this one — cooked 84 hours and plated with prawn, apple, bison grass extract, and crunchy grains of kasha (Eastern European buckwheat groats — don't tell me you had to Wikipedia it).
The tuna tartare is out of this world — fresh and clear with flavour. The gurnard's incredible too — served whole, sort of, with a backbone only and perfectly cooked flesh flaking off at the touch. Confit duck is cooked with European precision then served with Asian flavours, bok choy and textures of rice like you've never seen rice before.
Yep, chef's doing a good job of putting his stamp on the place without upsetting either the old trouts who've kept it afloat this long, or the 1100 people who bought cut-price degustation vouchers from a website in February and have until October to use them. That poor bastard — all we could hear around us were people telling waiters what they wouldn't eat. No wonder they keep the deg secret unless you ask.
Prices are Fine, but that's fine — there's plenty of free stuff, like freshly baked bread, an amuse-bouche and a pre-dessert so big and lovely you almost don't need the real thing. Order it anyway — Kermadec's pastry chefs have always been one of the best reasons to eat there and, with that view, I reckon it's probably the best place in town to drop in for dessert.
Here's what to fix: that music says nothing about the sort of place Kermadec Fine wants to be — it doesn't have to be cutting edge, but someone needs to give a shit. The room is huge, and it feels empty and lonely when it's not full, which is often, because it's huge. How about breaking the space up? Buy some dividers or something… I don't know, do I look like Sally Ridge?
Finally, calling yourself Kermadec Fine invites us to expect first-class service. That means no hanging up on people calling to make a booking, no forgetting to tell people what's on their plates, and no guessing answers to food questions. At peak times, there must be a dozen waitstaff on the floor. The best of them are brilliant; how good the worst of them is will determine how great a restaurant this can be.
3 Spoons
Jesse Mulligan blogs at Auckland Food Blog