Sep 2, 2012 Restaurants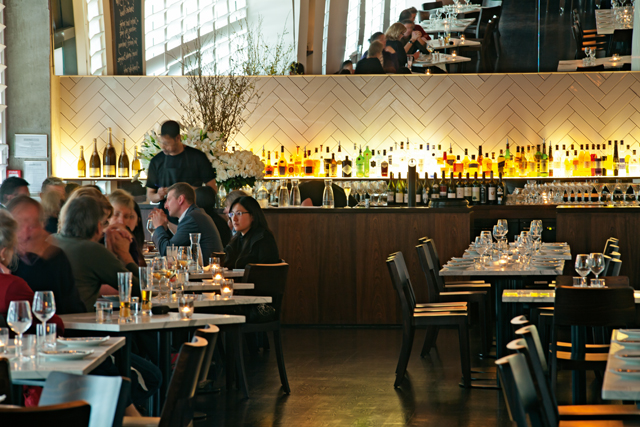 Address: 50 Customs St East, City. Ph 368-5315.
districtdining.co.nz
Hours: Lunch Wednesday-Sunday; dinner Tuesday-Saturday.
Dinner bill: Starters and sides $4-12; sharing plates $18-31; desserts $15.
By Jesse Mulligan, November 2011
I never thought I'd miss those little blurbs at the front of the menu that tell you what the chef's "philosophy" is and how this will translate into your "dining experience". They can be eye-wateringly abstract, but more often they're just too generic. Honestly, if I hear from one more chef that his unique selling point is seasonality, or that he wants the ingredients to speak for themselves… it's the culinary equivalent of the "game of two halves" speech.
But if District Dining needs anything, it's that. Something to help get your head around what links quinoa nigiri to carrot salad to a beef chimichanga to steak tartare. Or if they aren't linked, what the chef wants to tell us about why this doesn't matter. It's not just an intellectual complaint — everything gets delivered at once, so a bit of context would help nudge it safely out of the pan-ethnic buffet danger zone.
That aside, I'm in love with the food. All sharing plates, the menu has a broad, nose-to-tail selection of tasty, interesting cuts of meat with flavour-packed accompaniments: nuts, pickles, spice rubs and herbs. The fish is lovely too — cured trevally with that quinoa, or meaty hapuku chunks with mussels, just the right amount of fennel, and green spots of herby gremolata all over the white fish. Vegetarian options are tasty enough to order on their own merits, not just on the merits of letting an extra pig live. Those carrots come with salted yoghurt, dukkah and almonds and wouldn't be out of place at London's Moro, the spiritual home of that sort of moreish Moorish food and also a pretty unbeatable model for the sort of casual-but-exceptional restaurant District Dining aspires to be.
The room is long and cool, with lots of bare walls and lightbulbs, and enough of a window into the kitchen that food-bores like me can lean in and ask questions. The trickiest thing now, I reckon, will be getting service up to the same international level as the food. All good-looking boys, they're great fun, and proud to be working there, but they don't know enough about how the food is put together. You could say it's because they're new, but I get the strong feeling it's because they think part of a relaxed attitude is not caring too much about what you know and what you don't. The other District Dining is in Sydney; I doubt the staff get caught making it up over there.
Same with the wine. What a spectacular list, full of European varietal oddities and obscure New Zealand labels. But they need someone on the floor to learn it and love it, because right now nobody is any help. We walked out stuffed and tipsy for just over $200 — pretty bloody good for the location. One of us would have been less stuffed, except that when the waiter delivered our ox tongue, he said to my partner, "I won't give you cutlery, because you probably won't eat any of this." So, of course, she had to prove him wrong by eating the entire tongue, once again revealing her susceptibility to reverse psychology (I got her to agree to marry me by dropping into conversation that she didn't seem like one for commitment).
District Dining has the potential to be among the very best restaurants in the city — all it needs is for that perfectionism in the kitchen to spread to the floor. You don't have to tuck in your shirts or anything, boys, you just have to know more about the food than your customers do.
4 Spoons
Jesse Mulligan blogs at Auckland Food Blog.