Jan 14, 2013 Restaurants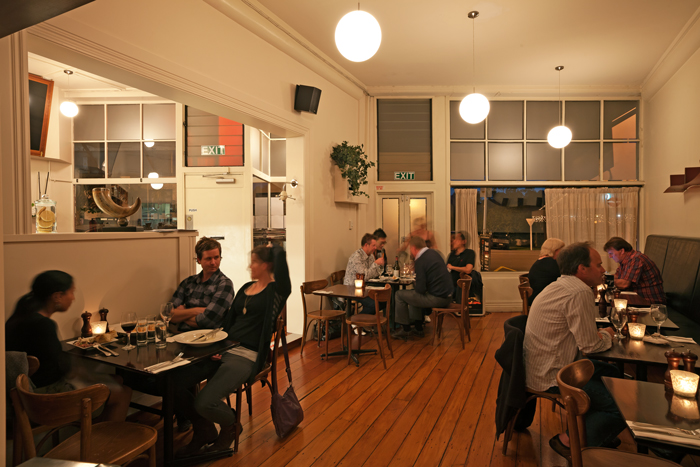 Address: 472 Richmond Rd, Grey Lynn. Ph 360-7590. delicious.co.nzHours: Tuesday to Saturday 12pm till late.Dinner bill: Entrées $8.90-$14; mains $22-$29; desserts from the cabinet.
By Simon Wilson, December 2012.
They've changed the décor at Delicious, and it's so much nicer. New owners have taken out the dining area to the right and made up the space by extending the dining area to the left all the way back, through where there used to be a bar. It feels good and makes a great deal of sense.
They've done more: given everything a lick of paint, put in a smart new counter and wine racks. You can still see right into the kitchen, which is good, there's still a bit of a display case for desserts, which seems redundant to me but I guess regulars may like it, and they have retained that handsome, curving, entirely decorative empty bookcase wall thingamy. Delicious is now, more than ever, a charming little suburban bistro in which to sit yourself down. And, best of all, they now take reservations.
Can I stop there? Frankly, for the rest of it, I hardly know where to start.
On both visits, they ran out of ingredients for some of the dishes. Understandable, perhaps, in a place trying hard to control costs, and to its credit Delicious clearly is, but the menu is really short, and as for the missing ingredients — we're talking about mozzarella! In an Italian restaurant! Which meant the entrée of caprese salad wasn't available. You could try parmesan, ventured the waitress, trying to sound enthusiastic although she obviously knew that wasn't going to work.
This was a special shame, because if you don't want soup of the day or a meaty anti­pasto, there are really no other entrées. Olives, bruschetta, side salads. Even with the nibble food, the olives came with cold wedges of ciabatta.
Seasoning control was so poor, I wondered if the chef had a tasting impediment. Some dishes were too sweet, others too salty, others not salty enough… On one visit they served a lentil, pancetta and spinach soup: it sounded delicious, it looked delicious, and yet it tasted watery. Was there any stock in it at all? Then I had a super-salty risotto. It was ham and four cheeses — has there ever been a less interesting risotto? — and it was as if different cooks were responsible for adding the ingredients, and none bothered to tell the others they had the salty one, and the cook who prepped the stock had made that salty too.
Most of the menu items are inherited from the previous owners — so you can still get pappardelle lamb shanks, which is far and away the most popular item. But it's not what it was. Nice enough, the night I ate it, with reasonable pasta and meat as fall-apart as you could hope for, but in a sauce so thin it was an insult to the rich, savoury flavours this dish used to contain. There's a beetroot ravioli which is rather lovely, what with the sweet taste and beautiful crimson of the beet in those giant pasta folds. But it should be a jewel of an entrée. It's served as a main, and it lacks the flavour variety or complexity to sustain that.
The wine? A one-of-each standard bistro lineup, not inspired, barely good enough. The coffee? Fine one night, burnt the other. The service: honest, keen, almost completely untrained. In a small, half-empty restaurant, when they wait for ages before even coming to see if you want a drink, let alone take your order, it's just weird. And when they finally bring your food and don't know who's eating what, it's one more sign they don't really know what they're doing.
It's such a shame, and what's the excuse? My god, they're serving Italian food, one of the great cuisines of the world, where the ratio of effort to result is all on the side of the chef: with not a great deal of skill, you can make people fall in love with your cooking. Delicious desperately needs someone who knows how to make this happen.