Oct 18, 2016 Restaurants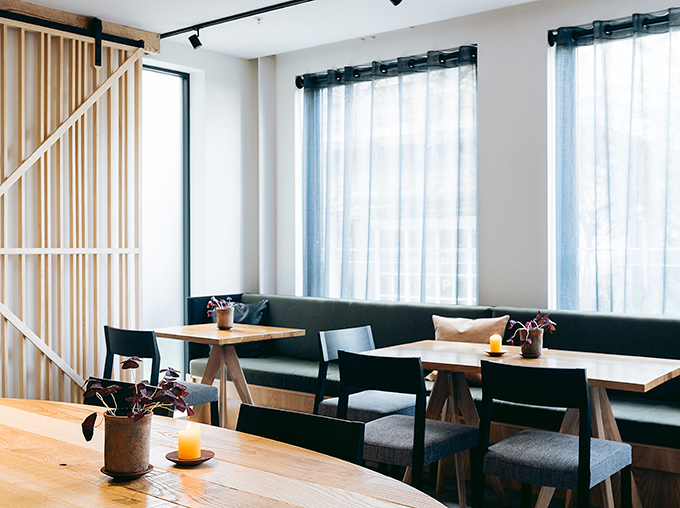 After eating at
Pasture
, I decided that with most food, eating is nostalgia. You recognise flavours and textures and that triggers a sensory value judgment. I also remembered that a great many restaurants cheat by adding sugar.
Pasture treats eating as adventure, and it doesn't seem to have any sugar. So the combinations and flavours are often not what you know. No nostalgia. It's brave and very exciting and I loved eating there.
It serves degustation, which is not the fashion in this town, but it's not dego served by starched-up waitstaff in a room of hushed reverence. Pasture staff wear aprons and jeans and flash their tattoos just like their compadres in every bistro on Ponsonby Rd.
The room is square and high-ceilinged, a modernist pagoda with lots of glass and blond wood and sliding doors on big runners. It's quiet, because it seats only 25, but it's informal, too. You may not be shocked to learn they have Bon Iver on the playlist.
The kitchen is along one wall behind a counter, so you can sit up and watch them work, and it tends to be the cooks who give you the food. Nice touch.
Pasture is a labour of love for Ed and Laura Verner. He's worked for Michael Meredith and Sid Sahrawat, and they previously ran Stafford Rd Wine Bar, all of which was clearly a warm-up for this.
Ed cooks on an open fire and an induction hob, and makes everything including the bread and the gorgeous pickles stored in jars on the shelves. They forage locally and choose foods that few others bother with: the only meat the night I went was pork neck; another dish featured onion flowers from the Domain.
Beetroot is "cooked in last year's plums"; slices of wood-fired celeriac are served with buffalo mozzarella and are terrifically good; marmalade orange wedges are flavoured with hay.
There are fish skins, a nod to Meredith, who first introduced them, and the bread — a crusty, light and moist rye sourdough — is so good you'll want to buy a loaf. Which you can, if they have any left over.
There was a dish that didn't work for me: that pork neck. He'd had it on the fire for only six hours and it needed another six.
The wine list is impeccably chosen but I suggest you ignore it. Their own matches with the food are so good they make most other restaurants look as if they just do it by numbers.
Broccoli comes with an extremely unusual gewürztraminer; that celeriac with Bellbird Spring Sous Voile, which tastes like dry sherry; and sake and whisky see you through the desserts. They also offer juices, which match the food in ways quite different from the wines and are also a revelation.
Pasture closed suddenly (and temporarily) on account of a family crisis before I could make a second visit. That, and the pork, account for my rating of four spoons, not five. But I can't wait to go back.
253 Parnell Rd, Parnell.
pastureakl.com
Hours: Wed-Sun, 6pm.
Dinner bill: Set menu $130; with wine matches $180; with juice matches $165.